Margaret McKenna Brings Her Civil Rights Mission To Suffolk University
16:20
Play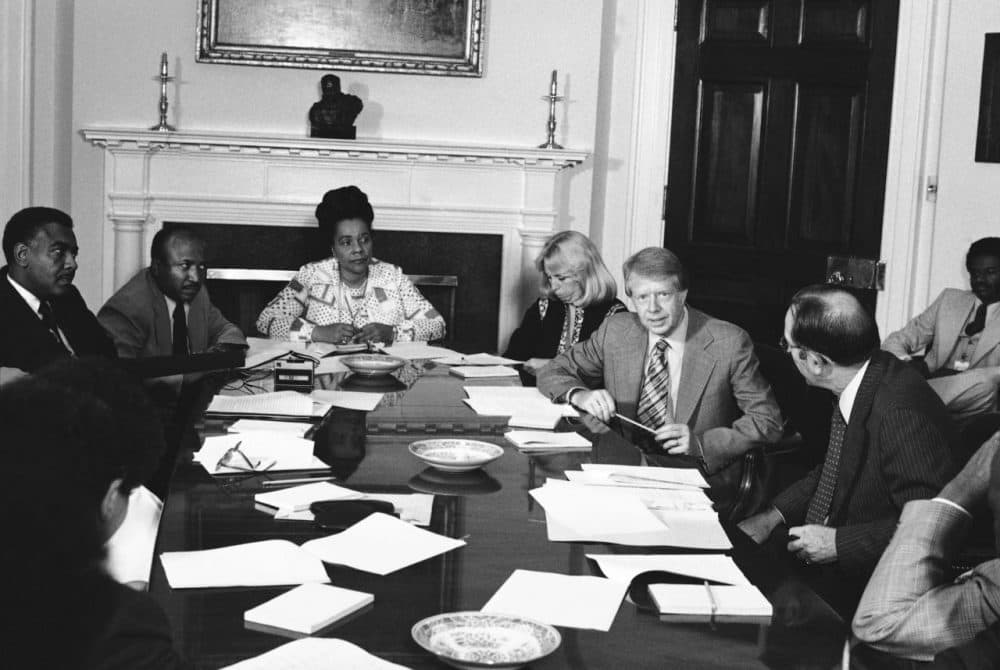 This article is more than 5 years old.
We've talked to a number of Boston area college presidents on the show. We usually do the interviews in their offices, we could do an entire series focused exclusively on what those offices look like. Whether they're in historic halls, or glittering modern buildings: big oak desks, tall windows and insignia-stamped university merchandise seem to be de Rigueur.
But when it comes to the view through those tall glass windows, Suffolk university president Margaret McKenna is hands down winner. High above Tremont Street, McKenna looks down on the golden dome of the Massachusetts Statehouse — so close, you could almost touch it.
"Everybody knows the story," says McKenna. "A third of the state legislators have Suffolk degrees."
McKenna began her tenure just last month. She's Suffolk's first female president in the university's 109-year history.
"You can go any place in town, the law firms, business, industry, nonprofits, Suffolk alums are everywhere and I think that creates a particular responsibility for a university to create an environment that educates people extremely well, with the sort of skills, knowledge and sense of responsibility to give back to a community. You know, I've run another university close by — Lesley — and there are a lot of us in this town, right? I always used to say, it's harder to get a good plumber than it is a college president in Boston because there's a lot of us. But there aren't too many that are right in the center of things and whose graduates, for the most part, stay here."
McKenna's path to Suffolk was a bit different. She was president of the Walmart Foundation from 2007 to 2011. Prior to that, she served for 22 years as president at Lesley University. She's also former vice president at Radcliffe College.
But, it's her legal career that's really most interesting. Back in the 1970s, Margaret McKenna was a young civil rights lawyer with the Justice Department, traveling around the country in her Ford Pinto, as she recalls, suing cities for race and gender discrimination. It tells you a lot about who McKenna is. Take, for an example, a lawsuit she brought against the Baltimore Police Department, which — at the time — had exactly zero women on the force.
"The police chief at the time testified that there was no way that women could be police officers because they were little balls of fluff. That was a story that stayed with our division for a long time, especially with us, who were little balls of fluff."
So, first lesson about Margaret McKenna. She's more steely will, than ball of fluff.
Second lesson about Margaret McKenna — affecting change in a tangible, relevant way is a personal value of hers, inspired by her youth in Rhode Island where she grew up with two parents and four aunts who were all public school teachers.
Third lesson: in the McKenna family, mission mattered.
You can see the threads of Margaret McKenna's life coming together here, and coalescing at Suffolk — education, activism, civil rights. It's a good fit for a university that was founded in a Roxbury living room in the early 20th century with the express mission of educating Catholic, Jewish, Italian and Irish Boston immigrants who were refused admission to the city's other colleges.
Guest
Margaret McKenna, president of Suffolk University, which tweets @Suffolk_U.
More
The Boston Globe: Suffolk President To Tap Alumni, Stress Local Ties
"Suffolk University's new president, Margaret McKenna, plans to tap the college's legions of graduates like never before, for money and connections she hopes will bring the school a new level of financial and academic stability."
This segment aired on August 27, 2015.