Week In Review: The State Of The Presidential Primary
31:59
Play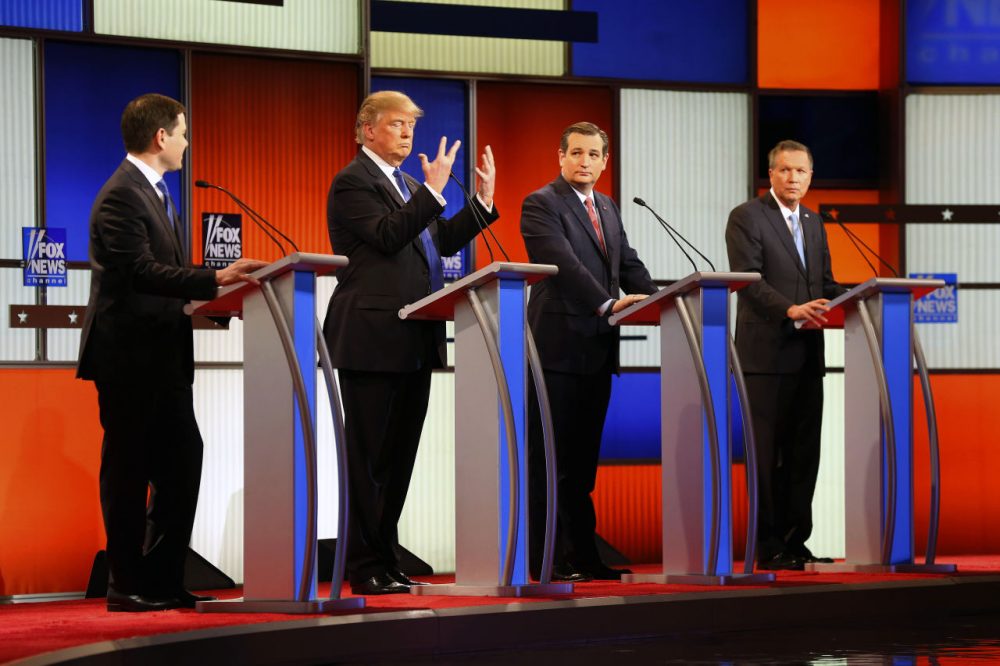 This article is more than 5 years old.
Our week in review panel goes behind the headlines. This week, we're talking about the state of the presidential primary and what's happening to the GOP.
Guests
Shannon O'Brien, former state treasurer and Democratic nominee for governor in 2002.
Richard Tisei, former Republican state senator and congressional candidate. He tweets @Richard_Tisei.
Anthony Brooks, WBUR's senior political reporter. He tweets @anthonygbrooks.
More
WBUR: Is The Republican Party On The Verge Of A Historic Crackup?
"Donald Trump's so-far inexorable advance toward the Republican presidential nomination has divided the party. This divide is not like the garden variety primary fights of recent cycles. It goes beyond the familiar squabbles of the party's postwar era (center versus right, moderate versus conservative, eastern versus western). What is coming looks more like the historic schism of 1912, when former President Theodore Roosevelt came back to challenge the re-election of his successor and fellow Republican, William H. Taft. That schism was exploited by Woodrow Wilson, the only Democrat elected between 1896 and 1932."
Radio Boston: What Do Massachusetts' Super Tuesday Results Mean For The State's Republican Party?
"Donald Trump won nearly 50 percent of the vote in the Mass. Republican primary Tuesday, it was the highest turnout ever in a GOP primary here. To paraphrase a little more from Lincoln in 1858: 'I do not expect the house to fall, but I do expect it will cease to be divided. It will become all one thing or all the other.' So, which one will it be?"
Radio Boston: U.S. Attorney's Office To Investigate Possible Civil Rights Violations At Boston Latin
"U.S. Attorney Carmen Ortiz has agreed to investigate allegations of civil rights violations at the historic exam school, Boston Latin School. We reached out to Superintendent Tommy Chang and Mayor Marty Walsh, they referred us back to their statement. US Attorney Carmen Ortiz declined to join us as well, but her office did send a statement confirming the civil rights investigation."
This segment aired on March 4, 2016.