More Than Words In The South End Is A Bookstore With A Mission
Resume
Tens of thousands of books line tall wooden shelves at the newly expanded More Than Words bookstore in the South End, which opened in September.
They're used, but look brand new.
"All these books here in one place, it's like a wonderland. I could choose any book to read here if I wasn't working here, I could probably come into work, and just start picking out a book, reading it, put it back on a shelf," said Raymond Murray.
He's among the hundreds of young people who have found employment and second chances at More Than Words, a nonprofit that empowers youth who are homeless, in foster care, or involved in the court system.
Murray found out about the bookstore through his group home, and says initially, he wasn't sure about it.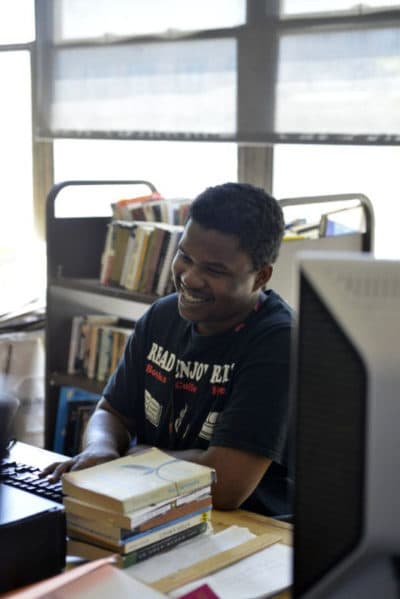 "At first I was kind of skeptical about it because I didn't really know what it was. Eventually I decided to come, and I was rather surprised," Murray said. "It was my dream job because ... I love books."
The store is bright, open and airy. Big glass windows open the storefront to the street. An antique piano sits nearby with a few crates of vinyl records surrounding it. Interspersed throughout the store are displays of goods from other social enterprise businesses, such as honey made by men transitioning out of incarceration and beauty products made by survivors of sex trafficking.
Perusing the shelves are customers like Andy Robinson, who found out about the store on Twitter.
"It's great to see a not super [affluent] place in the South End," said Robinson. "Just a used bookstore kind of joint — I don't think there's a lot of that in the South End. [There's plenty] luxury apartment buildings, there's lots of spinning classes, so this seems like more of a chill place in the neighborhood."
The store is run by about 70 youth who work 20 hours a week. Their pay starts at minimum wage and increases as they get promoted.
But working here isn't just about a paycheck — it's also about personal development. In addition to housing an online marketplace where more than 700 orders are fulfilled each day, the second floor of the store is where More Than Words offers guidance on how to do job interviews, complete a driver's licenses applications, or pursue an achieve academic degree.
For many of the young people working here, it's about becoming a better version of themselves. That's the case for Shanaya King, who says More Than Words has helped boost her self-esteem.
"I knew that when I first started here, I didn't have [any] confidence in myself; my self-esteem was very low," King said, adding that she used to be hard on herself, but the program offered insight into her potential.
"Just hearing that I'm a leader, not being hard on myself, your work is noticed, you are noticed — don't take that for granted and don't think people aren't watching you grow," King said.
More Than Words has an expectation that the youth coming to its program have been shorthanded by a system and society that has failed them, says business training manager Jerell Mayes.
"Everyone comes here because they want something different, but at the same time, we understand they may be very cautious and guarded about how different it may actually be," Mayes said. "They may not have any faith or confidence in the model, but that's really just a lack of faith and confidence in themselves, which we, of course, try to enhance through the program."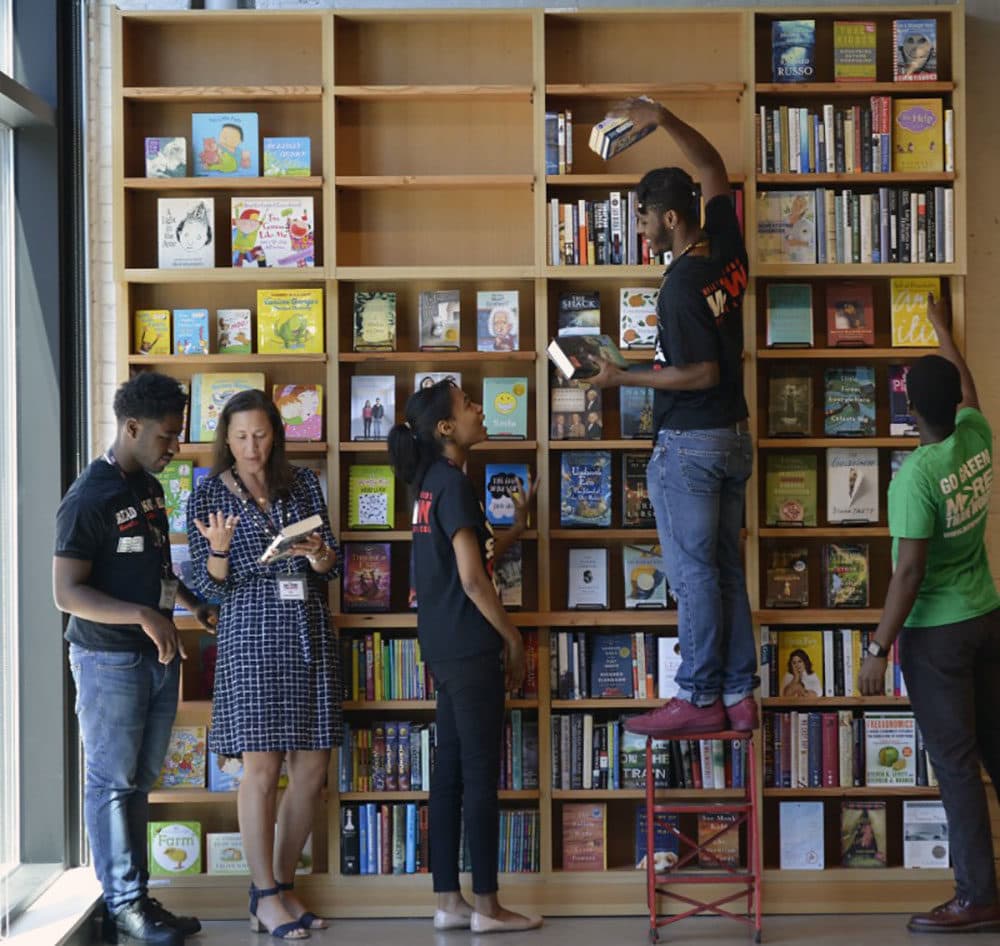 Jodi Rosenbaum, the founder and CEO of More Than Words, says focusing the business model around books happened by chance when a friend found a pile of books on the side of the road 15 years ago. Rosenbaum determined they were worth money and could be sold online and in-store. She says they've proved to be both financially and emotionally profitable.
"There's something really powerful about our young people seeing that they belong working with books, they are smart, they are capable, they can differentiate between whether a book goes in sociology or politics, they can decide if something's fiction or nonfiction, they can help people find books," said Rosenbaum.
Plus, she says, there's something really therapeutic about books, which is helpful for young people who have experienced unfortunate circumstances.
Last year, More Than Words helped more than 200 young people. Rosenbaum says they're on track to work with 400 this year.
This segment aired on November 15, 2018.