Former Boston Police Chief Linskey On Calls To Defund The Department
Play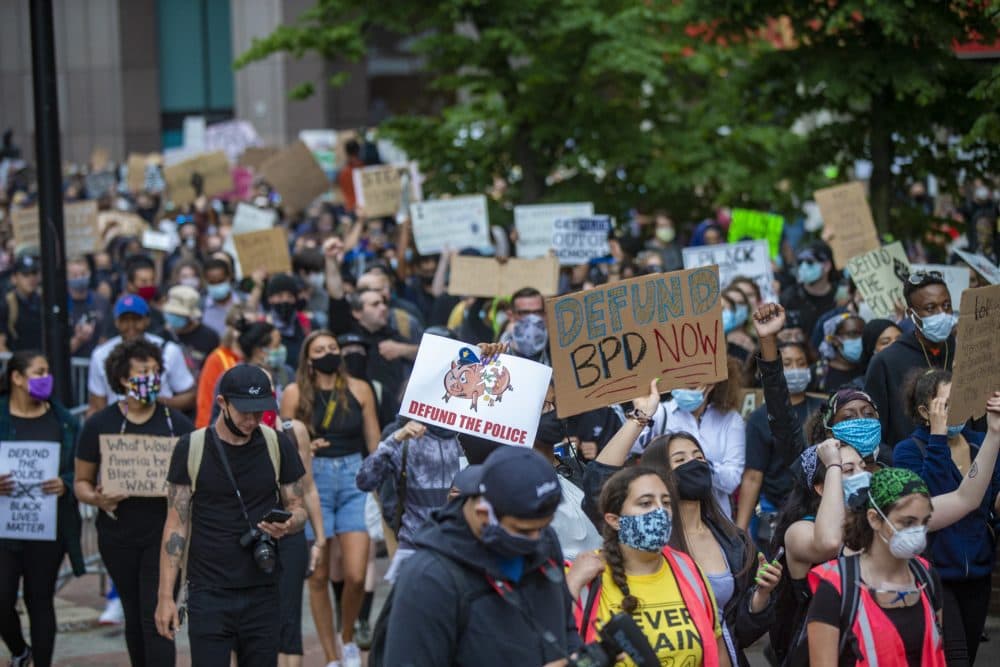 This article is more than 2 years old.
A local push to "defund the police" is a part of a national movement to reform police departments after the killing of George Floyd while in police custody in Minneapolis.
About 70 people testified for hours for the city of Boston to decrease the police budget by 10%, and reallocate those funds to other programs in the community.
Former Boston Police Chief Daniel Linskey told Radio Boston Wednesday that would mean a serious reduction in the force and could reduce community policing efforts.
On Friday, Boston Mayor Marty Walsh said the city would immediately transfer $3 million from the police overtime budget to the Public Health Commission.
That's less than 3% of BPD's annual budget, and some activists say that's not enough.
Before Walsh's announcement was made public, Linskey discussed with Radio Boston Wednesday what an even larger budget cut might mean, and his reaction to the police killing of George Floyd.
Linskey retired from the force after 27 years of service. He's now managing director for Kroll, a security risk management practice, and a fellow at the Duff & Phelps Institute.
Interview Highlights
On his reaction to the video depicting the killing of George Floyd: 
"If I was the chief of police [in Minneapolis], I would have, after asking one or two questions, made an arrest on probable cause. I think the rest should have [come] quicker than that for the officer that directly murdered Mr. Floyd. ... Even as infuriating of the murder of Mr. Floyd is the lack of response by the other officers who didn't engage in [and] abdicated their ethical obligation to Mr. Floyd and the community.
"Very disappointing and everyone in law enforcement is furious at that video and outraged, just as the communities are."
Amid this nationwide push for police reform, on whether he thinks we've seen meaningful internal attempts by police departments to act on this issue: 
"I think you have seen attempts by police departments to enact reforms. I think we've come a long way. We certainly can go further. ... I'll take Boston police, for example. There have been for several years now, social worker and crisis councilors who drive with police officers and respond to people in emotional distress, in a mental health crisis. There are outreach efforts that our officers are doing where we had cops who were taking kids from the housing development and volunteering their time. ... We had to beg, borrow and steal, and people would donate tennis equipment where they had cops teaching kids tennis and talking about how to make good decisions in their life on Thursday and Friday nights at the Sportsmen tennis clinic in Roxbury.
"We deployed an ice cream truck to the community so that we can at least start conversations with kids who are afraid to talk to us because we didn't have good relations, and we were trying to work hard on it. So I think we've seen reforms."
On why he thinks the solutions involve activists and police at the table: 
"I've got good hope and cause that there's actually enough energy and enough action. So we've seen protests before and we've seen people who made speeches and made promises. We're actually seeing people who are taking action and doing things to enact change. You need to have that conversation with the community and the police.
"The police have to do a listen and learning session with what the community wants them to do, how they want them to police, what they want them to use for use of force, what's in and what's out. The community and the community leaders need to understand what the police do and why they do it.
"I would challenge anyone who's making those decisions about budget issues and use of force issues and what systems and what's acceptable to go to the police academy and go through the use of force training to go through a firearm simulator to see what it's like to be a cop in the middle of a crisis to make split-second decisions."
On what losing 10% of the budget could mean for Boston police: 
"Ninety percent of the police budget when I was doing the police budget was personnel costs ... but we could either adjust the numbers and have [fewer] police officers. And, if that's the case, it means that we take police officers away from the initiatives that Commissioner [William] Gross put in place with the community service division ... where we're actually doing proactive community policing initiatives, working in partnership with the community every day.
"We can be reactive police where we just respond to 911 calls. Then we go back to where we were before community policing came to Boston. I don't think that myself or any of the community members that I work with want to go there."
On what he makes of local and national calls to "defund the police:" 
"Instead of calling it 'defund the police,' let's invest in the community. If that's resources ... put into the [police] to do training for officers and support the community, great. If we need to support the schools more or if we need more [toward] mental health, that's great." 
This article was originally published on June 10, 2020.
This segment aired on June 10, 2020.