Boston Activists Want More Accountability, And Call On The City To 'Defund The Police'
Resume
Calls from activists against police brutality to "defund the police" have gained traction nationwide this past week, and Boston is no exception. On Tuesday, the Boston City Council held public testimony on the city's police budget.
About 70 people testified for more than four hours, calling for a 10% reduction in funding for the Boston police, and a reallocation of those funds to other programs.
Armani White, a community organizer with "The Young Abolitionists," is pushing for the change, and he told Radio Boston what it would mean for communities.
But, defunding is just one aspect of police reform people are calling for locally.
Brock Satter is a co-founder and organizer with Mass Action Against Police Brutality and has helped organize local demonstrations. Mass Action wants to prosecute police involved in police violence, and reopen all past cases of police brutality.
Interview Highlights
On what White says calls to "defund the police" mean for him: 
White: "When we talk about defunding the police, we're talking about investing in communities. We're talking about putting our money where our values are.
"[In Boston], we can allocate 10% of the budget right now toward the community, instead of increasing the police budget. So that's what we're about."
On the broad coalition behind the local calls to decrease police budget: 
White: "It's coming from a lot of different angles — organizations that focus on Latino communities, folks that work with communities that are incarcerated or formerly incarcerated, young people, Jewish people, Muslim people. People from all over are saying the same thing, which is that we need to invest in our communities."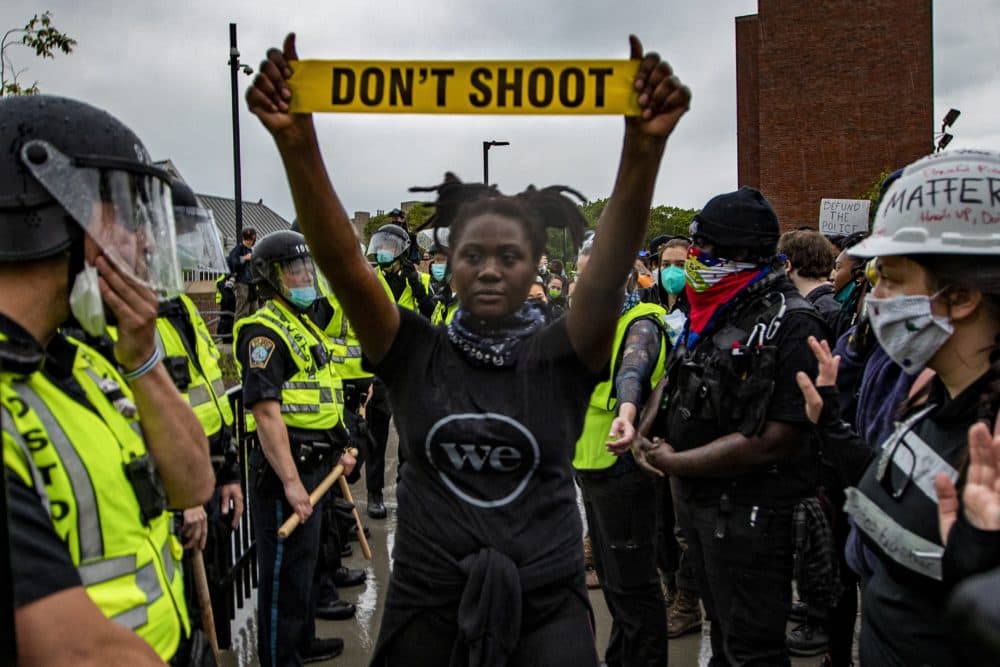 On where specifically White would like to see that money go towards: 
White: "We need more resources, because we know that investment in communities actually deals with violence, actually addresses the harm in our communities.
"We would invest in the programs that exist now and also create new programs that we know we need and don't have the funding for — and so, I mean, some examples ... we can hire civilians to do construction details, youth workers and counselors can replace police in schools. This is something that we know works."
On how some activists feel that 10% budget cut is not enough:  
Satter: "Most people who come to a protest aren't coming out to protest because they're thinking about a 10% cut in the budget. ... I think Minneapolis [is] kind of the model right now. If anything, we should disband the police know it."
On why Mass Action is calling district attorneys locally, and nationwide, to reopen cases of police brutality against Black people in America: 
Satter: "The main demand in the case of George Floyd is that these cops be prosecuted. That's why people took to the streets because the government didn't act in a timely fashion. It turned into a riot. And, in general, that's why you see a protest movement that continues to explode into the headlines ... because five years after Mike Brown, [police officer] Darren Wilson is still walking the streets.
"[Families demand these cases] be reopened. That's what we demand in the [Boston] cases of Terrence Coleman, Usaamah Rahim and Bo Ramsey White.
"For starters, here in the Boston area, we think that Rachael Rollins should reopen these cases. It's not enough to say that you're against George Floyd being murdered by that officer, and that that officer should be prosecuted. You have to deal with what's going on in your own home, in your own backyard."
This segment aired on June 9, 2020.