The changing face of Route 1's Kowloon Restaurant
11:32
Play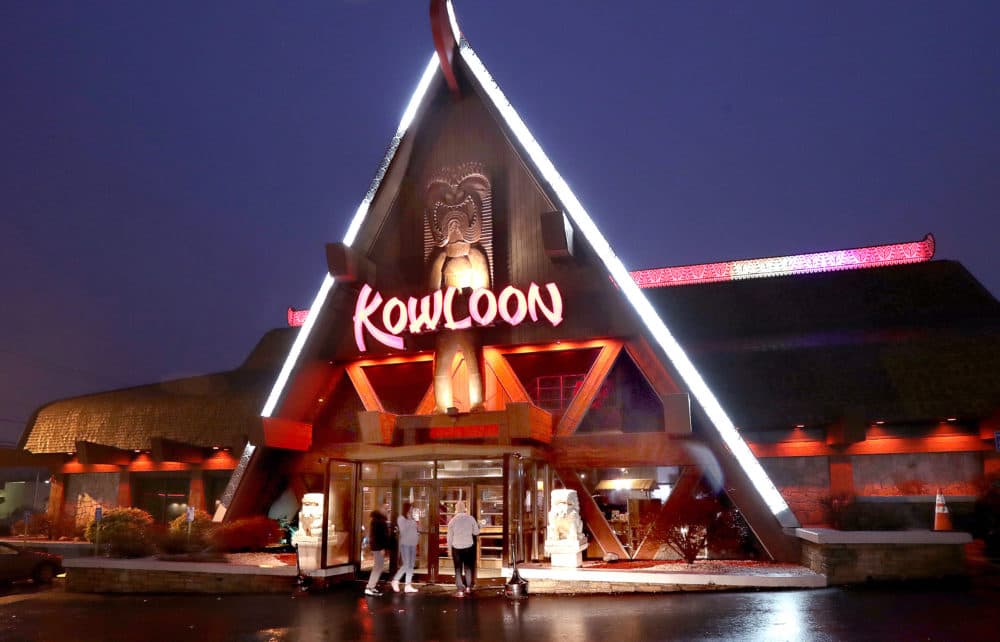 In its heyday, neon and flashing signs peppered Route 1 and people drove from around the region to dine, drink and be entertained along the strip.
Part of that culture is Kowloon restaurant. For decades, it's been the spot for good food and scorpion bowls. But now, the karaoke hub is changing alongside the road it calls home.
Kowloon co-owner Bobby Wong joined Radio Boston's Tiziana Dearing to discuss the restaurant's past, present and potential future. Later in the segment Dearing spoke with Boston Business Journal projects reporter Grant Welker about how changes in our living and shopping patterns have affected iconic highway stretches like Route 1 in Saugus.
Below are highlights from their conversation, which have been lightly edited.
Interview Highlights
On his earliest memories at Kowloon:
Wong: "It definitely was a lot smaller. My parents had taken it over from my grandparents. My grandparents had started it in 1950 with about 30 or 40 seats. My parents took it over in 1958.
"My earliest memories was being really young — and my parents, naturally, didn't have a lot of babysitters — and they would take my family, my siblings and myself, to the restaurant while they were working. And a lot of days that would happen. And I remember just being at the restaurant with my siblings and trying to entertain ourselves while they were working. And in some cases, me and my brother would —we wouldn't throw a baseball around because we wouldn't want to break anything, but we'd have rolled up the socks or something like that and play catch with it while my parents worked, and hopefully stayed out of the way — which more often than not, probably what didn't happen. But they were really kind to us in terms of putting up with all of that. That that's the earliest memory."
On the changes he's seen along Route 1:
Wong: "I think things really have changed from the time that I first started working there, and just visiting [Route 1], and and the buildings have come and gone. Institutions like the Hilltop Steakhouse, which was probably one of the most busiest restaurants in the country at one point. They've come and gone. There used to be a Valle's Steakhouse, so many different restaurants that I can't keep track of. Augustine's, which was a big Italian restaurant. And nothing seems to last forever. And apparently that's the way life is.
"So right now, we're in the midst of trying to figure out what we want to do for the rest of our lives. And it won't be as that large restaurant. But you know, we're getting at that age and where it's it's demanding and we see change coming in the future...
"You know, everybody always looks [for] an exit strategy, and the only way I can think of it as, 'It's not a total exit.' It's going to be a 'one foot in one, foot out' type of situation where we'd like to downsize the restaurant part of the operation, but maybe venture into a partnership with a great developer ... and do other income streams such as apartments. And hopefully that will be handed down to the next generation."
On whether he's at peace with the planned changes:
Wong: "You know, if you asked me 20 years ago, I wouldn't even think about it, and I would be kind of struggling with not having to go to the restaurant every day and do what we do. But definitely at Peace Now where, you know, I know this can't go on. I can't keep doing this forever. As well as my siblings, none of us can keep doing forever, so we don't want to wake up one day ... And realize that we have a 12 000 seat restaurant and none of us want to work in it and we can't go when we want to go in anymore, what are you going to do? So what we're doing now is putting out, you know, planting the seeds for what happens. And because we're doing it now, we're able to do it in a controlled, timely fashion where we're not racing against the clock or anything like that."
This article was originally published on April 05, 2022.
This segment aired on April 5, 2022.