New podcast explores LGBTQ+ life in Provincetown
Play
We discuss a new podcast called "Welcome to Provincetown," which explores LGBTQ+ living in the summer of 2021, with host Mitra Kaboli, and co-creator and Provincetown summer resident Ben Riskin. The first five episodes are available now.
Kaboli and Riskin joined Radio Boston to discuss the new podcast and life living in P-Town.
Interview Highlights
On why Kaboli and Riskin wanted to create a podcast on Provincetown:
Kaboli: "Well, Provincetown is a really, really interesting place. It's full of performers and writers and just like all kinds of people. And it's this idyllic kind of two-street beach town. In the winter, it's so quiet, sleepy. You know, only like 3,000 people live there. And in the summer, the population just explodes to something around 60,000. And I was just really curious about what that meant for a place. And given that it's this really iconic queer haven, I was just really interested to find out what that place had to offer visitors, the people who live there and myself, you know?"
Riskin: "This is my 15th summer. And I think for me I've always just been so enamored by the people I meet here, by the friends I have here. And, you know, the whole town feels like a stage. And so when I came up here initially, I actually wasn't working in audio. Several years later, you know, as as Jay says in one episode, I came out as an artist, let's say, and started working in audio. And it felt like something immediately that I wanted to work on was finding a way to reflect on the lives of the people that live here and the people that work here."

On why people come to Provincetown:
Riskin: "I think that Provincetown has always been this safe haven...it's 50 miles into the Atlantic Ocean. It's the very end of Route 6. The road literally peters out into sand. And it's this place that feels totally safe, it's a place where you feel represented — or rather that I feel represented and that many other people do. And consequently, a lot of LGBTQ folks come here to heal, to change something in their life, to get away and just have a carefree time. And consequently, you get all of these very interesting people here going to various different stages of their lives."
"Later in the season, you'll meet Brian, who is an assistant harbormaster and going through a divorce. We'll learn a little bit about how Provincetown took care of its own during the AIDS epidemic. And the whole goal of the show was to reflect that real, wild diversity of people here. It's not just diversity in the sense that there are LGBTQ folks, but that there are individuals going through a variety of different things in their lives and finding solace in this beautiful and isolated place that lets them get through it."
On the history of AIDS and Provincetown:
Riskin: "[Provincetown is] a small town and it has that kind of mix of history and lore, which I think is what makes a certain kind of magic about it. But when it comes to AIDS and when it comes to community care among the LGBTQ community, I think that's a character in all of our lives, whether we're in Provincetown, New York or, you know, Wichita. It's something that decimated our community. It's something that has been reflected in a variety of different mediums where we see how this community came together and organized and took care of its own when the government decided not to. And consequently, it's part of all of our lives — including the younger generation that didn't live through it, including myself and the older generation of people who maybe live directly through it or caught the tail end of it or the worst part of it. It's certainly still happening today and perhaps to different parts of our community."
On the COVID-19 Delta variant outbreak in Provincetown:
Kaboli: "While I was there during the Delta outbreak, it was so interesting. You know, all of a sudden I'm fielding all these texts and calls from people I maybe hadn't heard from in a while, being like, 'I heard you're in Provincetown, I hope you're okay.' And, you know, I was...on the ground. I could see that the town was responding. Even like tourists and visitors. I believe that it was like a group of tourists who kind of organized themselves. They realized that they got COVID and kind of made this spreadsheet and contact traced among each other and then shared that with federal and state health agencies and really controlled the outbreak really quickly."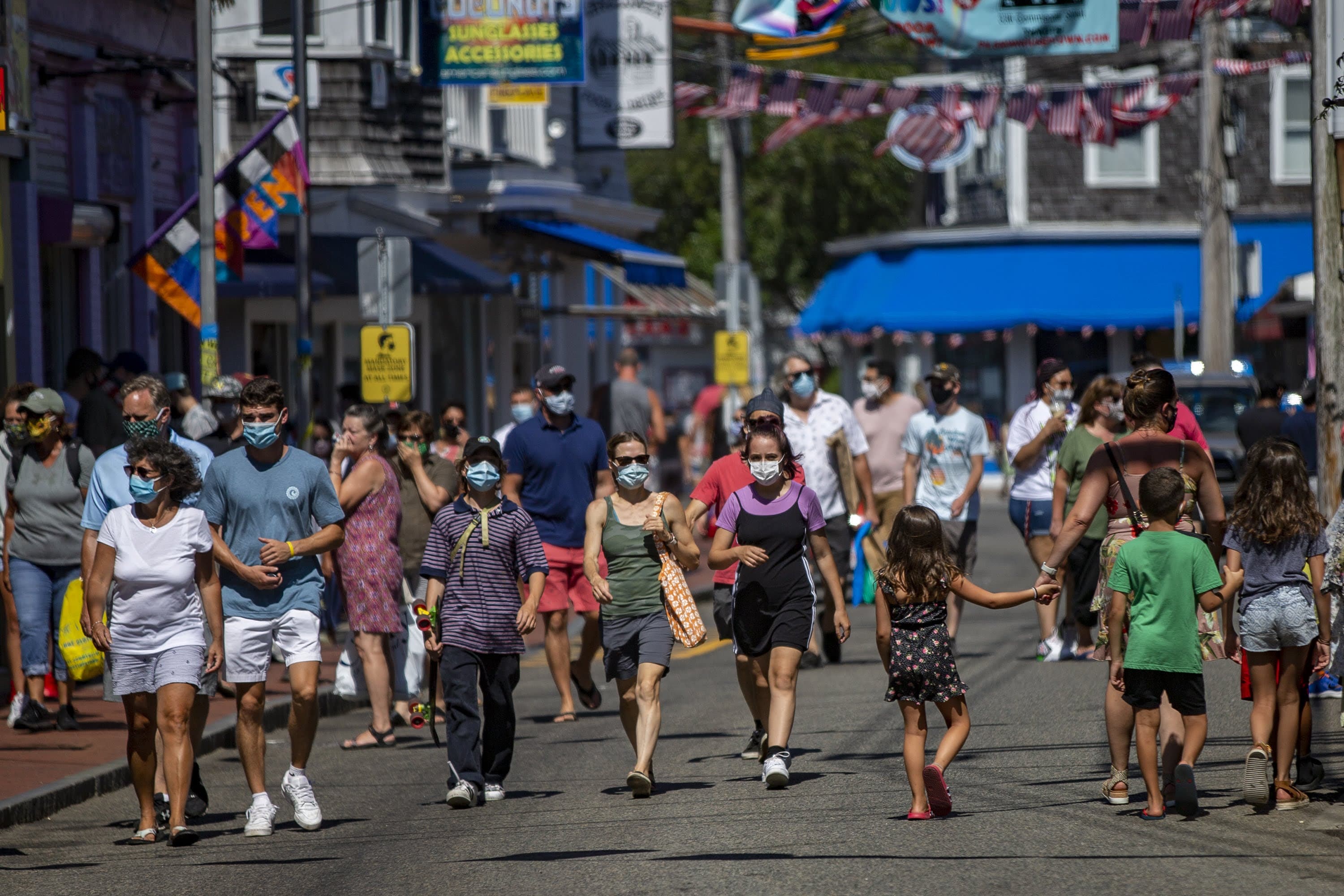 "In a matter of weeks, it had really petered out pretty quickly. It was really amazing, and the town...couldn't really have another summer financially like the one they had in 2020. You know, businesses were really suffering because it is seasonal and so much is riding on the summer economy there. While I was there, though, I was just like, 'Wow, people are really like getting this done. Everyone's wearing masks. We're all kind of together in this.' And it kind of felt like there's no better place to be right now. There's tons to do outside. So I felt pretty well taken care of."
This segment aired on July 8, 2022.