Ayanna Pressley on the debt ceiling, the 118th Congress and rent control
Play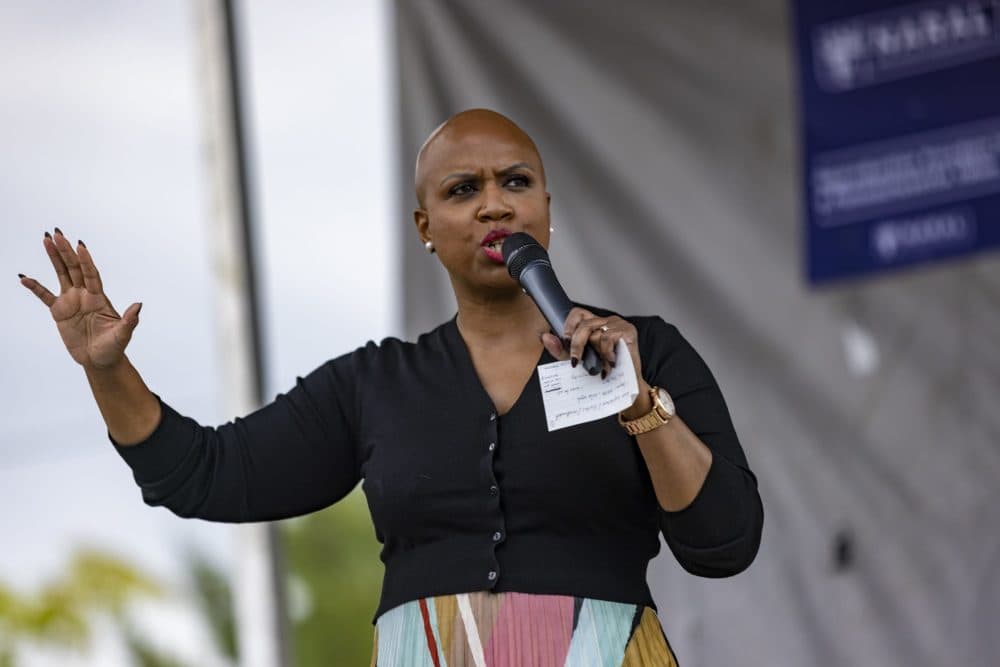 Massachusetts Congresswoman Ayanna Pressley said she wouldn't make predictions about Congress's next moves as the U.S. hit its debt ceiling Thursday morning. Even as Treasury Secretary Janet Yellen said her department was taking extraordinary measures to keep the country from defaulting.
Still, Pressley said the first few weeks of the 118th congress are a preview of what's to come.
"How we started the 118th Congress, I think, has been a sobering look into what we can expect for the next two years," Pressley said during an interview on WBUR's Radio Boston. "The good news is I'm battle-tested and I'm ready to do the work of harm mitigation, while also working earnestly and creatively and diligently with the White House and also with the corner office here in Massachusetts to ensure that we are meeting the needs of the people who have entrusted us with this responsibility."
Pressley said her Republican colleagues have been leading with chaos, from Rep. Kevin McCarthy's multi-day bid to become Speaker, to Republican leadership indicating they'll push budget cuts instead of voting to raise the debt ceiling.
"I look forward to the next two years of making the affirmative case for why Democrats need to get that gavel back and be in the majority, because we are centering the American people," said Pressley. "We govern with compassion and not contempt or callousness, nor do we govern with chaos."
Pressley also talked about a proposal being floated in Boston to implement rent control, her efforts to find out more information about — and fix — the nationwide children's Tylenol shortage, and her response to local and national reactions to The Embrace monument on Boston Common.
Below are highlights from their conversation, which have been lightly edited.
Interview Highlights
On Boston Mayor Michelle Wu considering a 10-percent cap as part of her rent control proposal
Pressley: "I've long been a proponent of rent stabilization. I represent one of the most marginalized and unequal districts, and that's true across all outcomes and data points. And that's true when it comes to affordable housing. And we know that housing is a critical determinant of health. And because of my longstanding advocacy and work in the public health space, I've always been an advocate for housing that is affordable, safe and clean. And moreover, it's an incredible time to be alive to call the city of Boston, to call this commonwealth, home. And we want to retain the diversity of our our neighborhoods, which have made this city so great and have made so many contributions. And so we have to address the impacts of gentrification and displacement. We have to address the impacts of the work of still recovering from a pandemic-induced recession, rising costs and stagnant wages."
On a letter she co-signed with other members of the state's Congressional delegation to Johnson & Johnson
Pressley: "The shortage of infant and children's Tylenol and Motrin in Massachusetts and across the country is unacceptable. It's unconscionable. This is the status quo that can't stand. We're in the midst of a challenging cold and flu season: parents with sick children visiting store after store being met with empty shelves. And so this was an effort initiated by my office. We led this letter, and Senator Warren, Congresswoman Trahan, and Whip Clark joined us. And I am grateful for the prompt response by Johnson & Johnson, but still unsatisfied. I think we're making progress, but there's still more a road to walk here, and we're going to continue to demand answers and do everything we can to address these shortages."
On local reactions to the new Embrace Boston memorial honoring Martin Luther King Jr. and Coretta Scott King
Pressley: "The Embrace memorial is a powerful tribute to the love of Martin and Coretta and their legacy in a changing Boston. And I'm not going to give oxygen to any bad faith criticism of it by people. I think it's important that we embrace the social justice and civil rights movement that was initiated and led by Dr. King and Coretta. And I take great pride in the fact that their love was forged here in this district and ultimately birthed a movement, one that we are still very much in. And I think my very election and that of Andrea Campbell and so many others is evidence of that progress. But also there's much more work that remains to be done. What we need to embrace is not just the power symbolism, but also the necessity of systemic change and impact. And that's the work I'm going to be focused on every day."
This segment aired on January 19, 2023.