2 Mass. Paralympians — A Sailor And A Runner — Find Empowerment In Their Sports
Resume
Three years ago, Chaz Davis, of Grafton, was a freshman at the University of Hartford. He was doing well in school and running on the track and cross country teams, when he had a crushing medical setback.
"One day in March I woke up and my right eye, I could really not see too much out of it at all," Davis recalls.
It happened so suddenly. Doctors didn't know what was wrong.
Several months later they determined he had a disorder that attacks the eye's optic nerve and makes it atrophy.
Davis soon lost vision in his left eye, too. He was declared legally blind.
"Primarily I see shadows, shapes and just a whole blur of colors, really," Davis explains. "When I first did lose my sight, it was devastating, as many people would probably realize."
He fell into a deep depression.
"I really had no clue where I was going to go. I kind of felt ... the world was against me, and everything was against me, and it would be really hard to move forward."
When Davis was first diagnosed, a doctor told him not to run or exercise at all. It wasn't clear if exertion could further impair what little vision he had.
"And running has always been such a huge part of my life, emotionally, even prior to losing my sight," Davis says. "It has always really been that outlet to really help me throughout life's challenges."
He took off the whole summer of 2013. He sat in his bedroom most of the time. He gained 40 pounds.
Then, he saw a specialist who said running might help — by revitalizing cells.
"[Running] has always really been that outlet to really help me throughout life's challenges."

Chaz Davis
So Davis learned how to run without seeing. How not to fly off the back of the treadmill. How to follow the fuzzy white lines he can just make out on the track.
His college teammates rallied around him. He started running on the open road, with them acting as his guides.
"So they'll run maybe a step in front of me or side-by-side where I can see them out of my peripheral vision, because though my entire field of vision is affected, my peripheral vision is most intact," Davis says. "I can use them and have a constant dialogue with them while I run — to call out certain obstacles, whether potholes or sticks — those kind of things. So we can maneuver around that."
He started competing again. Soon, Davis became the fastest person on his team — faster than when he had perfect vision.
And Davis isn't the only Bay Stater competing in Rio who had to re-learn a sport.
'Free To Go About The Ocean As We Wish'
Fifty-one-year-old Maureen McKinnon, of Marblehead, is competing in the two-person sailing discipline at the Paralympics.
She explains how she became a paraplegic in 1995:
"I was right next to an ocean sea wall, and I happened to trip on an unfortunate rope that was in front of me I did not see — over the wall and down 13 feet, landing in a sitting position and breaking my lumbar one, and giving me an incomplete spinal cord injury from the waist down."
It didn't stop her from going back to competitive sailing.
"I feel as though the sport is very empowering for people with disabilities ..."

Maureen McKinnon
She tried different boats and found one that was a perfect fit — the SKUD-18, which is made for people with disabilities.
In 2008, 13 years after she became paraplegic, McKinnon qualified for the Paralympics in Beijing.
She and her sailing partner won gold. Her teammate had ALS — Lou Gehrig's disease — and died not long after the games.
McKinnon's new skipper is a college student from California who became a quadriplegic in a diving accident a few years ago.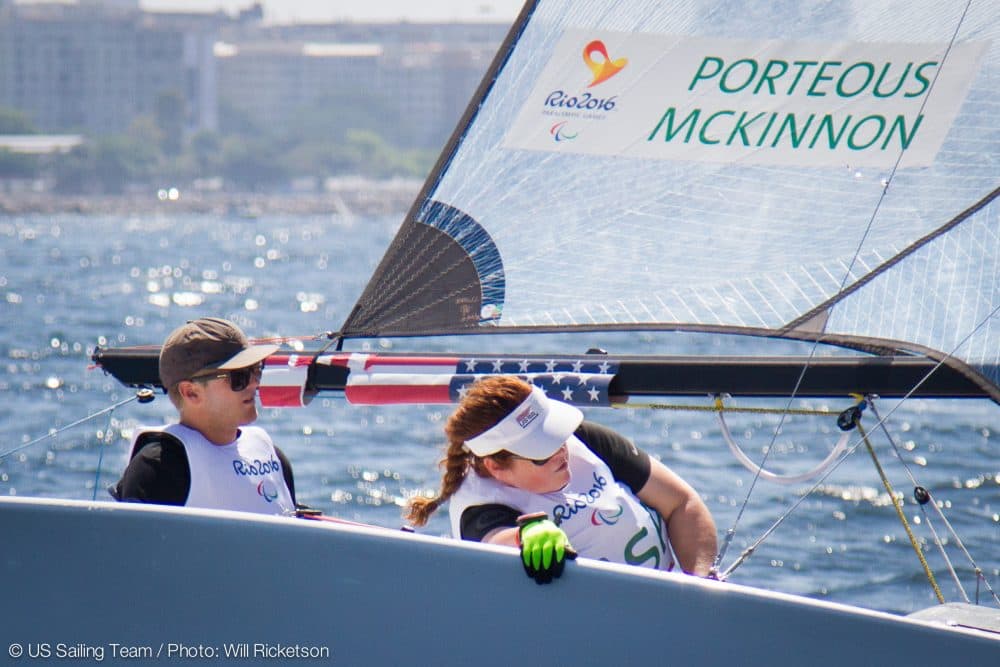 Asked what it means to her to be competing in her second Paralympic Games, and whether she's looking for people to take notice of what she's doing, McKinnon says she'd prefer people take notice of disabled sailing as a whole.
"I feel as though the sport is very empowering for people with disabilities," McKinnon reflects. "We are able to sail leaving our wheelchairs at the dock, and we are free to go about the ocean as we wish."
"For me the honor is really to represent my country for a second time, and to hopefully bring home some type of bling around my neck ... Now that I have gold, you know, a full set would be nice," she adds, laughing.
Her fellow Bay Stater in Rio, the legally blind runner Chaz Davis, says even if he doesn't medal, competing in the games will be a personal victory.
"I'm really just doing this more so for me, because it's something that I needed to do to get myself back on track and move on with my life and move on from this blindness, and not let that define me, you know?" he said. "Because there's a lot more to me than just being blind or having a visual impairment. So really taking that leap of faith got me to the point of making it as far as I have."
---
Chaz Davis came in 10th in the 1,500-meter race. That's a personal best for him. Thursday morning, he'll compete in the 5,000-meter at 9 a.m. Eastern Standard Time.
Maureen McKinnon will be sailing every day until medals are awarded Saturday. She and her sailing partner are in 6th place, out of 10 pairs in their class.
This segment aired on September 14, 2016.