Isaiah Thomas Writes A New Chapter In Boston's Long History Of Racism In Sports
Resume
Isaiah Thomas fell in love with Boston. He says he fell hard because the Celtics and the city saw something special in the 5-foot-9 point guard. They saw a passion for the game, a pride in playing for the Green and a will to win that made his size a quirk not a defining characteristic. And that's why being traded to Cleveland this summer hurt so much.
"The Boston Celtics let me have a chance to be great," writes Thomas in a recent piece for The Players' Tribune. "And I'll never forget that."
He'll also never forget how the city showed its support after his sister died in a car accident. The accident happened the day before the start of the Celtics 2017 postseason, but Thomas was in uniform for the team's first playoff game. Prior to tip-off at TD Garden, there was a moment of silence in his sister's honor.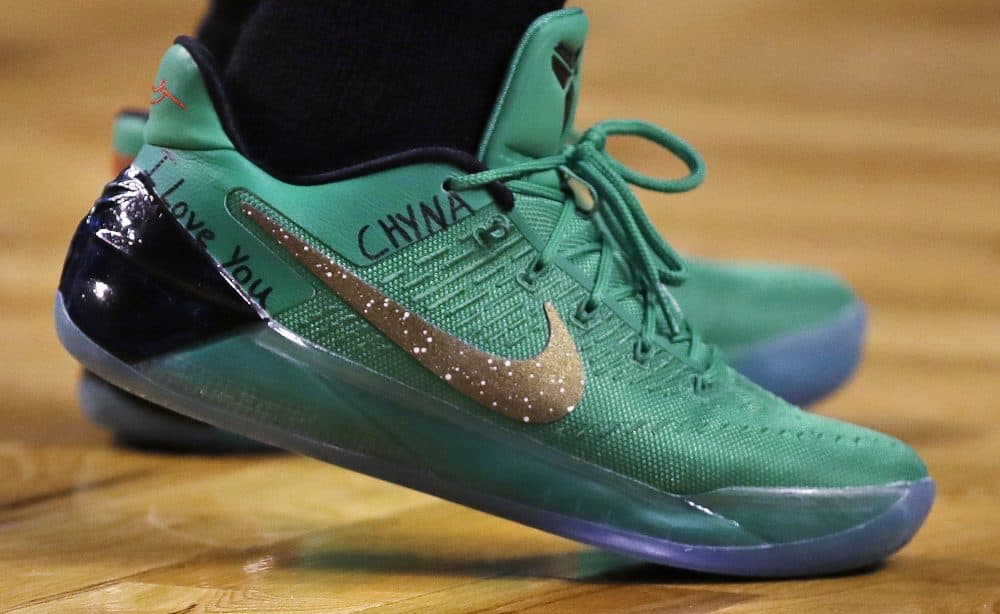 Recalling that moment, Thomas writes, "I didn't have to be alone in this. The whole arena was right there with me. Honestly, it felt like the whole city of Boston was with me… They're showing me that I'm one of them, and that we're in this together."
It's remarkable, revealing stuff. It's even more remarkable given that it's a young, black professional athlete talking about his strong bond with Boston and its fans.
Thomas' words contrast starkly with those of Celtics legend Bill Russell who called Boston "a flea market of racism" and of former Red Sox player and coach Tommy Harper who told The Boston Globe, "They call it Red Sox Nation, but it was never my nation."
To put it politely, the Boston area, its teams and its fans haven't been welcoming to black athletes in the distant and very recent past.
Not in 1945 when the Red Sox passed on Jackie Robinson after a sham tryout.
Not when Russell starred for the Celtics in the 1950s and '60s and burglars once ransacked his suburban home, leaving racist graffiti and defecating in his bed. Not in 1985 when Harper exposed the Red Sox's long association with an all-white Elks club at its Florida spring training base.
Not in 1990 when nine Wellesley police officers, five with guns drawn, surrounded then Celtics rookie Dee Brown and his fiancée because they believed he was a bank robber on the loose.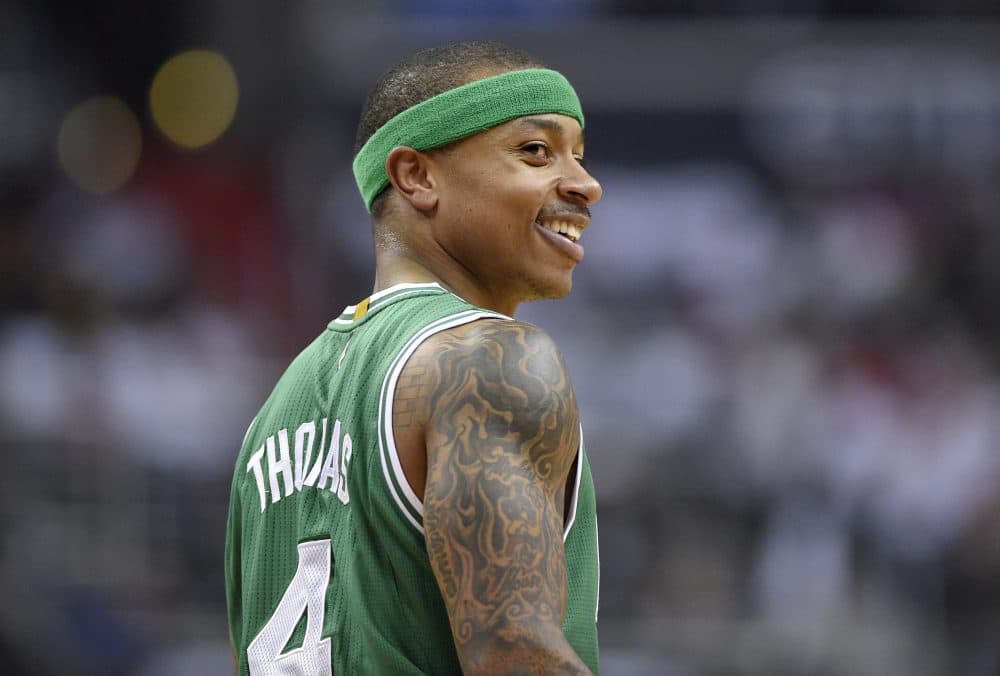 The list could be much longer. The latest addition occurred this May during a game at Fenway Park when Baltimore Orioles centerfielder Adam Jones said he was "called the N-word a handful of times" and had a bag of peanuts thrown at him.
The fallout was predictable, including the recounting of all the racist low-lights in Boston sports history from the Red Sox being the last Major League team to integrate to black pro players inserting no-trade-to-Boston clauses in their contracts.
Given this context, what does Thomas' love for Boston say about the city and its sports fans? Well, let's get this out of the way: Anyone expecting a simple, straightforward answer, the intersection of race and sports in America is not the place to find one. There's simply too much history in Boston and elsewhere.
Thomas offers a counternarrative, an unexpected bookend to a Boston summer where, between Jones and the push to rename Yawkey Way, race never seemed far from the city's sports conversation. But the bigger takeaway is the reminder that there isn't one black experience or Latino or Asian or Muslim or Jewish or white experience. That translates into narratives about people and places that are more fluid. Or, at least, they should be.
Thomas wasn't writing as a professional athlete defined by his color. He was writing as an NBA player traded away from a city he loves.
Thomas represents one person's experience and, more than that, one recognizable, star athlete's experience. He connected with Boston on an individual level. If he's part of some larger, discriminated against group, it's that of the undersized, prove-'em-wrong, bighearted ballplayer trying to catch a break in a big man's game in a statistics-driven league. From his piece in The Players' Tribune, that's how Thomas sees it. And that's where the bond with Boston began.
"[I]t's almost like me and the city, my Celtics teams and these Celtics fans, we both shared the same heart, that same mentality," writes Thomas. "We both just wanted to win — now — and neither of us had any time for our critics."
So, does Thomas' love for Boston signal that the city is changing for the better when it comes to issues of race? Again, there's no simple answer. Just as there isn't one black experience, there isn't one Boston experience. But it's important to recognize that Thomas wasn't writing as a professional athlete defined by his color. He was writing as an NBA player traded away from a city he loves.
And while Boston remains haunted by its racism, Thomas' love speaks volumes. On his way out, he leaves the door open for a more nuanced, more textured perception of the city.
This segment aired on September 14, 2017.