Meb Keflezighi: 'There Are No Guarantees In The Marathon Or In Life'
Play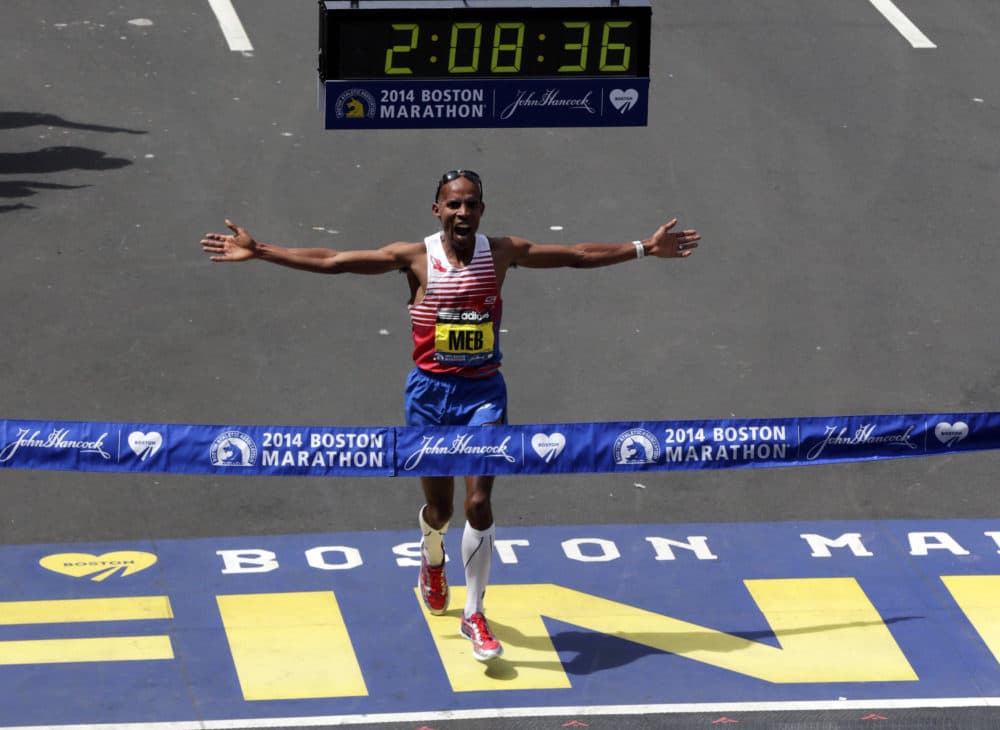 This article is more than 3 years old.
I was recovering from an injury on Marathon Monday in 2013. I watched the race from the grandstand on Boylston Street and was captivated by the spirit of the marathon at the finish line. I had just returned to the Fairmont Copley hotel a few minutes before the first bomb exploded. I wept when I heard the news.
I remember thinking: Marathons bring out the best of the human spirit. Why would someone turn all that's good about humanity into a scene of death and destruction?
I vowed to return to Boston in 2014. I wanted to race. Not just for myself, but to help heal the families and the city. I wanted to help reclaim the Marathon as an event of joy and positivity.
In 2014, I was one of the slowest runners in John Hancock's elite field — and the oldest, at almost 39. But I wasn't thinking about that. I came to America with my family when I was 12, after fleeing the war in Eritrea. The United States and running had been good to me, and I was determined to do something special.
On my bib, I wrote the names of the four people who'd died the year before: Sean, Krystle, Lingzi and Martin. They ran the race with me, and with the 36,000 other runners that day.
I didn't plan to take the lead early, but soon after the halfway point, I was running alone. The chants of "USA! USA!" and "Go, Meb!" still ring in my ears.
Three miles from the finish — struggling, in pain and ready to vomit — I almost got caught by another runner. Almost. I drew strength from the cheering crowds and the names on my bib.
Finally came the most famous turns in marathon running: right on Hereford, left on Boylston. I crossed myself at the bombing sites, broke the tape and fell into my wife's arms. I wept again — this time to the national anthem.
There are no guarantees in the marathon or in life. Over the last five years, people don't only say "congratulations" to me for winning in 2014; they say "thank you."
What really mattered that day is that we all ran to win. I just happened to get to the line first.

This segment aired on April 15, 2019.