Farewell, Sarah Sanders
It was inevitable that Sarah Sanders would be promoted to the role of White House press secretary, for the simple reason that she was extremely skilled at projecting an air of unflappable righteousness on television.
It was equally inevitable that this talent would transform her into a superstar in conservative circles (read: Trumpworld). People are now wildly speculating that Sanders is eyeing a run for higher office.
The public paid Sanders' salary as press secretary, and her official role was to help members of the press understand the administration's stated policies and actions.
As she bids the job farewell this month, it has become a refrain to characterize Sanders as a mouthpiece  who did the bidding of a pathologically dishonest boss. And it's impossible to dispute that Sanders was a practiced and accomplished liar. What else can you say about someone who claims, repeatedly and indignantly, that "countless officials" at the FBI contacted her to express opposition to former FBI Director James Comey, then admits (when placed under oath by the Special Counsel Robert Mueller), that this claim was "not founded on anything."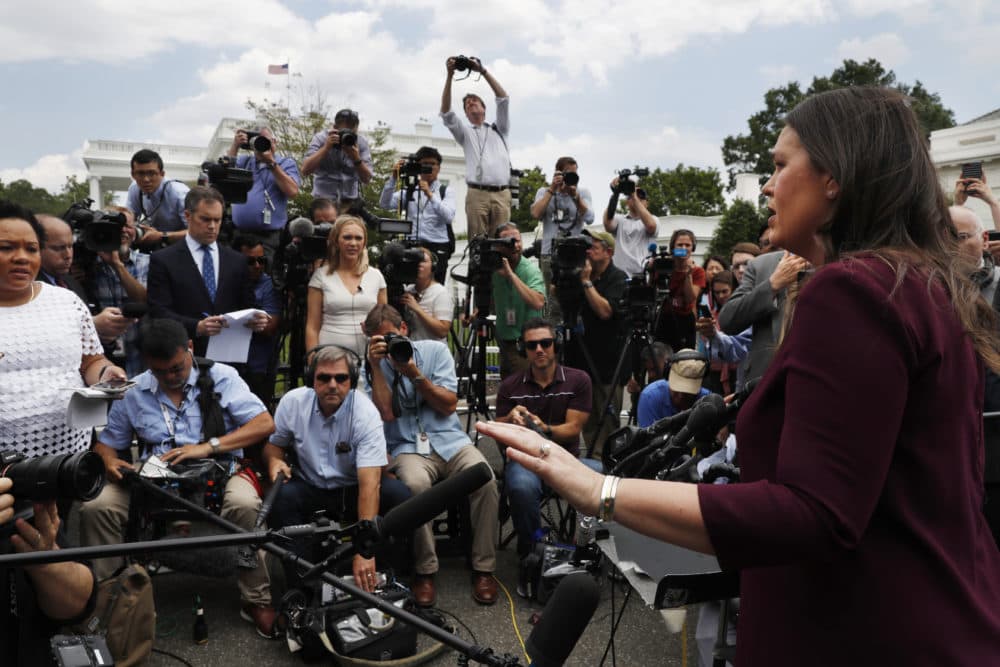 Of course, the Trump regime is lousy with officials who lie; several are behind bars or headed there soon. The reason Sanders became such a powerful figure is because she played a vital role in televised optics of this administration, at least back in the days when she actually bothered to conduct press briefings.
While her boss played the rage-drunk dad — yelling at subordinates, ranting on Twitter, mocking enemies — Sanders projected the air of an impatient mom who had been dispatched to silence an unruly mob of childish reporters.
No matter how despicable the actions she was tasked with defending — coddling white nationalists, ripping migrant children from their parents, inciting domestic terrorists — Sanders never let the mask of bored contempt slip.
Her appearances were irresistible to that portion of the president's base composed of aging white people who compensate for their personal sense of humiliation and frustration by seeking out the malignant aura of the bully.
They loved watching Sarah lord over the press room, glowering at the pathetic gaggle gathered below her, all of them keening for the chance to ask some gotcha question, which Sanders inevitably batted aside with ease.
Sanders projected the kind of power that relies on a calm sense of superiority ... Siri reborn as a sociopath.
While the president often comes off as defensive and panicked, Sanders projected the kind of power that relies on a calm sense of superiority — not the internet troll desperate to provoke, but the jaded oracle who reduces all manner of moral atrocity to nitpicking: Siri reborn as a sociopath.
It was exhausting to watch the press corps play into her hands, over and over again.
The journalists who faithfully crammed into the briefing room told themselves that they had a sacred duty to carry out, that it was their role to wrestle truthful information from an inherently dishonest administration, to serve as the people's representatives in Washington.
But they must have known, deep in their hearts, that no such information would be forthcoming. Instead, they would be reduced to props in an ongoing propaganda campaign: America's most famous reporters rendered, in real time, as needling sycophants.
(Honestly, think about it: if you were a reporter in devout pursuit of the truth about this administration, would groveling before Sarah Sanders really be the best use of your time and energy?)
So why did they keep showing up? For the same reason the reporters and camera operators keep turning up at Trump's rallies, I'm afraid: for the ratings, the clicks, the page views.
In this sense, Sanders (like her boss) became an important national figure not on the basis of any intellectual or civic merit, but because she was able to render rage as entertainment. She was elevated to celebrity by the very people she routinely belittled and vilified. And all of us who watched this spectacle were also complicit.