There'll be one very important person missing at the 125th running of the Boston Marathon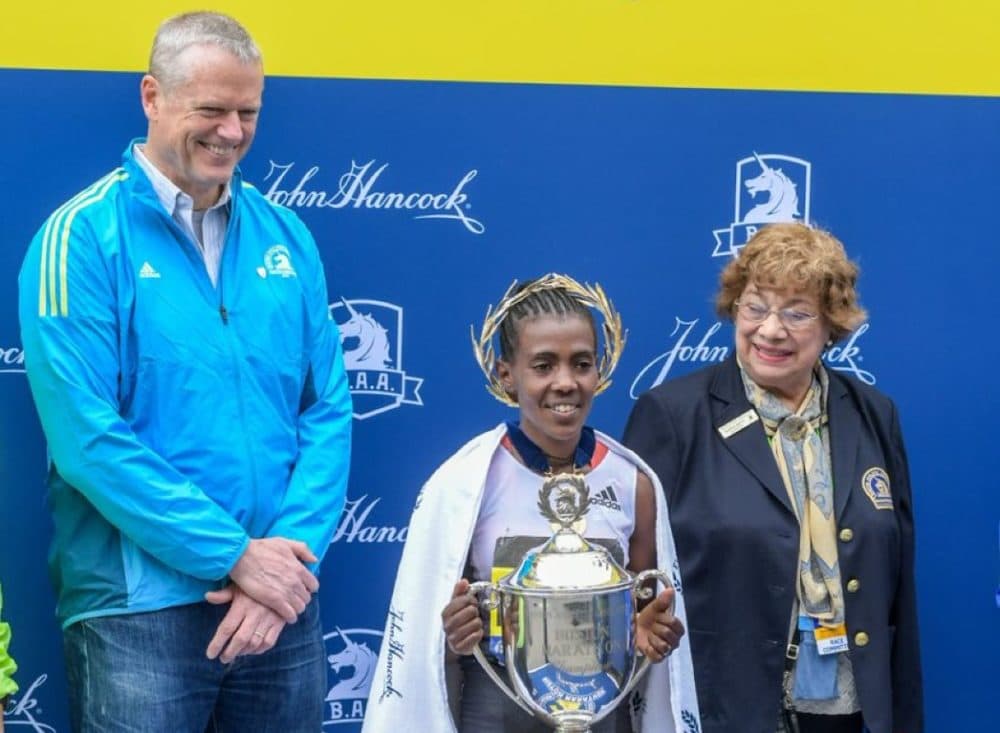 A handwritten note from Gloria Ratti was something to be treasured, a majestic arc sweeping across the signature's G a remnant of an earlier time. Replicating it here, tucked between paragraphs of unadorned font, seems as incongruous as finding Tennyson on Tik Tok.
Or as unlikely as discovering a champion's trophy — from the 1916 Boston Marathon — being put to use as an ice bucket a few years ago at a Boylston Street racket club.
For a quarter-century, Gloria was the doyenne of the Boston Marathon. Vice president and secretary of the Boston Athletic Association's board of governors, she was also its intrepid historian. As a writer in the sport of distance running, I knew I could always count on Gloria to have the book I needed for reference, share the contact information for a past champion and serve as a role model for how to impeccably pin a scarf.
When a young woman who happened to work with Gloria at the B.A.A. reported her discovery of the championship-trophy-cum-ice-bucket, she was told to reclaim it by whatever means necessary. The details of its acquisition are unknown, but that it now rests in the B.A.A. trophy case goes almost without saying. That's what happens when you have a woman eulogized as "Mae West, Eleanor Roosevelt and Molly Brown all rolled into one" as your archivist.
Gloria G. (Graceffa) Ratti died in July, at the age of 90. On Monday, the Boston Marathon, the oldest annual marathon in the world, will celebrate its 125th running without Gloria, who leaves a hole as deep as Heartbreak Hill is high.
To which she would almost certainly order us — as she so often did — to "build a bridge and get over it."
That's what happens when you have a woman eulogized as "Mae West, Eleanor Roosevelt and Molly Brown all rolled into one" as your archivist.
So, OK. Let's celebrate instead.
Let's remember her insistence that she'd been around so long she was a waitress at the Last Supper. Let's remember her instructing dignitaries on the victory stand — I'm looking at you Gov. Charlie Baker — that retribution awaited them if they dropped the crown before it reached a champion's head.
Let's especially celebrate the museum of memorabilia Gloria assembled over the past quarter-century.
Shoes, medals, singlets, plates, plaques … many from past marathons, some from the early days of a B.A.A. club, founded in 1887, that staged competitions in sports such as fencing and rowing, too. There's even a vial of holy water, given to her by Joan Benoit Samuelson — the same one Samuelson had tucked into a plastic bag and pinned into her shorts during her victorious 1979 race.
The collection of Boston Marathon artifacts numbers well into the hundreds now, but it wasn't always so. In the early 1990s, the sum total of B.A.A. memorabilia consisted of four damaged items stashed inside a couple of cardboard boxes. With the marathon's historic 100th running in 1996 on the horizon, something needed to be done. And Gloria, who had spent more than four decades working for the CIA, was the person to do it.
Alternating her Mae West sauciness, Eleanor Roosevelt diplomacy or Molly Brown resilience as the situation required — not everyone was eager to relinquish items of value, sentimental or otherwise — Gloria went on the prowl and never stopped. No yard sale in New England has been safe for decades. At least one pawn shop factored in. During a visit to John A. Kelley, the two-time champion who ran Boston a record 61 times, she spied a crumpled sweatshirt in a corner. At the eponymous running store of four-time winner Bill Rodgers, she saw his Boston memorabilia unguarded and eventually persuaded him it would be safer with her.
If prying an item loose from its owner took 10 years of cajoling and a vow to painstakingly redeem it from its state of disrepair and display it prominently forevermore, Gloria was on it.
You would hear from Gloria if you were a past champion. Or the relative of a past champion. Or, according to at least one person who traveled with her, anyone she bumped into at any marathon anywhere in the world, anytime. Friends were known to be deputized to be on the lookout; three-time Boston Marathon runner-up Patti Catalano Dillon told me she sent Gloria a pair of ancient shoes that she snagged from a truck in Connecticut.
Sometimes you heard from her when you didn't even know you were hearing from her, because Gloria had informants on eBay, working undercover to bid on items so the price wouldn't suddenly skyrocket when the seller realized who wanted the item.
And if you were a woman who ran in the late 1960s and early '70s, Gloria took particular interest, for it was she — despite never running a step — who took the pioneers under her wing. Bobbi Gibb in 1966, the first woman to finish Boston? The Bermuda shorts she wore are on display. Kathrine Switzer, in 1967 the first woman to officially enter and receive a bib? Yup, that's the sweatshirt from which Jock Semple was trying to rip her bib number in a photo heard 'round the world.
When Des Linden won in 2018, she was delighted to hand over her history-soaked jacket. Des had seen a tour of the Boston collection early on in her career, and had been dreaming of doing something so significant that Gloria would come calling.
It would please Gloria to no end that Linden will be among the half dozen or so past champions who gather on Friday evening at 6 p.m. to help the B.A.A. dedicate what will henceforth be known as "The Gloria Ratti Collection," portions of which will be on public display this weekend at the Boston Marathon Fan Fest in Copley Square.
Gloria's signature will finally be in a museum, where it has always belonged.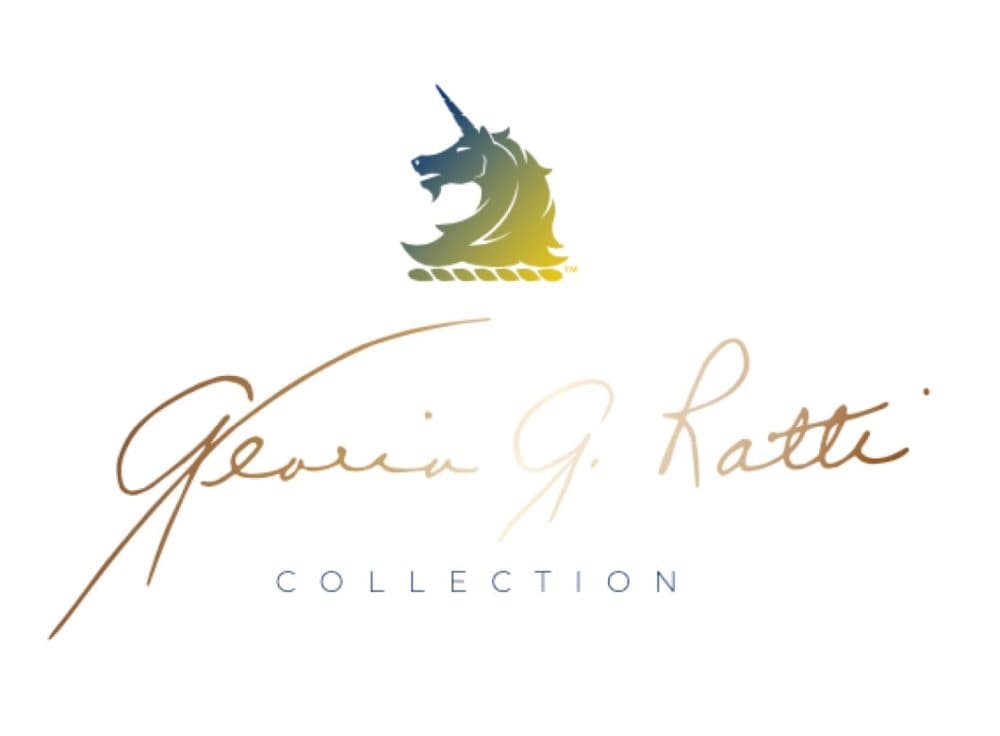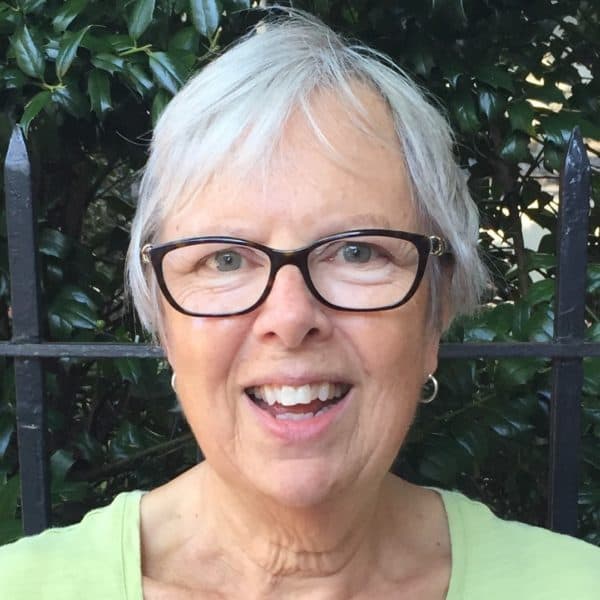 Barbara Huebner Cognoscenti contributor
Barbara Huebner has been covering the Boston Marathon for almost 30 years, first as a Boston Globe staff writer and more recently as a freelancer.