Watch out, Boston: The world's fastest marathoner is coming to town
It all depends on how you look at it: I have either the best job in the world on Marathon Monday or one that makes you infinitely grateful that you're standing on a curb in Brookline with a beverage in your hand.
For a little over three hours, I'll be live-Tweeting the professional races for the Boston Athletic Association. It's a hectic job I've done on and off for years, back to the pre-Twitter days of live-blogging. Every year is exciting, but one year in particular stands out.
In 2011, I looked up from my total focus on the women's race — that was the year Des Linden lost by a mere two seconds — and couldn't believe what I was seeing in the men's race: Geoffrey Mutai on pace to run the fastest 26.2 miles in history.
That graphic on the screen can't be right, can it? It's not possible, I said to myself.
It was. The 29-year-old Kenyan, running his first Boston Marathon, broke the tape in 2:03:02, almost three minutes under the previous course record and 57 seconds under what was the world record at the time. Sadly, it didn't actually set a new world mark, because under the rules of World Athletics the course is too downhill, with a start and finish too distant from each other to be eligible for a world record. (Anyone who's ever been so beaten up by the Boston course that they had to walk backwards down the stairs for two days would stamp that rule as poppycock, but that's an essay for another day.)
Two hours, three minutes and two seconds. It was a time so otherworldly for the punishing path from Hopkinton to Boylston Street that many thought it untouchable. I certainly did.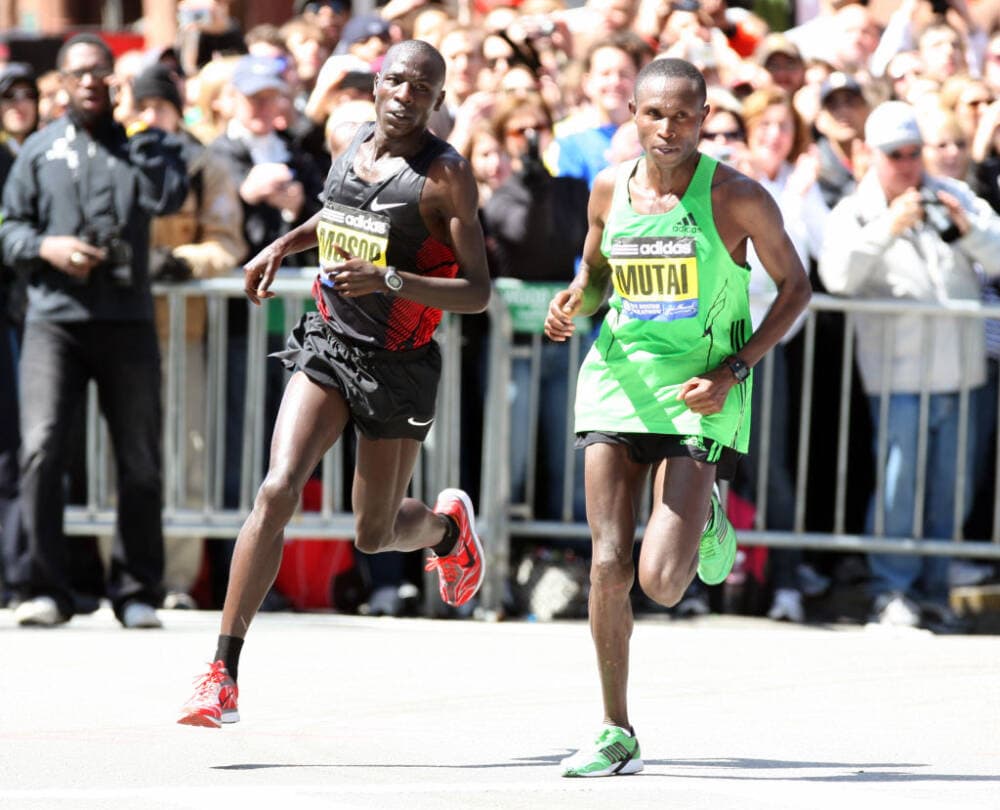 But this Patriots' Day, keep your eye on the screen. Better yet, bring a folding chair, find a spot along the route and settle in. What you're about to see has not been seen in the previous 126 years of the Boston Marathon.
That's because Eliud Kipchoge is coming to town.
Think Ted Williams. Think Muhammed Ali. Think Babe Didrikson. If you had the opportunity to go back in time and see them compete, you'd wait in line all night and then elbow your way into the front row for the privilege, right?
This is like that. Kipchoge has run a marathon faster than any other human in history. Never before has a man come to the Boston start line who reigns simultaneously as the world record-holder (2:01:09, set at the Berlin Marathon in 2022) and Olympic champion. And without a doubt: Never before has a human come to the Boston start line with a legitimate chance to finish the race in under 2 hours.
Think Ted Williams. Think Muhammed Ali. Think Babe Didrikson ... This is like that. Kipchoge has run a marathon faster than any other human in history.
Yes, it will take favorable conditions on race day — not too warm, with a helpful tailwind out of the southwest, is ideal. (In 2011, the temperature was 46 degrees in Hopkinton and 55 in Boston, with a W/SW wind of 16-20 mph). And yes, the recent development of a "super shoe" with a carbon-fiber plate has been a gamechanger. (Kipchoge himself ran 1:59:41 on a flat loop with dozens of rotating pacesetters in an unofficial 2021 time trial arranged by his shoe sponsor.)
But combine the world's fastest man with ideal weather and advanced shoe technology, suddenly the untouchable seems within reach.
The fact that we're even discussing this in Boston is credit to Kipchoge's love of the sport. He could run the London Marathon later this month. It's a flat, fast course that he knows well: he's won on it four times. But Kipchoge, 38, a man who has won 15 of his 17 marathons, two Olympic gold medals and has been ranked #1 in the world seven times, is looking for late-career challenges, and winning all six of the Abbott World Marathon Majors races (no, it's never been done) is one of them. He already has titles from London, Chicago, Berlin and Tokyo; only New York and Boston are missing.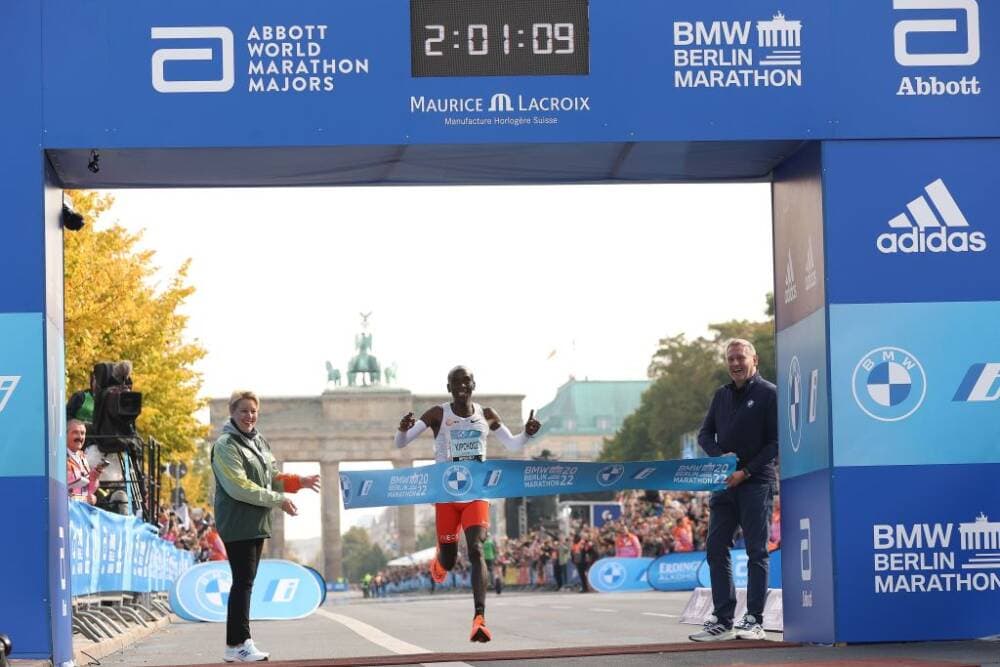 Kipchoge may be the favorite to win, but he acknowledges that the Boston Marathon will be the most difficult race of his career. Not only will he face a deep field that includes six other men who have run under 2:05, but he will have to stare down a course that has brought some of the best in history to their knees. There's a reason that no reigning men's world record-holder has even run here since 1954, when Jim Peters finished second. Even Ethiopian legend Abebe Bikila could manage only fifth in Boston in 1963, between his pair of Olympic gold medals.
The course is positively punishing. Leaving Hopkinton, runners feel as if they're plunging down a cliff for the first three-quarters of a mile, and the course remains largely downhill for the first eight. Couple the extra stress that running downhill puts on the quadriceps with the temptation to go out too fast and you've got a recipe for disaster by the time you get into the Newton Hills.
Newcomers to the Boston course are most in danger of annihilating their legs See: Bikila. Or consider Grete Waitz, who arrived for her Boston debut in 1982 ranked #1 in the world. The great Norwegian, who won the New York City Marathon nine times, ended up dropping out in Coolidge Corner with leg cramps so severe she was taken to a hospital. She never raced here again.
Kipchoge is a Boston rookie; let's hope he got the memo.
Mutai set his course record by running the first 13.1 miles of the race 54 seconds slower than the second 13.1; his splits were 1:01:58 and 1:01:04. If Kipchoge hits halfway around the same time, look for a course record. If he hits it in a few ticks over an hour, stand back because he may be on the way to achieving the unfathomable — the first official marathon in history under 2 hours.
This being spring in New England, the weather forecast has been changing every day. But frankly, even if Kipchoge runs 2:10, he will have delivered a once-in-a-lifetime Patriots' Day: When the Greatest Marathoner in History tackled the Greatest Marathon in the World.