Was it love at first sight or a slow burn? Your love letters to Boston
Is home the place where you grew up, or is it the place you live now? Is it always tied to a specific street address or zip code, or is home, to you, a group of people? A favorite restaurant? Could it even be a concept, a feeling born of shared experiences over little joys and common challenges?
At the beginning of this project, we set out to understand from our readers and contributors what it means to live in Boston and find your place in it. But after reading dozens of submissions, we realized that what we've actually compiled is a collection of love letters to our fair city.
In many ways, that makes complete sense. After all, loving a place is not so dissimilar from loving a person. When we love somebody, we love the whole of them: with all their little quirks and beauties and annoyances.
Sometimes love happens all at once — at first sight. Or it can come on like a slow burn, the affection among friends (or even enemies) evolving, until one day, you discover the love you've been looking for has been there all along. As you'll see below, so it goes with Boston: traffic, housing prices, Forest Hills Cemetery, the Charles River, the T.  It's never going to be perfect, but what can we say? When you know, you know.
Reading these mini-essays made us happy to call Boston home. And, we're eager to share more of your reflections. If you've got a small story or moment that sticks with you — something that makes you feel connected to this place we call home — email it to us at opinion@wbur.org and put LOVE LETTER in the subject line. We'll keep building this post, and maybe even feature  your love note on the radio.
— Cloe Axelson and Sara Shukla, Cog editors
---
Love at first sight
I moved to Boston in 2010 because I felt like my soul was telling me that this is where I was meant to live. I listened. And since then, there have been several moments when I knew I'd made the right choice.
*A lantern festival at dusk in the Forest Hills Cemetery.
*Free yoga and ballet in the summertime at Boston Common.
*Volunteering for the Halloween costume swap at the Farmers Market in Roslindale.
*Story slams at Doyles, book readings at Grub Street, and poetry slams at Lizard (just over the bridge to Cambridge).
But the one moment I will never forget happened during the (happily brief) two years I spent living in and commuting from Providence, Rhode Island, during the pandemic. I moved there to save on rent, so I could make a downpayment as a first time home-owner in Massachusetts.
I was heading north(ish) on Tremont Street for a meeting with a Boston-based design firm. Paused at the stoplight near Ruggles station in Roxbury, all of a sudden the air felt heavy, crowded, full; my ears clogged with the cacophonous sound of road bikes. It was springtime, and along with the crocuses pushing their way through the grass in the Arboretum and dozens of robins bopping around the greenspace at Franklin Park— I felt it, this is why I fall in love with Boston every year at springtime.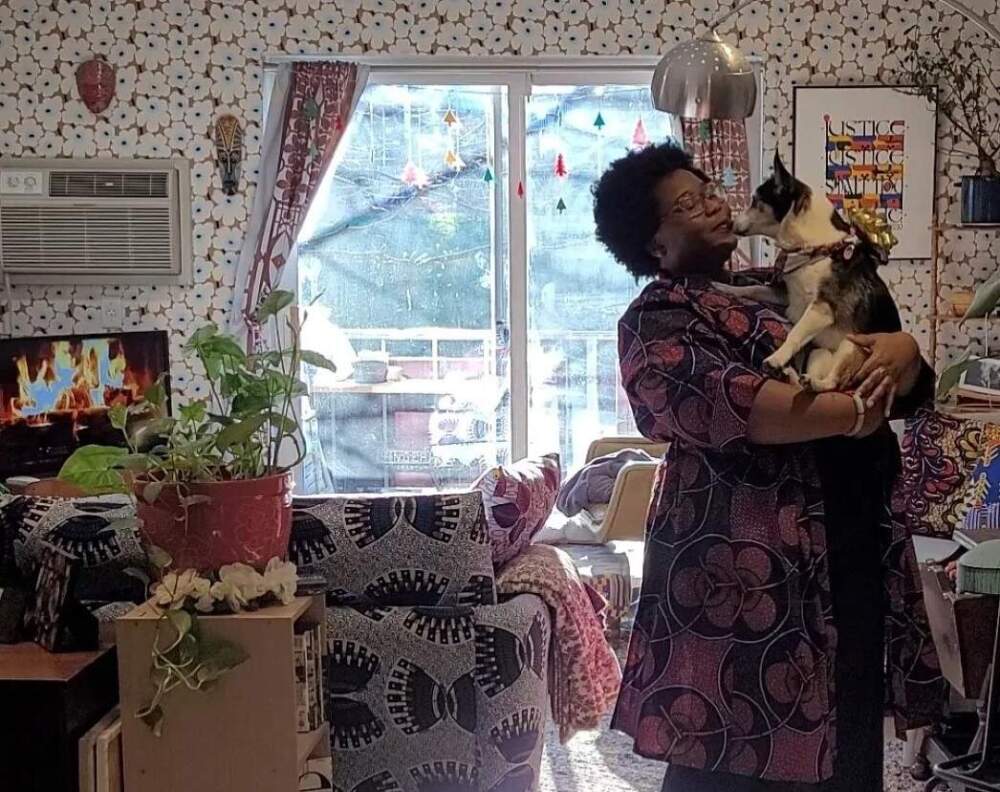 This is the sound of a city as it gathers together, wakes up from its winter slumber and roars defiantly into the year to come.
I had, by that time, racked up about three or four rejected offers in my search for a home in Boston. Trying to buy here felt like an endless cycle of rejection, and a constant realization that the home I'd been dreaming of wasn't one I could actually afford. But those road bikes reminded me of what I knew before I ever arrived here back in 2010: For better or for worse, Boston is just where I'm meant to be.
— Theresa Okokon, writer, Chelsea
---
My kids had a second grade school fair at their primary school in the middle of Brookline, one akin to something from the old black-and-white Mayberry TV show where everything always worked out for the best and apple pies warmed on window sills. Moving there from Brooklyn, I didn't think such events existed, but the sight of machines churning out blue sugar-rich cotton candy, a ferris wheel, stuffed fuzzy bears being won with the flick of a bean bag, bouncy castles that tilt, sway and rock but don't fall down, screams of pure play and joy — it all brought out something in me: peace and a comfort of mind knowing the kids from Brooklyn weren't ones with a home well lost, but one that, fortunately, was found.
— Desmond Hall, writer, Brookline 
---
I was driving to a doctor's appointment, and I knew I was going to be late, so I dodged through traffic with no blinker and didn't let anyone merge … I had completed my journey to full Ma--hole status

Kat Rutkin, Somerville
I was driving to a doctor's appointment, and I knew I was going to be late, so I dodged through traffic with no blinker and didn't let anyone merge. I've always been a steady and cautious driver, but once that happened I knew there was no going back. I had completed my journey to full Ma–hole status.
— Kat Rutkin, Somerville
---
It was March 11, 1992, flying into Boston from London for (in theory) a 3-year stint. Then I saw  Boston Harbor and thought, you know, I might like it here. 31 years later...
When we became naturalized citizens in 2012, it was at the John Joseph Moakley U.S. Courthouse with that same magnificent view of Boston Harbor. I was brought right back to that day when we flew in, 20 years earlier, and knew we were home."
— Anne Sharp, Winchester
---
It was a slow burn
When my family moved from NYC to Boston in 2009, for my husband's one-year fellowship, it was never meant to be permanent. We'd lived in New York for close to two decades and knew no one in the Boston area. But with two kids under five, the youngest with special needs, the ease of Boston and the quality of its hospitals appealed to us.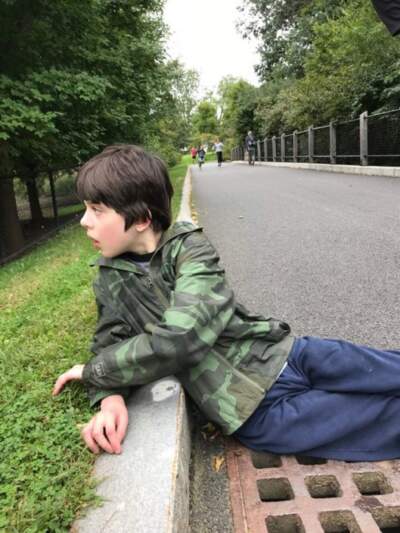 After my husband's fellowship ended, we decided to stay. Within a year, we moved into our first and only house so far — an octagon on the west side of Cambridge.
For a long while, I still considered myself a displaced New Yorker. But at some point, Boston did become home. Did it change with the shared trauma of marathon bombings, when we sheltered in place and listened as choppers passed overhead in search of the Tsarnaev brothers? Or maybe it was the discovery that the best yogurt, humous, pitas and olives could be found in nearby Watertown (Sevan Bakery and Arax Market) and Belmont (Sofia's)?
I believe it comes down to that feeling of being known here. At Fresh Pond Reservoir in Cambridge we got to know Park Ranger Jean. Before she retired five years ago, you might have crossed paths with her too. Riding around in her ranger cart, making sure dogs and their owners were following the rules. I imagine Ranger Jean probably got to know my son Finn because of his singularity, a product of his profound autism. Few boys of 12 years moved as he moved, rocking from back foot to front. Few boys would suddenly scream, not out of upset, but delight. Few boys would crouch by the drain, ignoring all the dogs and passersby so he could throw rock after rock down that drain for fun.
We felt like we belonged whenever we walked into Fresh Pond, and still do. And isn't that what it means to feel at home?

Alysia Abbott, Cambridge
At least once, Finn pulled the fire alarm in the water purification facility calling the local fire trucks to the park, which he found very funny. But Ranger Jean didn't act annoyed with us, or with Finn on this occasion, though she had reason to. Instead, whenever she saw Finn running toward as she drove her cart around the Pond's loop, she smiled. She often invited Finn to ride along with her.
Finn thrilled in these rides, rocking in his seat and laughing. She could see how this small act meant so much to him. But did she know what it meant for us? In this small act she seemed to say, I see you, in all your difference. You and your family belong here in Fresh Pond, as much the birders and the bikers, the runners and the walkers, the picnickers, and the dog people. This park is your park too. We felt like we belonged whenever we walked into Fresh Pond, and still do. And isn't that what it means to feel at home?  Fourteen years later, we're still here.
— Alysia Abbott, writer, Cambridge  
---
I was working late in a lab, my first summer in Boston during college. One of my mentors stopped to talk to me before she left. She suggested that I get out to see the sunset because it was the summer solstice. I took her advice and biked to the Charles, making it just in time to join in with the cheers from the crowd. I felt peaceful returning home that night, but I was quite lonely. That was five years ago.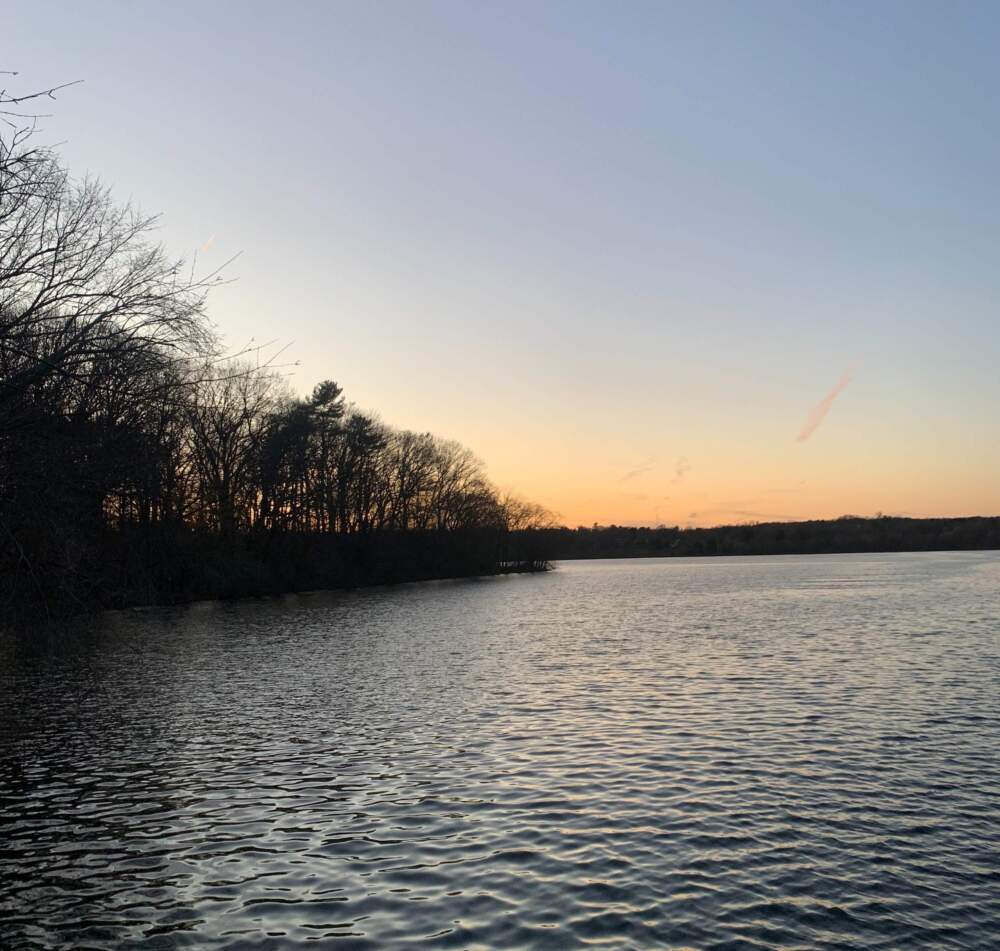 This year I returned to the Charles on the solstice with two now-old friends. I think that, if it were a competition, I would've won "loudest cheerer" at this year's solstice.
— Andrew Szendrey, Jamaica Plain
---
I've lived in Boston for decades as a pedestrian, T rider, taxi cab hailer, commuter rail rider, bicycler. I've had my permit and read the RMV driver's manual cover to cover more times than I can count, yet never bothered to put it to use.
Boston is so small and navigable I'd never felt the need to really learn to drive, until my family had an emergency in late 2020, and I realized I couldn't get us to safety on my own. I practiced driving for one hour every day for the next year at the abandoned UMass Boston campus, got my first driver's license in 2021, my first car in 2022. Two years on the road and I'm still amazed that I am driving — and that I seem to be one of the few who actually read the manual. But I didn't feel like a real Boston driver until recently, when I came out of my house to find my car being escorted off the street cleaning side of the street by a tow truck, the tow driver insisting "It's naht me, it's the city! It's naht me!"
— Bethany Van Delft, stand-up comedian, Dorchester
---
"I always moved from place to place after leaving my parents'— NYC, Paris, Chicago, anywhere to keep going. So when the person I was dating at the time got into grad school here, I figured it was a place as good as any other. Once in Boston, I went through the pandemic, work chaos, a breakup and multiple family disasters. Finally, when it felt safe enough from COVID, I took a trip back to Paris, which I always told people was my favorite, and which was as lovely as ever. By day four, though, I wanted to be back in Boston. Homesickness was a feeling I'd never had before, but it was such a relief to know I finally had a home I was going back to."
— Elizabeth Self, Jamaica Plain
Homesickness was a feeling I'd never had before, but it was such a relief to know I finally had a home I was going back to.

Elizabeth Self, Jamaica Plain
---
I've lived here for a long time, but claiming Boston as my own was a conscious decision — to own the good and the bad. And it happened on my bicycle.
In the fall of 2015, the community activist organization City Life/Vida Urbana ground up bricks to create red dust and used a sports line chalker to mark the historic paths of Boston's redlining and gentrification.  Leaving my home nearby, on the south side of Jamaica Plain, and riding down Washington Street to work, I just happened to be riding my bicycle downtown on the day of their art installation. When I got to my office, I researched what I had rolled over and made a commitment: For far too long, I had been a guest on these streets.
That day, I committed to inherit the good and bad of Boston's history, all of the ground beneath my feet. To be a Bostonian, for each of us who move here and adopt this place, means to take responsibility for these streets, all that has come before and the road we are on together.
— Rev. Laura Everett, Jamaica Plain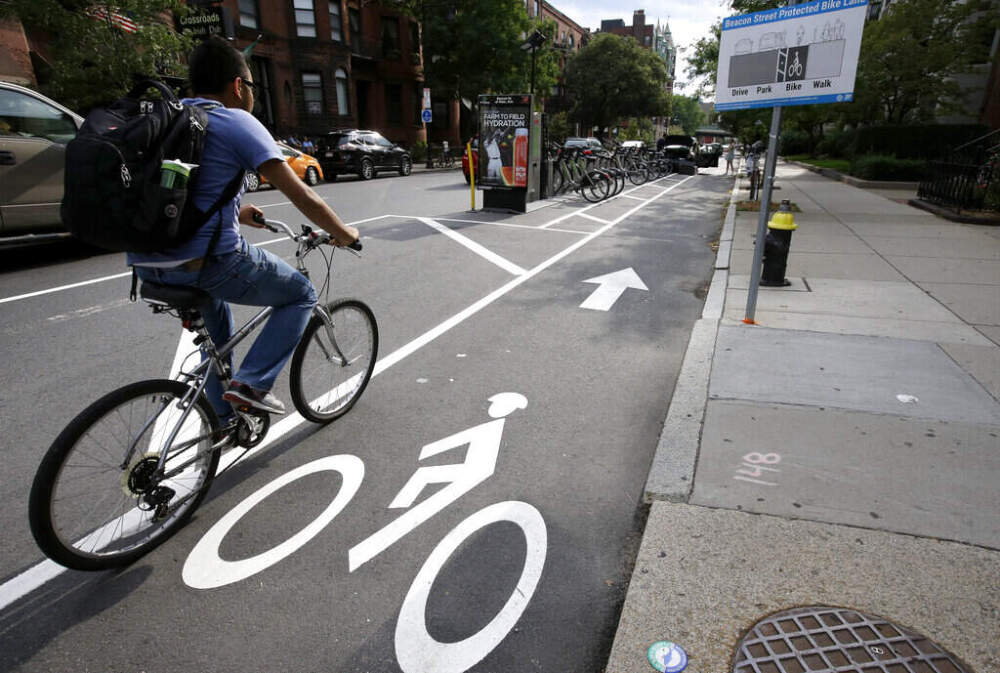 I grew up in central Mass, so when I was a kid Boston felt like my anchor, rather than my home. Fast forward through college and med school, and I was applying to residency programs on both coasts. I had just spent nine lovely days in California, visited and interviewed at several residency programs and enjoyed outdoor dinners with chill people, pleasant campus tours through palm trees. Then I flew to Boston on a Friday, stayed at my mother's house in my childhood bedroom. I woke up to a classic Boston December day — gray, rainy and in the low 40s. The interview day started at 7 a.m. (on a Saturday). I drove into the city and parked in the garage, slightly worried about finding my way there. I remember—like it was yesterday—shaking off my raincoat and settling into the auditorium in my interview suit, surrounded by other anxious almost-doctors in the dark chilly early morning, and feeling my shoulders relax, as I thought "ahhhhhhh....these are my people."
— Kristen Goodell, Lexington
---
Boston and me? We're childhood sweethearts
My earliest memories of Boston were coming to visit my dad, who worked there. The Swan Boats, which I recognized from "Make Way for Ducklings;" the statues of the ducks in the Public Garden; the Boston Garden, thick with smoke, at a Celtics game where they unveiled a statue of Larry Bird; coming up out of the dark cavern under Fenway Park into the roar of thousands of fans, the bright green grass, the giant scoreboards with the city behind them.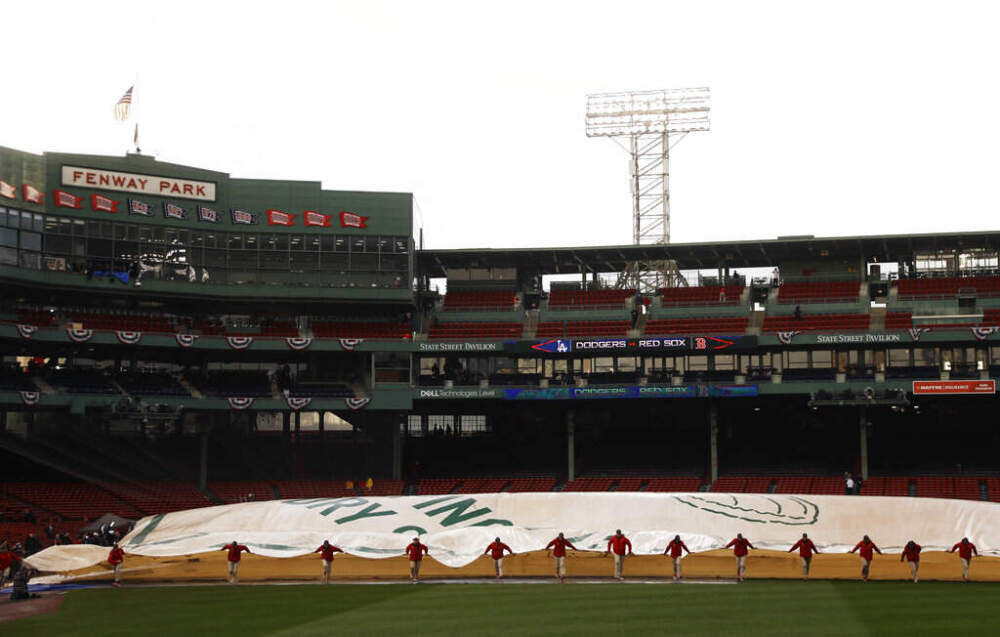 My aunt lived on Beacon Street for a while when I was about 13, and my parents let me and my best friend walk from her apartment to Newbury Street by ourselves. We felt so grown up and loved looking at all the fancy shop windows full of things we could never afford. I went to college at Boston University, and Commonwealth Ave. became my home: the imposing Warren Towers, the snail-like Green Line Train. My first job was right over the salt-and-pepper bridge in Cambridge.
Boston was where I came back to, came home to, after I left New York in the wake of 9/11, newly aware that the skylines we love, that seem constant, should never be taken for granted. I met my husband in Boston, and we got engaged at Locke Ober. I ran the Boston Marathon twice and have watched it, from various locations, more times than I could count.
Boston was where I came back to, came home to, after I left New York in the wake of 9/11, newly aware that the skylines we love, that seem constant, should never be taken for granted.

Laura Shea Souza, Stow
I moved out of the city years ago but live close enough to still go back, to take my own children to see the Swan Boats, to experience the sports teams and see where I lived when I met their dad, to window shop on Newbury Street, to experience a city that is always changing, but also, in some ways, always the same.
— Laura Shea Souza, writer, Stow 
---
It was 1972, and I was almost 9-years-old. I was auditioning for the Nutcracker. Boston Ballet's Nutcracker. The same Nutcracker my grandmother handmade costumes for. The same ballet my mother and aunt performed in as children and adults. Under the scrutiny of the same teacher, Virginia Williams, founder of the company.
My mother held my hand as we entered the waiting room, bustling with girls in leotards and skirts, hovered over by mothers with bobby pins between their teeth, frantically stabbing pins into their buns. I was in my first dance recital at 2; had my first solo at 3. I trained hard every day, gave up parties, weekend trips to the beach and sleepovers with friends. I was good. But was I good enough? Even then, I felt the pressure to live up to my family's expectations.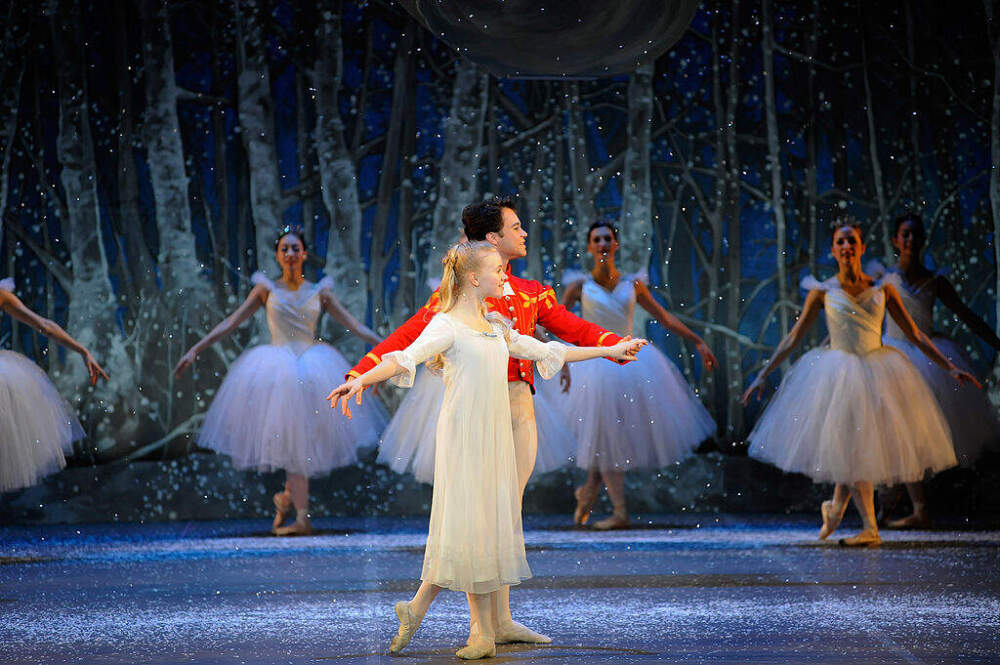 Every holiday season, for six years, I put on my costume and makeup in the rat-infested basement of the then-Wang Center, my heart pounding as the command came over the loudspeaker for my group to line up backstage. In the wings, barely breathing, I watched the pas de deux with the Sugar Plum Fairy and the prince, and dreamed of my future. Stepping into the lights as the orchestra swelled, under the direction of Arthur Fiedler, is a moment I will never forget.
I never became a ballerina; at least not a professional one. I was 14 when I was accepted to a summer program with New York City Ballet's School of American Ballet, and turned it down. That's when I realized it wasn't what I wanted to do. It was what other people wanted for me.
But the hours and hours of classes and rehearsals in the studio on Clarendon Street, and performing in the Nutcracker: This will always mean Boston to me.
— Tracey Palmer, writer, Norwell 
---
More than friends. I'll love you forever
During the pandemic, my partner Jimmy and I established a routine of ordering takeout from Manoa Poke Shop in Somerville every weekend. We fell in love with the freshness and simplicity of Manoa's salmon shoyu poke, marinated with just the right amount of Tamari, sweet onion, and scallion. We'd order extra portions of the juicy kalua pig and crispy mochiko fried chicken to keep as leftovers for the week. Neither of us have been to Hawaii yet, but discovering Hawaiian food in the Boston area somehow made us feel more connected to our city than ever before, although we'd been living here for many years already.
It wasn't just all about the flavorful mixplates, though. The staff came to recognize our eyes and voices from beneath our masks, making us feel at home as soon as we walked through the door. Even the chefs knew us by name, waving to us from the back of the food prep area. One of their former chefs (who is also Vietnamese) would chat with me in Vietnamese, addressing me as "younger sister" while I called him "older brother," further making our stops at Manoa feel like visits to a relative's house. If I came for a pick-up without Jimmy, the staff would ask, "Where's Jimmy? Tell him to come by next week!" And vice versa on the weekends when Jimmy conducted solo pick-ups. Our Manoa fam ensured that our weekly pick-ups were something that we consistently did together, as a couple.
Fast forward three years, and Jimmy and I still order from Manoa every weekend. After we got engaged this summer, Jimmy surprised me by gathering our loved ones for dinner and drinks at our apartment. But when our catered meal arrived, I was not at all surprised to see the food that anchors our lives in Boston: salmon poke, kalua pig, and fried chicken – all made with love from our extended family at Manoa.
— Thuy Phan, writer, Somerville
---
Having gone to college in the Midwest, and then living in California for many years, when asked where I was from I would say "Boston." But that wasn't exactly true; I was "from" a suburb 40 miles west. "But my dad has a Boston accent," I would say proudly, as if that afforded me extra credibility. All along, I knew I would move back, and that I'd live in the city.
I fell in love with a South End, zero-amenities, 1-bedroom in a 3-story walk-up that miraculously came with parking, over FaceTime with a realtor. The night I secured my keys, I went for a walk in my new neighborhood while the sun set early on a cold February night, in search of newfound delights and whatever unexpected magic might come my way.
"You from around here?" he asked. I paused a moment, then said yes.

Lisa Gordon
Only a block down, I found myself in the Olympia Flower Store, its entryway filled with potted plants and vibrant colors. The walls were covered with black-and-white photographs of celebrities or who I assumed were well-known Bostonians. I selected a couple of gerbera daisies to celebrate my new place, and asked about the photos upon checkout. "This is the oldest flower shop in Boston," the man told me. Turns out, he wasn't kidding, but I didn't fact-check that until later. "You from around here?" he asked. I paused a moment, then said yes.
I took my daisies, grabbed a slice of not-hot pizza from across the street, and smiled to myself as I turned the corner onto my new street, lined with a canopy of trees, decorated with ironwork staircase banisters. I propped the daisies in my window and ate the pizza on the floor. Around me, sirens rang and horns honked. My belongings would arrive the next day on a moving truck, but it didn't matter—I was already at home.
— Lisa Gordon, writer and editor, South End
---
I was walking through the Public Garden a few months into living here, and a sweet family asked me for directions. I hesitated and started to say, "I just moved here!" when I realized it had been almost a year, and I knew exactly how to tell them how to get where they wanted to go. Walking everywhere has allowed me to really orient myself in so many of Boston's neighborhoods. That's definitely my favorite part about the city.
— Lilli Nelson, South Boston
---
This piece was produced with help from Kate Neale Cooper, Lisa Creamer, Kathy Burge, Amy Gorel and Meagan McGinnes.