CitySpace Summer Camp: Creative Writing Week!
We are no longer accepting submissions for this camp activity. Watch our recap here.
WBUR CitySpace Summer Camp is a six-week series providing content to families with school age children. Each week we provide an assignment to tackle, and families submit photos or a video of their completed project. Every entry is a chance to make it into our weekly montage video published every Friday. Learn more about the theme for each week and how to submit entries below!
Everyone Has A Story. What's Yours?
This week we have a very special bonus project for CitySpace Summer Camp and it involves WBUR's children's podcast Circle Round! Keep reading for full details.
Your voice matters and we want to hear what you have to say. See our writing prompts below, provided by 826 Boston, to inspire your masterpiece. Just put your pen or pencil to paper and begin!
Your creative writing piece should be no more than three paragraphs long (or about three minutes long). To submit your project, send us a video of yourself reciting your written piece. Submissions will be accepted until 11:00 p.m. on Friday, August 7.
BONUS PROJECT: Want the chance to be featured in Circle Round's summer project? Their team will listen to all the stories they receive and build a special episode later this summer that incorporates as many as possible. You will all be telling a new tale...TOGETHER!
To submit your creative writing piece for Circle Round, create a voice memo (or use another audio recording app) of your written piece in the Circle Round style — complete with a narrator, and whatever character voices you'd like! Please make sure your story is three minutes or less. Using whatever file-sharing app you prefer (options include Dropbox, Google Drive, WeTransfer and Hightail) send it directly to circleround@wbur.org.
Camp Counselors Annie and Carly from 826 Boston discuss the writing prompts in these helpful videos!
Creative Writing Prompts
1) And The Story Goes On...
Choose a book or favorite story. Pick up where the author left off. Was the problem unresolved? What new problems might occur? You decide what's up next!
2) Judge a Book by Its Cover
Browse some library shelves in your house, or look through the cookbooks in your kitchen. If you want, you can browse the stories in 826 Boston's writing gallery. Pick a title stands out to you. Now stop! Don't read the story! Instead, create your own piece of writing with the same title. After you're done, you can compare your creations!
3) A Story and a Stroll
Go for a walk in your neighborhood and write down some observations. What do you see? What do you pass by? What stands out form your surroundings? Pick your favorite "characters" from your walk and write a story about how they met and how they became friends. Characters can be people, animals, or inanimate objects you pass. Your choice!
WBUR CitySpace Summer Camp's creative writing week is brought to you in partnership with 826 Boston and Circle Round.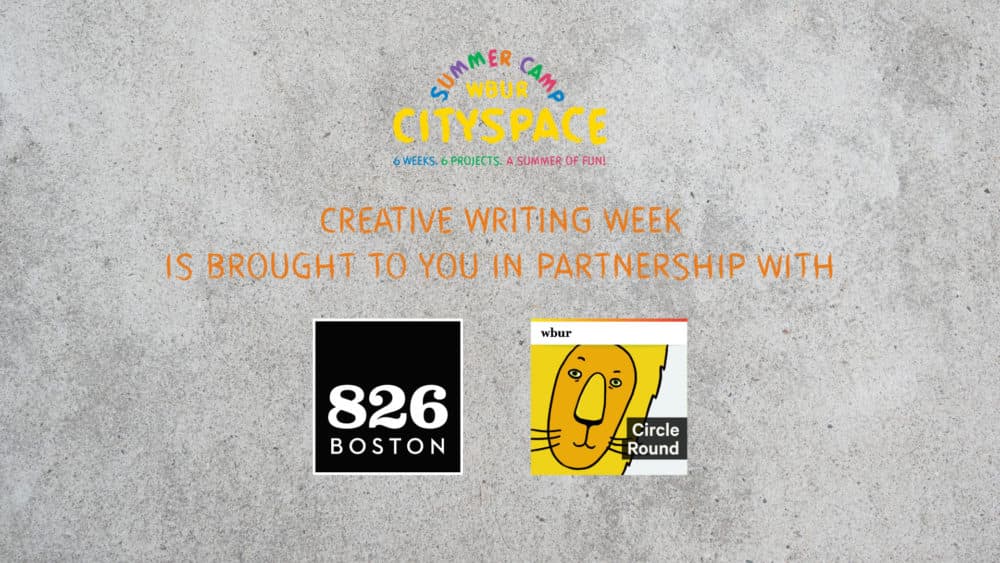 This article was originally published on July 12, 2020.