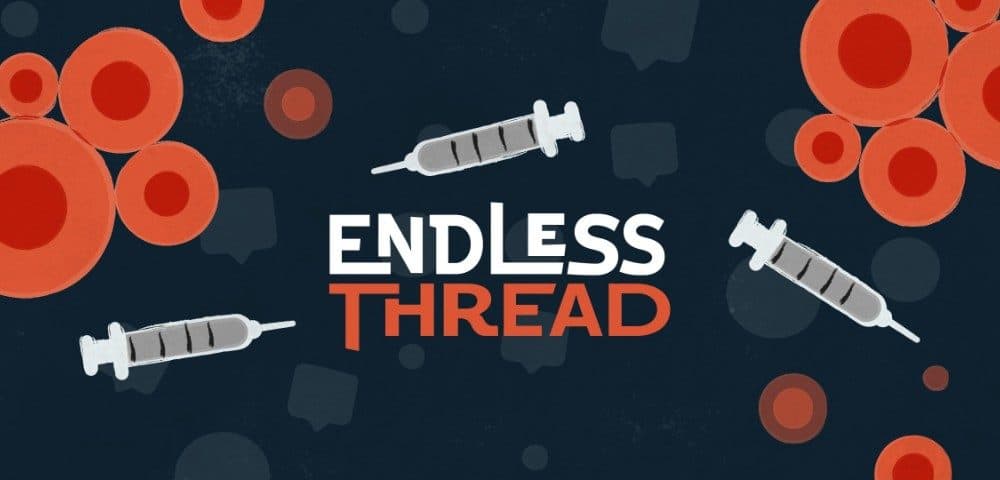 Time & Date
Thursday, July 25, 2019, 7:00 pm
Doors open at 6:00 p.m.
Event Location
WBUR CitySpace 890 Commonwealth Avenue Boston, MA 02215Open in Google Maps
The Endless Thread team presented a behind-the-scenes look at their five-part series, "Infectious: The Strange Past and Surprising Present of Vaccines – And Anti-Vaxxers."
From a visit to Cotton Mather's grave in Boston, to the measles outbreak in Clark County, Washington, co-hosts Ben Brock Johnson and Amory Sivertson and producer Josh Schwartz played clips and discussed their reporting on public health officials, scientists and some of the loudest voices in the vaccine-hesitant community.
They were also joined by two doctors to take your questions about vaccines. Information on the experts below:
Dr. H Cody Meissner
Dr. Meissner is Chief of the Division of Pediatric Infectious Disease at Floating Hospital for Children at Tufts Medical Center and Professor of Pediatrics at Tufts University School of Medicine.
Dr. Meissner is a Consultant to the Committee on Infectious Disease (Red Book Committee) for the American Academy of Pediatrics.  He was a member of the Advisory Committee on Infectious Diseases (ACIP) at the Centers for Disease Control and Prevention (CDC) until July 2012.  He presently serves as a member of the National Vaccine Advisory Committee for the Department of Health and Human Services and the Vaccines and Related Biologic Products Advisory Committee for the Food and Drug Administration.  He also serves as a member of the Massachusetts Vaccine Purchasing Council.
Dr. Meissner is the author of more than 200 original reports, reviews, book chapters and AAP and CDC Policy Statements.
Dr. Sean Palfrey
Dr. Palfrey is a pediatrician at Boston Medical Center and Professor of Clinical Pediatrics and of Public Health at Boston University. He is a 1967 graduate of Harvard College and attended medical school at Columbia College of Physicians and Surgeons. He completed his residency at Tufts New England Medical Center.
Dr. Palfrey has practiced and taught clinical medicine in Massachusetts for more than 40 years, and he spends a good deal of his time advocating for better child health programs and policies, and the prevention of illness and sadness. He served as president of the Massachusetts Chapter of the American Academy of Pediatrics, and he has been a legislative advocate for child health programs and policies since the late 1970s.