I'm A Radio Broadcaster. A Robot Couldn't Do My Job, Could It?
Resume
The world is already teeming with artificial intelligence.
There are fruit-picking robots on farms, umpire robots to call balls and strikes at baseball games, robot fashion models and robot pharmacists.
But as newsrooms around the country turn to computer algorithms to write breaking news stories, Here & Now's Peter O'Dowd (@odowdpeter) got to thinking about his own future in the business.
He visited the Washington Post newsroom, where a news-writing algorithm wrote nearly 500 stories about local races on election night in 2016. The program, called Heliograf, automatically updated the stories as results came in. Here's an example from Missouri: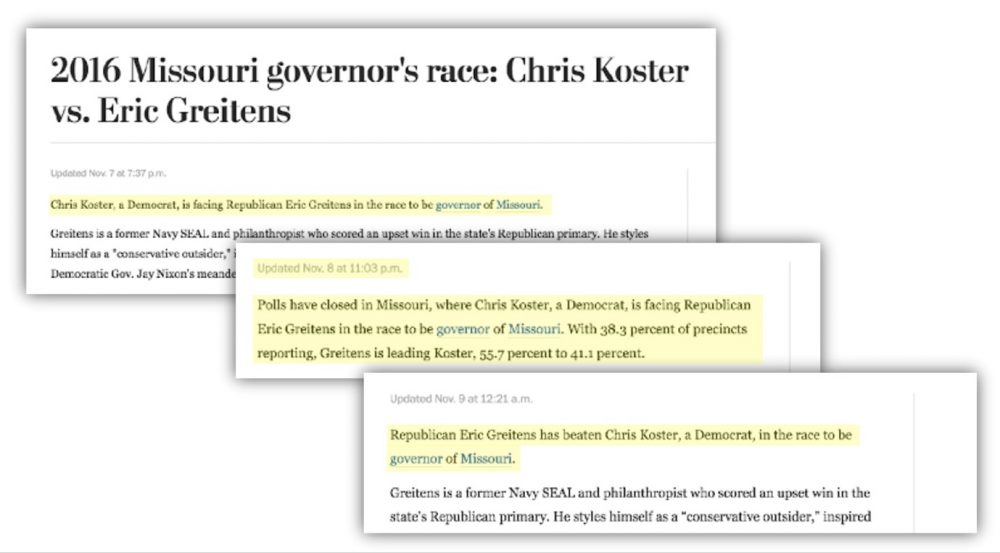 Jeremy Gilbert, the Post's director of strategic initiatives, says Heliograf "looks more like algebra than anything else."
The computer code that drives it looks like a jumble on his computer screen, but it's really a finely tuned template that gives the computer a set of rules to work by.
It's a rough comparison, but think of a high-tech version of the word game Mad Libs: The scaffolding for a story has already been built. Feed the computer data — like election returns or stats from an Olympic fencing match — and the rest is automatic.
"Heliograf is really just a set of algorithms that take data going in and write stories going out," Gilbert says.
A Video Equivalent
A startup called Wibbitz has come up with a way to automate the work a human video producer might do.
It takes text from a newspaper article, compiles video and images that are relevant to the story and creates a new multimedia package that can be shared easily online.
Videos like the one above can also come with a robotic voice-over preview.
Wibbitz CEO Zohar Dayan says clients have the choice of hiring a human to read the final product. But it won't be long before the robot does all the voice work.
"These technologies are getting very good with time," Dayan says. "So we think that it's going to become much more humanlike."
AI On The Airwaves
So, could a robot make a radio story?
A company called Lyrebird is developing technology that can take a sample of a human voice, re-create it and make it say novel sentences.
Obviously, the technology isn't there yet. But someday — it seems — a robot could do the job of a radio broadcaster.
This article was originally published on August 16, 2017.
This segment aired on August 16, 2017.