National Education Association President: Union Energy 'Like We've Never Seen Before'
05:33
Play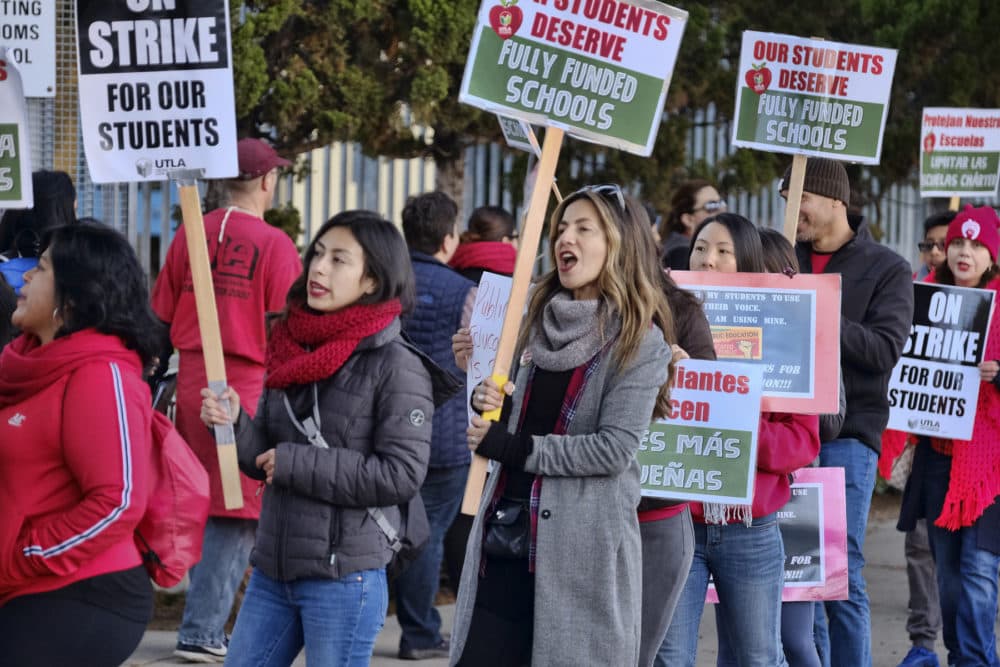 This article is more than 2 years old.
Teachers and students in Los Angeles are back in class for a third day after a six-day strike that ended with a victory: Teachers won a deal for a 6 percent pay raise and reduced class sizes.
Meanwhile in Denver, teachers voted this week to go on strike, and teachers in Oakland staged a walkout last week.
Lily Eskelsen García, the president of the National Education Association, tells Here & Now's Peter O'Dowd that the teachers union is seeing "some energy like we've never seen before."
"We were ignored as more and more local, state, and even the national government, started saying, 'Yeah you guys can pick up the slack. You can buy your own supplies.' We have seen this for decades," Eskelsen García says. "And you can only take seeing that for so long. Our members, they have been standing up and saying, 'We will not be ignored when we see our students suffering.' "
Eskelsen García says part of the union bargaining success also comes from the outpouring of support from parents.
"Parents stand with us because what we're saying is true," she says. "It's coming from our experience working with someone else's children and that's what won the day in Los Angeles."
And the LA teachers' biggest win? Making it so that a nurse visits every school, every day.
"They [the teachers] were off the charts with joy for what they were getting for their kids," Eskelsen García says.
Interview Highlights
On where the union's momentum is coming from
"It actually, I think, comes from being the good teachers and support staff ... saying, 'You know, it's not really a great idea to have 40 kids in a classroom, and here's what we need for our special ed kids, and sports and arts are actually important parts of our curriculum.' "
On the difference between bargaining in California compared to in more conservative states
"What you saw last year in that 'Red for Ed' wave that started in West Virginia and hit Oklahoma, Arizona — these were states that were being starved from general funding from very conservative state legislatures and governors. It was very different than the dynamic in Los Angeles. We're sitting at the table, we're bargaining for our contract for this school district. And we are not only going to settle for a pay raise. I was in Los Angeles after they announced the settlement. The largest applause line was when they said, 'We won a school nurse in every school, every day.' "
On the Supreme Court ruling against public unions collecting fees from nonmembers
"For decades we've been under attack by people like the Koch brothers and folks like them. They won their case in the Supreme Court but when they won that, they didn't win their goal. Their goal was to have a whole lot of members drop their membership and get those services for free. Not only did that not happen, we actually saw membership growth. And look at the strength that you're seeing now and the good that's coming from our union."
On what to expect from teachers in Denver
"I'm not going to be making predictions. I'm going to be saying that the voices of educators are now being taken very seriously. It's because we're fighting for the right things and the public is standing behind us."
---
Jill Ryan produced this interview and edited it for broadcast with Kathleen McKenna. Serena McMahon adapted it for the web.
This segment aired on January 25, 2019.