Shortage Of Dry-Eye Drug Leaves Sufferers Scrambling To Ease Pain
Play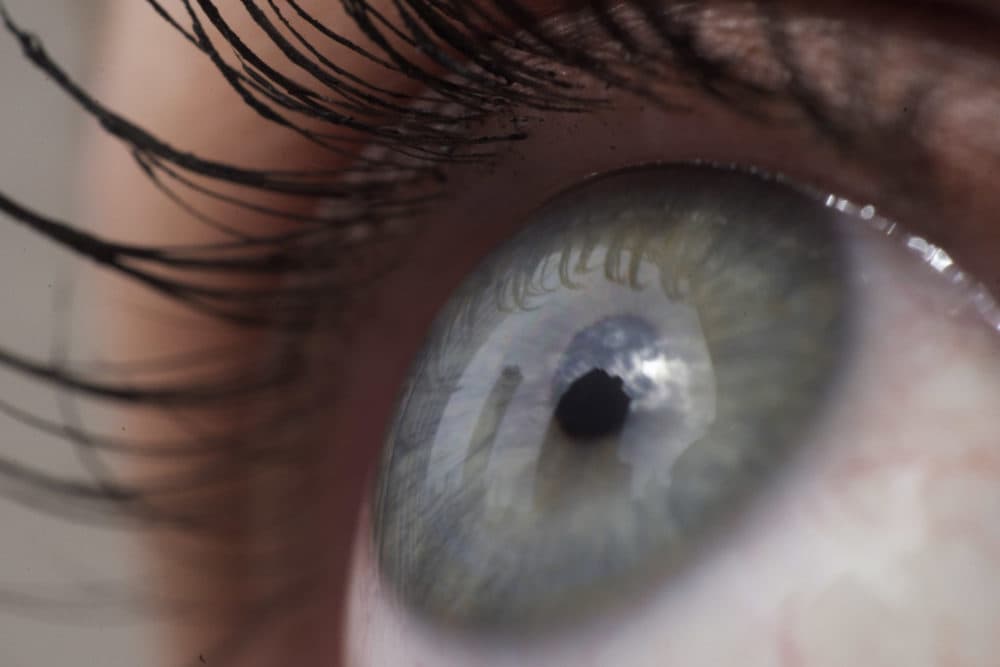 This article is more than 4 years old.
As a diagnosis, dry eye might not sound that severe — and sometimes it's not. But people who suffer from the worst form of the condition describe pain that feels like glass shards in their eyes. It even drives some to suicide.
Recently, dry-eye sufferers have been noticing that many of the effective, over-the-counter drugs they depend on are nowhere in sight — including Refresh PM, one of the most commonly used. Rebecca Petris, a dry-eye sufferer who has become a patient advocate, says the shortage led her to take matters into her own hands.
Petris (@DryEyeZone) tells Here & Now's Robin Young she attempted to buy the drug directly from the pharmaceutical company that makes Refresh PM, Allergan, even getting through to the phone line used by doctors to purchase medications. But even though Petris says she called roughly once a week for around eight months, she received little useful information about when Refresh PM would return to shelves.
"For the first long while, it was just, 'Oh it's out of stock, it'll probably be back next week,' and then it was, 'Oh it's definitely going to be back by February 21st,' and then it was, 'Oh we actually have some on the way to you — oh oops, we don't.' And then it was, 'We're so sorry we don't know, but it should be back within a couple of weeks' — each time I seemed to get a different story," she says.
In a statement released earlier this month, Allergan wrote the shortage was due to "a lack of raw material components for the packaging" of Refresh products, and that it expected them to be available "for sale at retailers and online late summer."
Through her website The Dry Eye Zone, not-for-profit foundation and Facebook forum, Petris says she's tried to be a resource and provide information to people as the shortage continues. But its impact, and the lack of relief for dry-eye sufferers it's created, has been significant.
"I've basically counseled people over the phone, and it's been my experience that almost everyone I know that has gone through this, they go through a period of depression that may be totally different than anything they've ever experienced before, and that in itself is really, really unnerving," she says. "I've heard people admit that they're having really troubling thoughts, and even suicidal ideation."
Interview Highlights
On other responses she received from Allergan about Refresh PM
"Sometimes it was, there's a shortage of a component, which was puzzling because, you know, there's like three ingredients in it, and none of them are scarce. Another time it was, 'Actually it relates to the damage to a facility because of Hurricane Maria back in 2017' — that's on the physician line, I kept getting strung along with these different stories. Patients who were calling were getting even a wider variety of explanations for it. It really wasn't until, I want to say late spring/beginning of summer, that they finally acknowledged, 'Actually we do have a longer problem,' and they were kind of quietly acknowledging to me that they didn't know when and that it could be as late as 2020."
On formal responses from Allergan about the shortage
"The information we've been given really is very limited. The only thing I know for sure is that they're having to switch from metal tubes to laminate tubes, and that's what's holding up the whole process. And it's expected to come back maybe at earliest kind of late summer, they're hoping August/September this year. But why the metal tubes are a problem? I don't know anything about that. Nearly every ointment on the market, either over the counter or prescription, is sold in metal tubes.
"So it's still a big mystery, and the impact has been enormous, because Refresh PM ointment has by far the largest market share. So when it started disappearing from stores, [there was a] domino effect through the industry, and then all of a sudden, we've got Systane is disappearing here and there, and then GenTeal and Soothe, the other brands. I believe or I imagine it's just the absence of Refresh PM could have created such a run on them, because people have been stockpiling any ointment that they can get.
"For example last summer, we went through about a two-month stretch where you couldn't get any of them online — not the brand names, not like the CVS and Walgreens or Wal-Mart generics, they were just gone. We basically made ourselves a helpline for people who need eye ointment. They're panicking."
On how dry eye can affect sufferers, and misunderstanding about its severity
"The impact is so much more than anyone could imagine. It can affect people at work, so then they become afraid for their work future. Their relationship with their doctor can be very, very challenging, because we have this problem in dry eye where what we're experiencing as patients can be lightyears away from what the doctors seeing through the slit lamp. I go in and I'm in so much pain, and the doctor's looking at me and saying, 'Well, you know actually, your corneas look pretty good.' Then there's just when you have constant pain and nothing is helping it, it wears people down, a special form of depression. ... It's just very disturbing, and unfortunately in the eye care professions, they don't understand that well, and so they tend to give very simple blanket advice such as, 'Well don't take those antidepressants, because those might dry your eyes out further,' which is not necessarily great advice for a dry-eye patient, because there may come a point where what's going on in their head is actually worse than what's going on in their eyes, and they need to get proper support and help."
On needing more information about the timetable for Refresh PM's return
"I would really like to just challenge these manufacturers to step up and communicate, because their failure to tell us what's going on is hurting patients. We field calls every day — cancer patients, people whose lids don't close, have had damage, have had tumors removed and things — they rely on these ointments. We really need to know what's coming back when, and be able to figure out — and especially the doctors, be able to know what to recommend for their patients. Right now we have this effect of doctors telling their patients to go out and buy such and such an ointment — usually Refresh PM — and it's not there."
---
Here & Now received this statement from Allergan:
We have experienced a delay in the availability of REFRESH P.M.® and REFRESH® LACRI-LUBE® due to a lack of raw material components for the packaging of these products. We expect REFRESH P.M.® and REFRESH® LACRI-LUBE® to be available for sale at retailers and online late summer. Patients with dry eye may register to receive updates on the availability of these products and a coupon once they are back in stock by visiting: www.refreshbrand.com/ointment.

At Allergan, we are committed to providing the highest quality products for your eye care needs, and we sincerely apologize for the temporary interruption.
---
Karyn Miller-Medzon produced this interview and edited it for broadcast with Todd Mundt. Jack Mitchell adapted it for the web.
This segment aired on January 29, 2019.