Ethiopian Airlines Crash Raises Questions About New Boeing Model
Play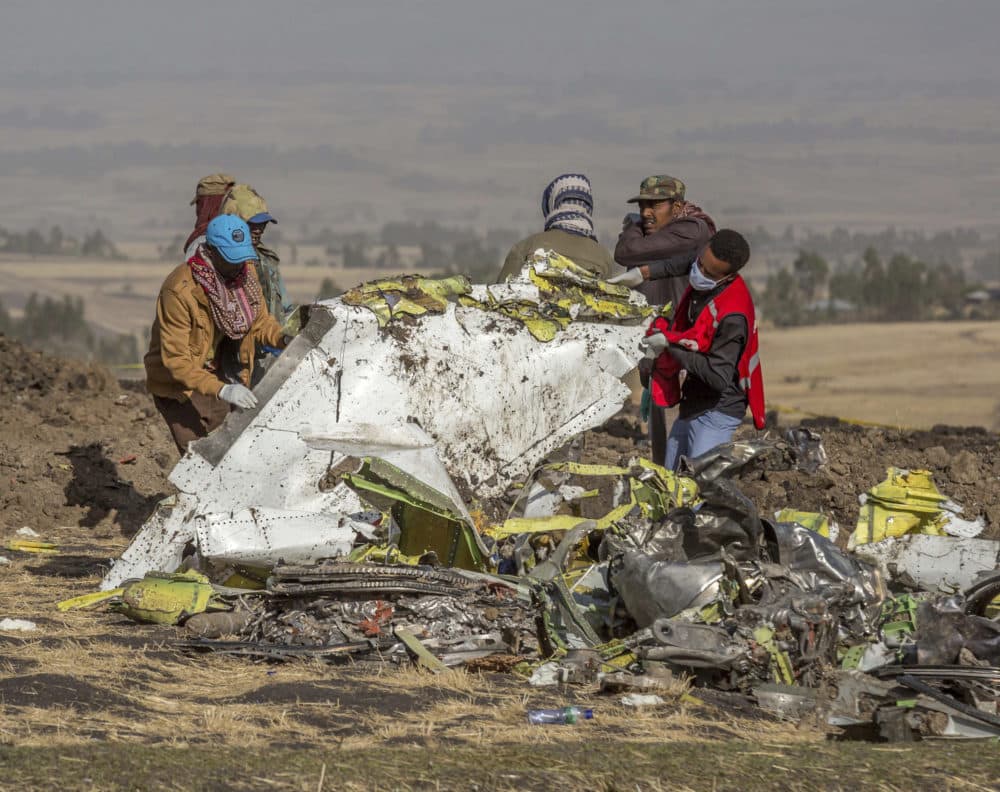 This article is more than 3 years old.
Officials in China and Indonesia have grounded all Boeing 737 Max 8 planes after an Ethiopian Airlines flight of that model crashed Sunday with 157 people on board. This comes after a similar crash last year of a Lion Air flight leaving Indonesia. Officials have said a new automated flight control system was a central factor in that crash.
Dennis Tajer, a pilot for American Airlines, which flies the new 737 Max 8 plane, says he is "absolutely" suspicious the cause of the Ethiopian Airlines crash was the same as the Lion Air crash, but officials are still waiting for all the facts to come in.
"It did happen in a similar flight regime and had characteristics that are eerily similar to the Lion Air incident, but it does not mean that that is the automated system that kicked in," says Tajer, who is also a spokesman for the Allied Pilots Association, the pilot's union at American Airlines. "We are awaiting all the details, but just like any human experience, our pilots are humans, and they're starting to call the question, 'What information don't I have?' "
Tajer tells Here & Now's Peter O'Dowd one problem pilots can point to is Boeing's exclusion of important information about its new flight control system from its pilot manual.
"What we study and prepare for, the information was absent," he says. "It was zero."
Interview Highlights
On a witness who said the Ethiopian Airlines flight was swerving and dipping before it crashed, and whether that indicates the anti-stall technology, suspected to have caused the Lion Air crash, could have also been a factor in this crash
"They do sound similar. There's no doubt about it, but it doesn't necessarily mean that this was the issue that caused the crash to happen, so we're going to get that information, and we're going to move from there with the facts.
"Our pilots are asking those questions now. They're asking about additional training. They're Asking you about what information they may not have that they thought they should have had before. So, it's a very stressful time for our men and women out there, but they're going to hold the standard of having a safe aircraft for our passengers. They hold that calling very high, 'cause we're on that airplane with our passengers. No mystery about that."
"We received an iPad lesson, 56 minutes long, basically slides and some audio to describe some of the differences on the 737 Max. ... We found it to be certainly the absolute minimum."

American Airlines pilot Dennis Tajer
On whether pilots have been getting any new training on the 737 Max 8 planes
"American, after the Lion Air incident, provided us immediate ground-school training on a new system, which was helpful, but we implored them to purchase simulators, so that we get hands on experience. They have purchased simulators. We'll be getting them later this year and start training on them. And we look forward to additional simulators through the coming months.
"We received an iPad lesson, 56 minutes long, basically slides and some audio to describe some of the differences on the 737 Max, because at the time, the FAA, and still to this day, approved that as the required training for pilots. We found it to be certainly the absolute minimum.
"Our pilots have been out there flying the aircraft. I've flown it, and I felt comfortable, but it's taken a lot more time, and you have to be very diligent in what you do and do a quite a bit of pre-study."
On whether he would know what to do if the anti-stall system kicked in like it did in the Lion Air crash
"I would now. I wouldn't have known before Lion Air crash, because I had no idea that system even existed before the Lion Air crash. That's the difference today. Each and every one of our 737 pilots knows as soon as these things kick in where to go to stop that runaway system."
On whether the U.S. should ground its fleets of 737 Max 8 planes like China and Indonesia have done already
"I think we have to clearly look at it. We're not in a position to say whether that should happen, but clearly every stakeholder is talking about this. So, we want to take a disciplined approach to it but not let perfection get in the way of progress. So, this is about protecting passengers and crews and the land underneath the aircraft that the aircraft[s] fly over.
"There's shaken confidence in that. So, you have to rest assured that on American and Southwest, we know them very well, those pilots — highly trained — and we're up to date now on those system[s]. ... But we're out there as a defender and an advocate for our passengers, and we're asking those hard questions, and we're asking them from a basis of expertise. So, we're going to get through this, and we're not going to be quiet about it, and we're going to render our opinion when we get the information — very strongly, because we're on that aircraft with our passengers, and our task is to protect them at all costs."
---
Jill Ryan produced this interview and edited it for broadcast with Todd Mundt. Jackson Cote adapted it for the web.
This segment aired on March 11, 2019.