'Queer Eye' Star Jonathan Van Ness On Tapping Into One's Curiosity, Defying Gender Roles And Being Real
Resume
"An American treasure": That's how one woman described "Queer Eye" star Jonathan Van Ness (@jvn) to Here & Now's Robin Young.
Van Ness is one of five guys on the mega-hit Netflix series "Queer Eye," which begins its new season on Friday. But that's not all he does — he's also a stand-up comedian, a hit podcaster, a darling of the talk show circuit, a hair expert, a figure skater and a YouTube star.
So, how did Van Ness get to where he is today?
He acknowledges his success is "such a dream," but owes his stardom to just being himself.
"I think that there has been such a price put on fitting in," he tells host Robin Young at his podcast taping at the Boston Museum of Science last week. "And I think that people just want to see people that are real, be real and be rewarded for just having the courage to be themselves and not conform into this idea of what they think they're supposed to look like to become successful."
And despite coming from a place that "didn't allow" him to be himself, Van Ness says he has been able to maintain and consistently radiate self-confidence — even during the awkward stages of middle school.
Jimmy Kimmel recently found video footage of a sixth grade Van Ness growing up in Quincy, Illinois, performing a figure skating routine on a school stage —  with no ice. He couldn't skate, but that didn't hold him back. Sitting next to Kimmel, Van Ness was thrilled to see the throwback tape.
"I have always been this way," Van Ness tells Young, referring to the video.
Laugh if you want, but 31-year-old Van Ness now has a 10-night stand-up comedy tour, centering on his Olympic skating ambitions, even getting a lesson from two-time Olympic medalist and five-time World champion figure skater Michelle Kwan.
Although Van Ness says he has always been "a little obsessed" with figure skating, he didn't start the sport earlier on in life because he was "running a business and raising two cats as a single father and, like, running a small salon in LA."
"So, like, when was I going to have the time to figure skate?" he asks.
Now, just a quick look at his Instagram shows he's been putting in time on the ice, perfecting his jumps, scratch spins and spirals, and just last week, Van Ness announced he's joining cast of Netflix's figure skating drama, "Spinning Out," starring January Jones.
Beyond the glitz and glamour of his comedy tour and "Queer Eye," Van Ness hosts his own podcast, "Getting Curious," that dives into subjects like the U.S. trade deficit, toxic stress, special counsel Robert Mueller's Russia investigation and marginalization.
He says he owes his strong sense of curiosity to his grandmother and his decade in the hair salon business — chatting up and connecting with all his clients — for piquing his curiosity.
"After doing hair for five, six days a week from the time I was 18 to 30, that just really opened my eyes to so many things that I never knew," Van Ness says. He says starting his podcast came from the desire to "nurture" his curiosity.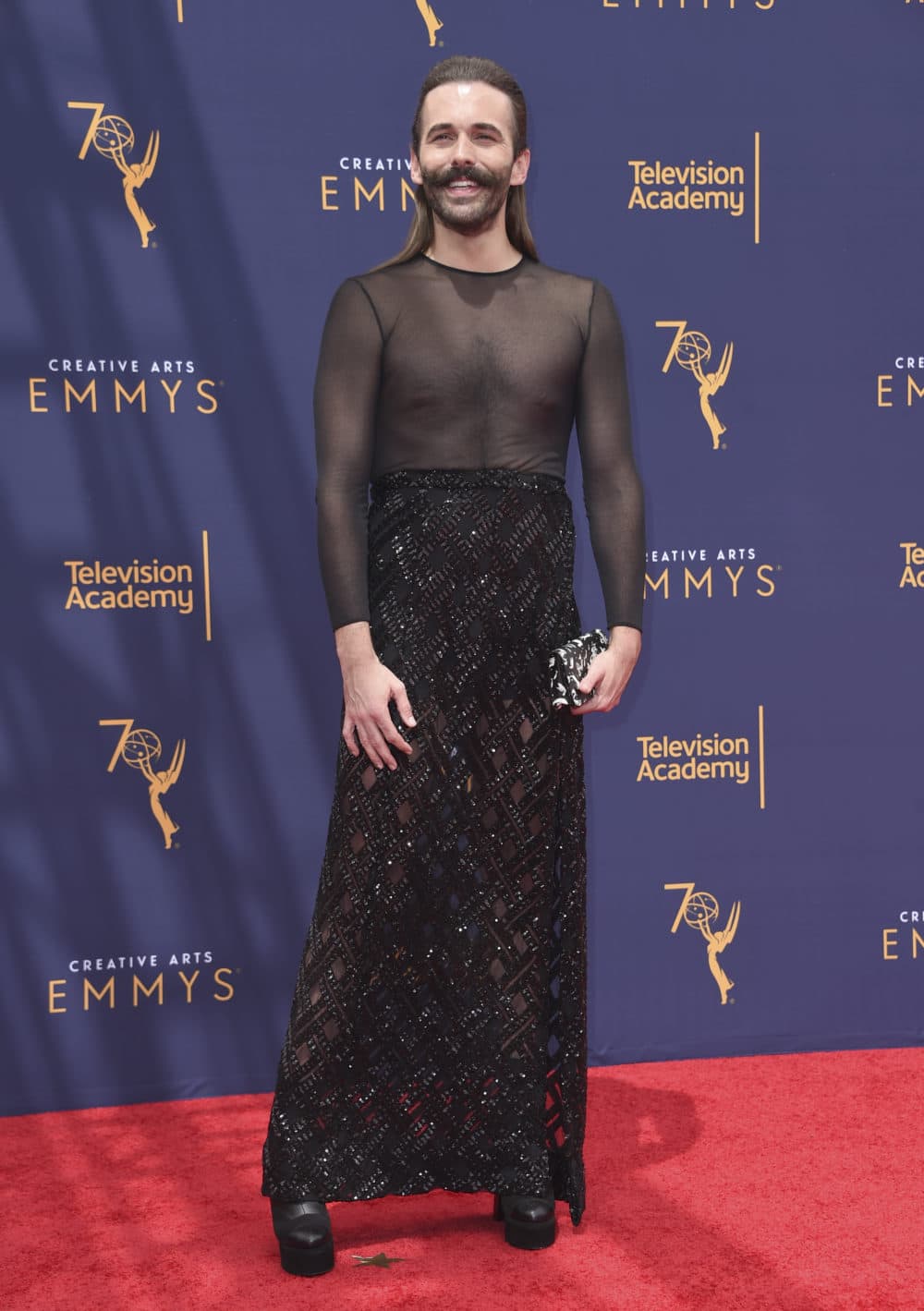 "For instance, I did this woman's hair who was [an] evolutionary biologist. She was like, 'I gotta go.' [And] I was like, 'I need to know about the third mass extinction, like you got to talk to me about this,' " he says. "I'm like, 'There was five?' like [and] she's like, 'Well, you know, some people argue six.' So I had her on in, like, the first season."
He says his podcast also opened the doors to show people that "you can be flamboyant, you can be into wearing heels and [dressing] as a gay man, but you can also ask questions."
Van Ness — who sometimes refers to himself, his Netflix show and inanimate objects as "she" — says gender roles keep people in defined boxes and have been "defined in ways that hasn't necessarily been healthy for me in my life.
"I don't think a lot of men are bad, but toxic masculinity is a big problem that is caused by, like, pressures that men face and those have never really worked for me," Van Ness says. "What has worked for me is like strong women. Like my grandma was the first thing I naturally started talking about like today. I think when I really called something 'she,' it's like if I really think of something affectionately, I want to call it 'she.' "
His podcast essentially wraps him, his curiosity, and his defiance of gender roles all in one. "I think it's just fun to be able to show that there's, like, more sides to me than like what might meet your eye initially," he says.
Before Van Ness left his conversation with Robin Young to hit the Museum of Science stage to speak in front of the hundreds of fans who lined up for hours in the cold to see him, he gave her a very "Van Ness" compliment: "I love your hair. I love the shape of your hair. It's very pretty."
---
Robin Young produced and edited this interview for broadcast with Todd Mundt. Serena McMahon adapted it for the web.
This segment aired on March 12, 2019.