Nebraska Rancher Loses 35 Calves From Historic Flooding
Play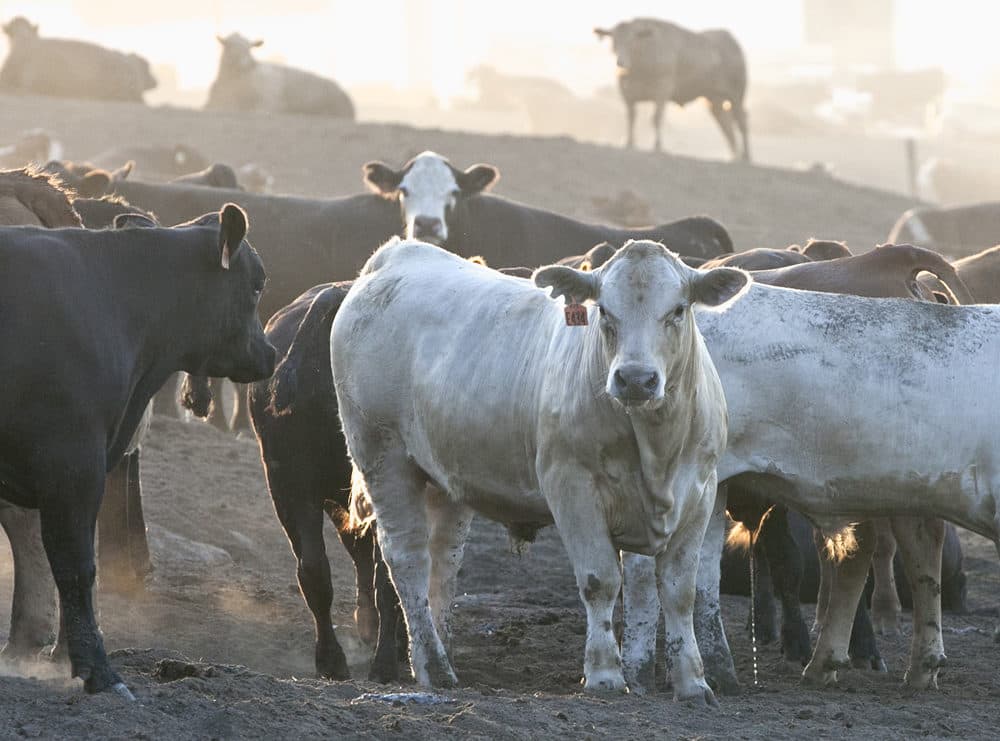 This article is more than 3 years old.
The Midwest is still suffering from record-setting floods that hit last week, which have devastated the farming industry in particular.
The heavy rain either pooled on top of farmland or ran off into ice-clogged rivers, which overflowed banks, sweeping away livestock and ruining machinery and farmhouses.
Since 1953, Annette Bloom's family has worked on the Morrow Bloom farm in Scotia, Nebraska. She tells Here & Now's Robin Young that she lost 35 calves in the flooding, right during the peak of her calving season.
In addition to losing dozens of calves, her farmland is destroyed. "There's just been a lot of devastation," Bloom says.
"We are having to travel three miles through pasture and cropland just to get out because our roads are gone," she says. "And the corn fields are going to be devastating to get in and plant and get that going, because usually we're planting within the next two weeks and it's not going to happen."
The flooding onslaught hit right before spring planting season. But that's not the only challenge U.S. farmers are facing.
Many are feeling the effects of the Trump administration's trade tariffs with China. In addition, widespread bankruptcy has hit the agriculture industry. A Wall Street Journal review of federal data found that farmers in the Midwest are filing for bankruptcy at levels the country hasn't seen for approximately a decade.
Despite it all, Bloom says she'll stick with the business.
"It's our way of life, and we love it," she says. "It's all my family's ever known."

Interview Highlights
On how she's feeding her livestock
"They're actually out on corn stocks field. So the corn that wasn't picked is still on the ground. They're just scavenging for their food that way."
On her neighbors' farm
"We have [a] neighbor down south of us that weren't able to get to their cattle. … Those cattle that are on pasture ground, trying to get hay to them, is very difficult for [the neighbor]. And there's just been a lot of devastation. Horses that have been standing in water … now they're all frostbitten, and they've got [another] issue to deal with because that water was so cold. Water is a big issue. A lot of the cities are not able to drink their water. So our local store has purchased a semi load of bottled water to donate to these people."

On how much insurance will cover from her loss
"About half. The price, what they're worth now, is very different from the price that they're worth when they're full grown. We will be getting about half that for them."
On the current hardships farmers are facing
"We can't get paid for what it's costing us to put it in. And that brings to mind, there was a gentleman that called my husband the other day and wanted to know if we were interested in buying his herd of cattle because he was going to get out [of the business] or had to."
On the hardest part of the flooding
"The hardest part of this has been, we've always been the one helping others, and now it's us needing help. It's hard to take because we're always the ones helping."

---
Marcelle Hutchins produced and edited this interview for broadcast with Kathleen McKenna. Serena McMahon adapted it for the web.
This segment aired on March 20, 2019.