The Pros And Cons Of Circumcision: Democrat Andrew Yang Resurfaces The Debate
Play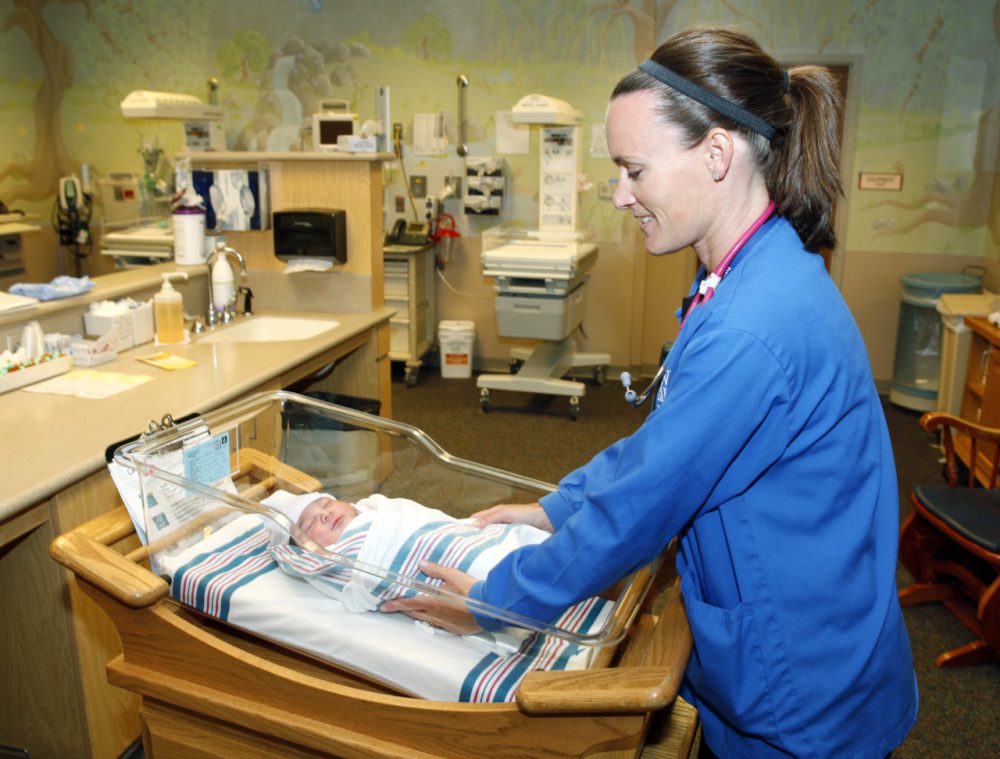 This article is more than 3 years old.
The debate over circumcising newborn babies has resurfaced after Democratic presidential candidate Andrew Yang tweeted his disapproval of the practice, saying that it's a procedure often pushed on parents.
If elected, Yang said he would push initiatives that would "inform parents that it is entirely up to them whether their infant gets circumcised, and that there are costs and benefits either way."
Circumcision opponents, or "intactivists" as they called themselves, are rallying behind him.
So is circumcision an outdated medical procedure that needs revision?
Dr. Jeff Lukish, a pediatric surgeon at Children's National Health System in Maryland, tells Here & Now's Jeremy Hobson that there's both pros and cons of the medical procedure.
"Many, many parents bring their children to me and request circumcision and I have a discussion with them about the pros and cons," Dr. Lukish says. "And I go over the consensus statements by our American Academy of Pediatrics and our American Neurological Association. I present to them the risks and benefits and let them try and make the decision as to what they would like."
It's a health and hygiene issue for people who are looking at the pros of circumcision, according to Dr. Lukish.
But there are downsides to circumcision, considering it is a surgical procedure, which can result in infection, bleeding or scarring. "Those risks, if you look at the big picture, are less than 3 percent," Dr. Lukish says.
Interview Highlights
On the pros of circumcision
"When you think about the pros, you have to think about demographics of where individuals live. I mean, there's a global answer to that and there's an industrialized Western world answer to that. In America, if you just look at the first six months of life for a little baby boy toddler, there is a 10 times increased risk of urinary tract infection in those children — before the age of six months — who are uncircumcised. The risk of urinary tract infection is higher in an uncircumcised male infant versus a circumcised male infant. Now later on, [during] adolescent teenage years, there's risks of what is called paraphimosis [and] phimosis, an infection of the area called the glands under the uncircumcised young man with the foreskin, and we believe that's because it's not quite as hygienic as the circumcised male. It takes some work for the individual to keep the area clean and you have to retract the foreskin and clean the area. At times I've had [a] 5 or 6 or 7-year-old child [go] to the bathroom in the middle of the night, retracts the foreskin, and forgets to pull it back over his glands, and that causes what's called paraphimosis. So that whole piece of infection of the glands as an adolescent young adult — phimosis — and then the early increase in urinary tract infections in the male infant. those are the risks of the issue.
"Now globally, we have seen that in men that are circumcised [and] there's several good randomized trials out there now that have looked at men in Africa and in less industrialized countries, there's a reduced risk of HIV infection, sexually transmitted diseases like HPV [and] syphilis. Those are significantly lower in the circumcised male versus the uncircumcised male, globally. Now I have seen over the last five to six years more parents in these austere environments want the child circumcised. But if those risks are real, then what is the downside of circumcision."
On the cons
"Yeah, there are cons. It's a surgical procedure, and the issues of infection, of the incision site where the skin is excised, you can have some bleeding, you can have scarring to the area. Those risks, if you look at the big picture, are less than 3 percent. I think the most important thing is that they go to someone who's performed a lot of them and who's credentialed to do it under one of our bodies, either the American Academy of Pediatrics, American Surgical Association or the AUA [American Urological Association]."
On the idea that circumcision is removing nerves related to sensation
"It's a good question, and I don't know if the data supports that answer. If you look at men and look at the quality of life studies that have been done, there really is no difference in terms of what their subjective sensation is. Now that's a challenging piece of data because you're comparing it to what is your sensation, and you really don't remember what the sensation was beforehand. But there is a fair amount of young adults that have come to me that get circumcised later in life, and they report the data is pretty clear that there's no difference."
---
Ciku Theuri produced this interview, edited it for broadcast with Peter O'Dowd. Serena McMahon adapted it for the web. 
This segment aired on March 26, 2019.