Cross-Country Returns To Its Roots For World Championships
03:48
Play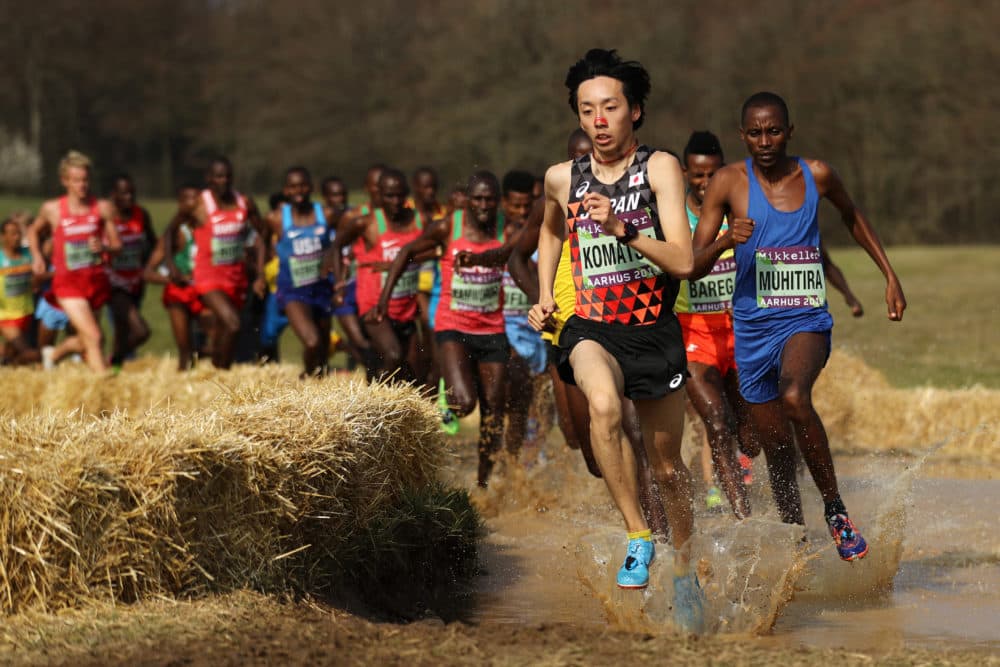 Cross-country is nothing like doing laps around a track. When you run cross-country, you're covering the landscape — jumping fences, crossing streams, cresting hills. And that was certainly the case in Denmark last week.
The International Association of Athletics Federations (IAAF) World Cross Country Championship is one of the most important competitions in international cross-country running. This year, the race was held just outside Aarhus, a coastal city in Denmark founded by Vikings thousands of years ago.
The sport has history, too. Cross-country's roots stretch all the way back to England in the 1800s, when it started as an imitation of foxhunting.
IAAF president Sebastian Coe has won two Olympic gold medals on the track. But he told the crowd gathered at the race that cross-country, for him, remains the essence of running.
"I love cross-country because I think it is quintessentially that element of our sport that sort of sums up the human condition," he says. "It's endurance. It's focus. It's strategy."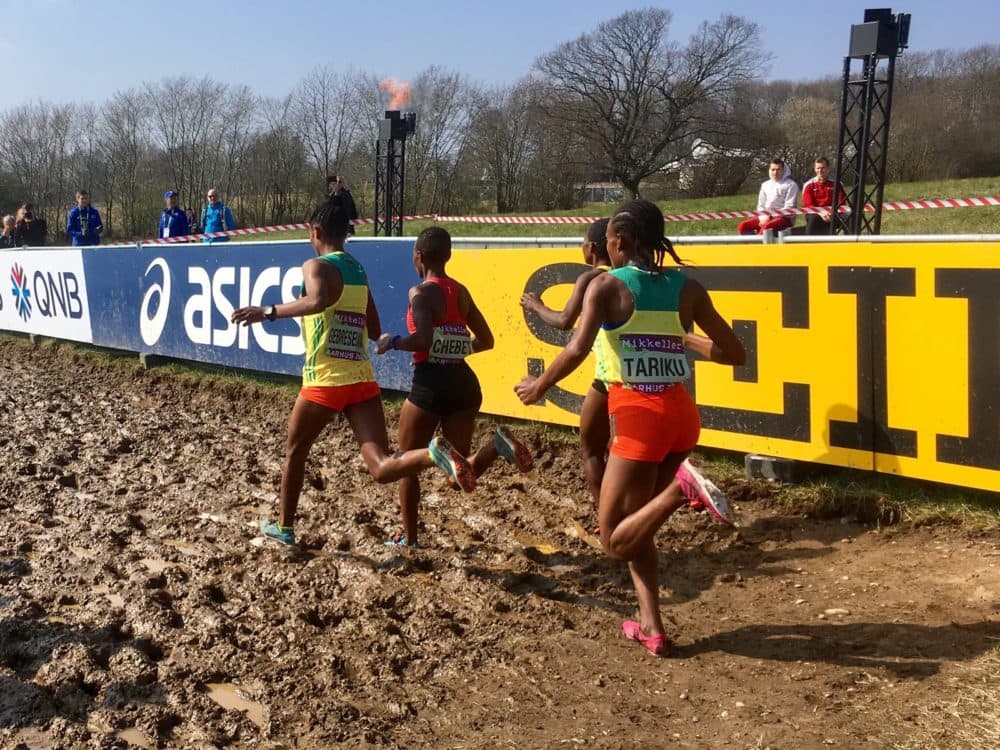 Jakon Larsen, director of the Danish Athletics Federation says from day one, the World Cross Country Championship has "been about turning people's heads."
Larson and his team designed a course the runners described as the most difficult they have ever faced. Besides the mud and water, there were leg busting hills — even one up the grassy roof of the Moesgaard Museum, which hosted the event.
American Stephanie Bruce runs marathons, but she says this 6-mile race was the hardest she's ever done.
"The cool part was people thought it was very gimmicky. It was not. It was true cross-country," she says. "It beat everything up. It beat your quads up. It beat your calves up. It beat your heart up. It chewed you up and spit you out if you weren't ready."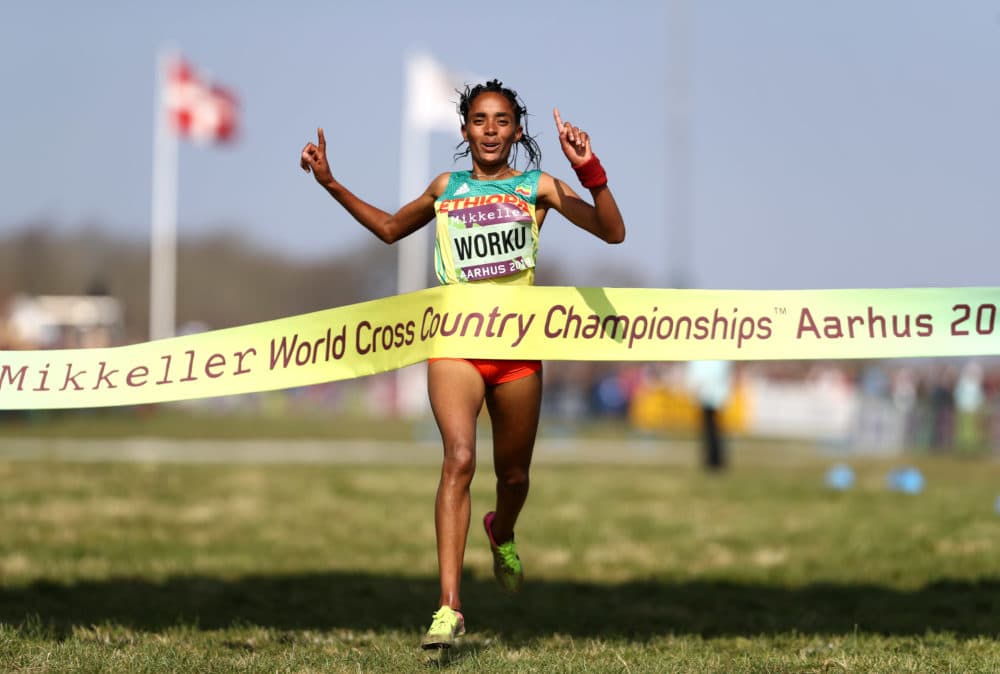 Nearly 10,000 spectators showed up to watch elite runners from more than 50 countries charge through obstacles. Part of the course ran through the beer tent. And yes, there were Vikings.
AnnaSophia Bay was one of the Viking re-enactors cheering on the runners.
"It's a great event and it seems like the people here are really happy and enjoying it," Bay says. "And the runners are really, really, really talented, and we enjoy being part of it."
African runners dominated the event as they have in most years. But beyond the results, the championship race was really about generating interest in a sport that has lost some of its luster.
Mike Urquiola made the trip from Massachusetts to Denmark to help celebrate cross-country.
"I hope that people realize that if you put on a really good event, it will eliminate some of the mystique [of cross-country]," Urquiola says.
"People think it's just a school-age thing that people do, but it's not. It's a lifelong thing that people can do," he says. "I mean, if the Spartan races and the color races can make it, cross-country is as tough or tougher than any of those things, and I think people would be wise to give it a try."
One hope from Denmark is that the Olympics will give cross-country a try again. There's a campaign underway now to add it to the Olympic program in Paris in 2024, which would mark a century since the last Olympic cross-country race.
---
Alex Ashlock produced and edited this interview for broadcast with Kathleen McKenna. Serena McMahon adapted it for digital.
This segment aired on April 8, 2019.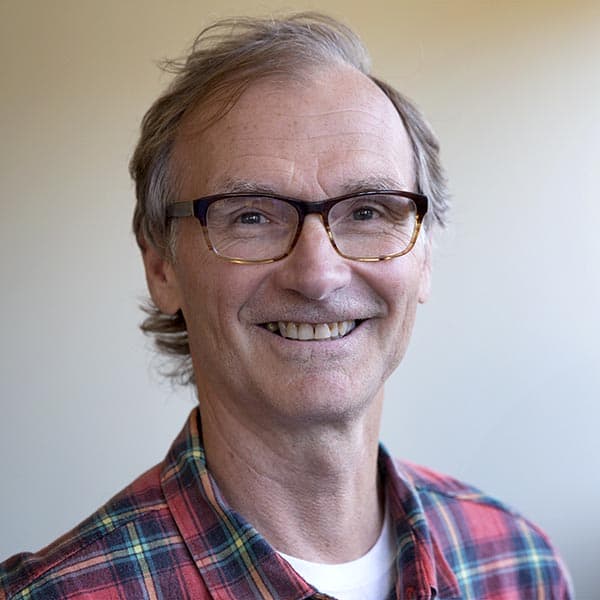 Alex Ashlock Producer, Here & Now
Alex Ashlock has been a producer for Here & Now since 2005. He started his WBUR career as senior producer of Morning Edition in 1998.