'Hadestown' Isn't Your Typical Retelling Of An Ancient Greek Myth
Play
This article is more than 3 years old.
The musical "Hadestown" retells the ancient Greek myth of Orpheus' journey to the underworld.
Based on the myth of Orpheus and Eurydice, the show is filled with vibrant characters woven into a modern love story, thanks to the stage adaptation of the 2010 folk opera concept album by singer-songwriter Anaïs Mitchell.
The New York production stars Reeve Carney (@reevecarney) as Orpheus, a young dreamer and songwriter. Eva Noblezada (@EvaNoblezada) plays Eurydice, Orpheus' muse. Patrick Page (@pagepatrick) acts as Hades, god of the underworld, who brings Eurydice to Hadestown, an underground factory. And Amber Grey plays Hades' wife, Persephone.
"I think the great thing about Greek tragedy is they exist to teach us about ourselves," Carney says. "[The musical] feels like it does have a timeless element but in a different way than the Greek myths."
That timeless element comes from the "fresh" feeling the show's musical lineup radiates, Noblezada says: The upbeat, catchy songs give the classic myth a lively twist.
"The music is very expressive, so no matter who's listening to it and what their musical background was when they were growing up or what influences them most, the music is kind of a free-for-all," she says.
For Patrick Page, "Hadestown" is "like being at a rock concert."
Page says he could feel the excitement and energy vibrating off the audience during the show. In that moment, he says he knew "something very special is happening."
"This is my 15th Broadway show," he says. "And I have never, ever seen any reaction like this from an audience."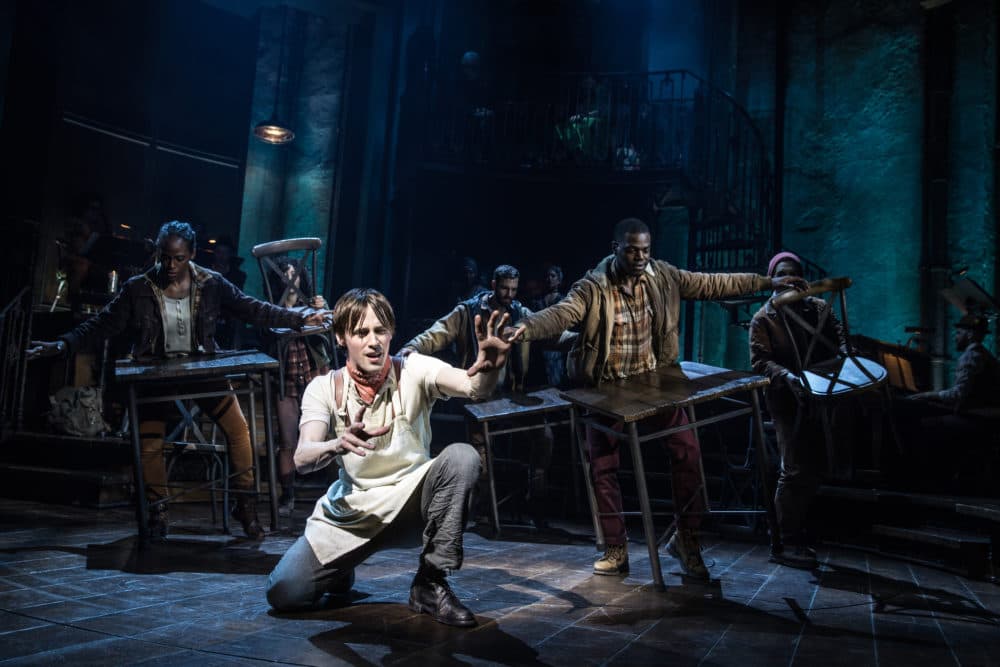 Interview Highlights
On the musical numbers in "Hadestown"
Patrick Page: "The music for me was the thing that attracted me to the project to begin with. It was unlike anything I'd heard on Broadway before and more like things I listened to at home, like Leonard Cohen, Tom Waits, Jeff Buckley, Joni Mitchell. It had a sound that just hooked me — songs that I wanted to sing, and songs that I wanted to listen to. I tell everybody that my dirty little secret about the show is that although I've now been involved with this show over a period of three years and I've performed it many times and rehearsed it many, many, many, many times, I will still — when I go to the gym — put on a song from the show to workout because I like the music that much."
On the range of voices in the show
Page: "Yeah Anaïs wrote this crazy role, which is the king of the underworld and it is truly, we call it sometimes a 'folk opera,' and I'm never sure exactly what that means. But in terms of the way it stretches the singers' voices, I don't have to do a whole lot to embody the king of the underworld because Anaïs has already done that with where she's written the role. So he sings in a way that you don't normally hear someone sing onstage and that tells you right off the bat, 'Oh he's supernatural, he's not a human being.' And in a way, she's done the same thing with Orpheus. Reeve has to sing these ridiculously high notes."
Reeve Carney: "It's actually really exciting for me to be involved in a theatrical project that allows you to use those parts of your range, because it is quite unusual on both the low and high end for Patrick and I, but it's great. I grew up listening to a lot of female singers and Bobby McFerrin was a huge influence on me. So for me, it's awesome to have a chance to mess with that onstage in a theatrical setting."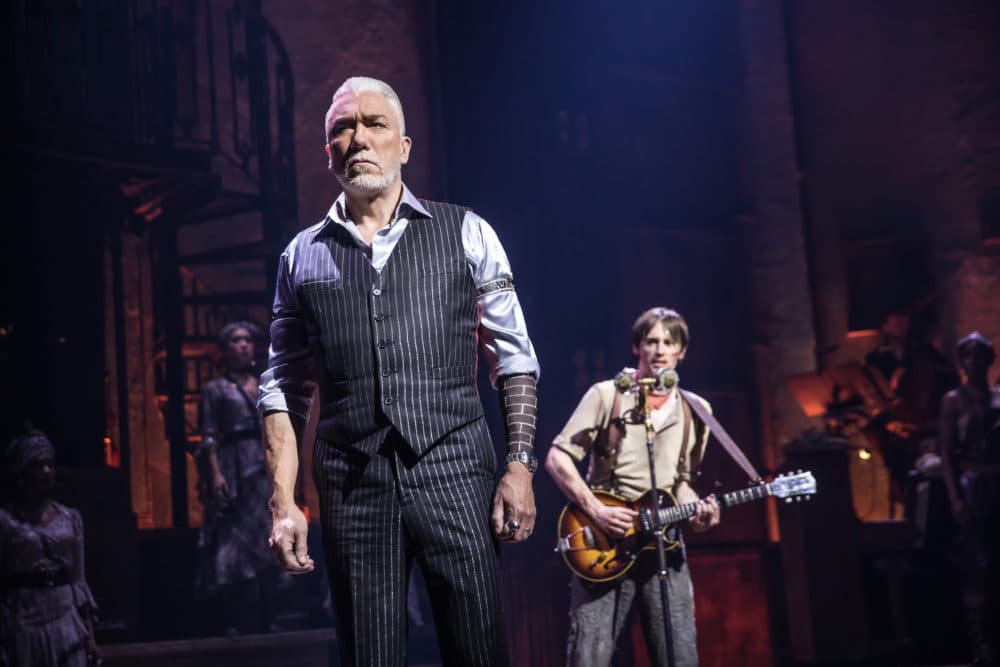 On the song called "Why We Build the Wall," written well before Trump started talking about building a wall
Page: "In addition to being an extraordinary poet, lyricist and composer, it seems that Anaïs is a bit of a prophet. She's taken this idea of a wall — a wall that can never be finished, which must always be worked on — and put it into the show. But she said once that any similarity between that wall and any current wall being built or pretending to be built in the United States is purely archetypal.
"Any time you have someone who's trying to hold onto power, which is what my character is doing, he's trying at that moment to build up his own sense of himself, his own sense of power, because his relationship is threatened. Political things come from personal things, so he's feeling threatened in his personal life. He goes out and holds a rally in which he gets everyone to chant about building a wall."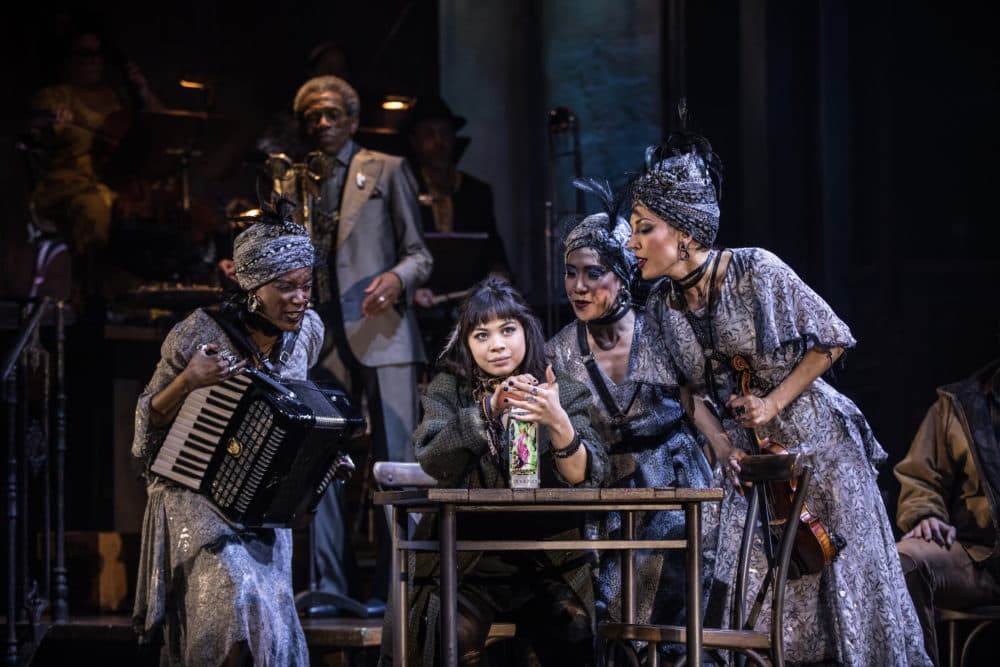 On the politics of building a wall
Carney: "I think I agree with Patrick. I think that the physical walls we tend to create as humans tend to stem from emotional walls — walls that we build against intimacy, togetherness, unity, all those things. I mean, there's so many walls you can build that prevent you from feeling something. That's where I think it starts. And our show deals those themes. I mean ... love, fear, hope, trust, doubt."
Page: "And the world now is so complex and moving so fast and so scary, that it's not surprising to me that people would want to think, 'Oh, well there's a solution. We will simply build this barrier and will keep all of the good people inside and we'll put all of the bad people on the outside and we'll be safe.' That's what Hades is appealing to. Hades is appealing to everybody's desire, in particular Eurydice's desire, to feel safe and comfortable at the expense of feeling loved, feeling creative and feeling free. She can have one or the other — at least, that's the bargain that I offer her until Orpheus shows her that necessarily, it's not like that. You can perhaps choose love and creativity and freedom and you can still have some sense of security."
On performing night after night
Carney: "It's great. You discover new things every day, don't you think?"
Page: "Yeah, you certainly do. And I mean, we were very lucky with the company we get to keep with Amber Grey, André De Shields, and our team, Anaïs, Rachel Chavkin, who really is a genius."
On the energy from the audience
Page: "It's like ... when I would go see Bono and the Edge and U2. The energy that the audience is feeding to the stage, we have three, four, or five hundred people waiting for us at the stage door when we come out, because they don't want the experience to end. They want to have just a little more contact with the people they saw on the stage."
---
Julia Corcoran produced this interview and edited it for broadcast with Kathleen McKenna. Serena McMahon adapted it for the web.
This segment aired on April 17, 2019.