Check In For Your Flight With Your Face? Passenger Questions JetBlue Facial-Recognition System
Resume
MacKenzie Fegan was surprised to find out recently that she didn't have to hand over her boarding pass to board her international flight on JetBlue.
Instead, all she had to do was look into a camera.
"I showed up, I had my boarding pass on my phone, and then once I started heading towards the gate with my group number, I saw that there were three different lanes, and that the gate agents were channeling people into the lane," she says. "And at that point I saw that they were looking at a camera. And then this plastic gate that was in front of the line would swing open and they would be allowed down the jet bridge."
At first, Fegan thought this new facial-recognition system only applied to passengers with Global Entry, a U.S. Customs and Border Protection program that speeds up the check-in process for "pre-approved, low-risk travelers." But she quickly realized that wasn't the case.
"When it was my turn, somebody channeled me into a gate, told me, 'Look at the camera.' A couple seconds later, the gate opened and I was on my way, wondering what had just happened," she tells Here & Now's Jeremy Hobson.
Biometric scanning isn't totally brand-new at U.S. airports, with airlines and the Transportation Security Administration hailing the technology as a boon for customer convenience. CBP calls it "the ideal technology path to a more seamless travel experience."
But it's also emerged as a lightning rod among people concerned about privacy.
Most of Fegan's fellow passengers didn't seem to notice a difference, she says. But Fegan, a writer and host of the podcast "112BK," had been doing some research about facial-recognition machines and wondered how JetBlue got access to her biometric information.
She took to social media in search of answers.
JetBlue responded to Fegan's tweet, and an exchange ensued: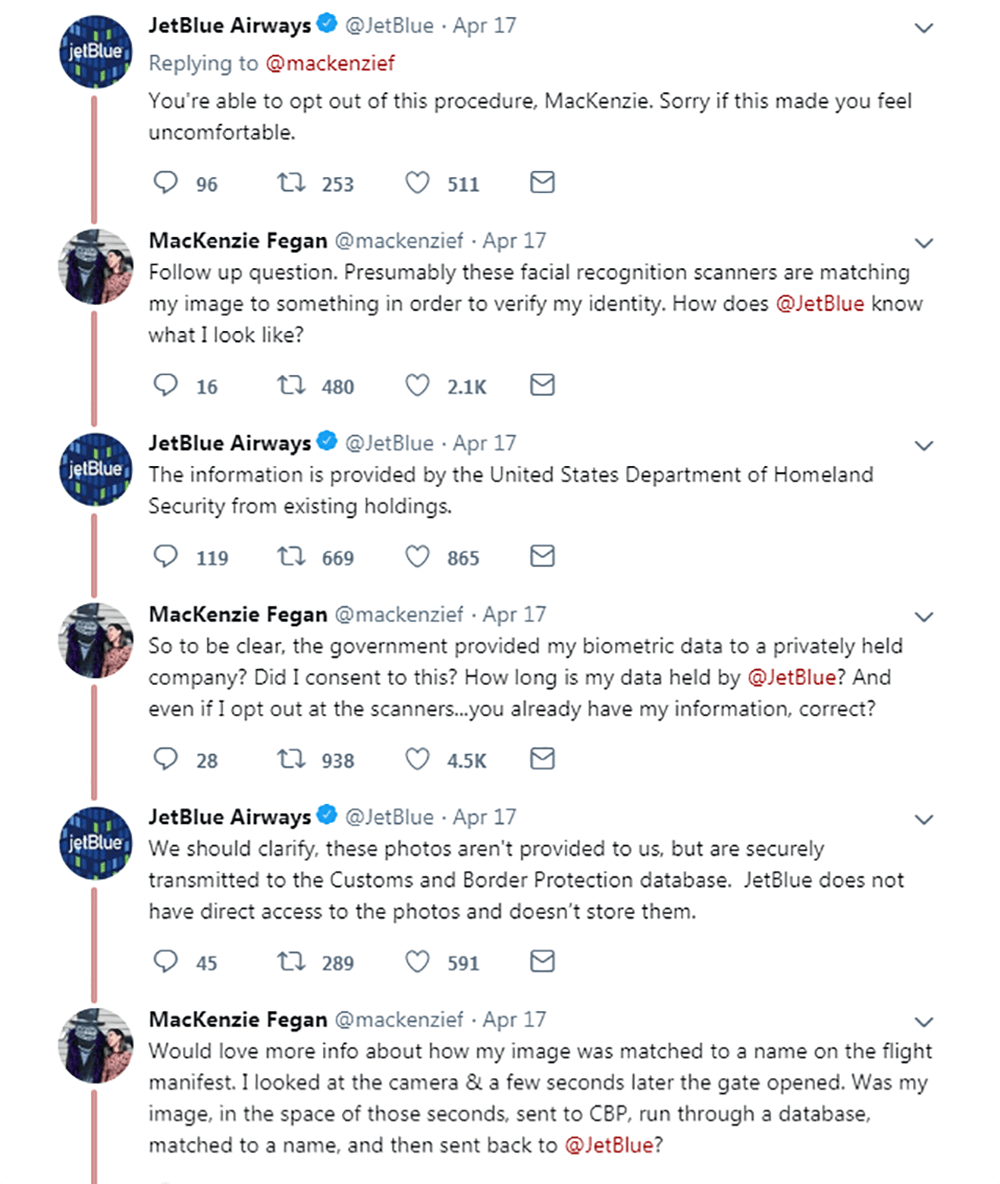 JetBlue began experimenting with facial recognition at Boston's Logan International Airport in 2017. It has since expanded the program to "select" international flights departing from New York's JFK International Airport, Washington Reagan National Airport in Washington, D.C., and Fort Lauderdale Hollywood International Airport in Florida, the company wrote in a statement to Here & Now.
JetBlue says it doesn't actually have a stored image of Fegan or any other passenger, but is instead communicating with a CBP database, according to the statement:
The photo captured at the gate is sent directly to U.S. Customs and Border Protection (CBP), who then compares it against their passport gallery of those on that specific flight. If a match is found, they will return the confirmation number to us, which we will then use to board the customer. If no match is found, an error will be shown and the customer will be directed to visit the podium to have their passport manually inspected and boarding pass scanned.
That didn't put Fegan at ease, however, who says she "really flipped out" when she learned that flow of information between JetBlue and CBP was happening.
"I did not authorize — or at least I was not aware that I had authorized — the government to share my biometric data with a privately held corporation," she says. "And I should note that I do have TSA PreCheck, I do have Global Entry, so I have made the decision to hand over my biometric data in order to expedite the immigration procedure whenever I come back into the country. But I didn't recall authorizing the government to share that data with corporations."
Even though a machine might be present at a gate, JetBlue says it does not require passengers to board via facial recognition.
"If a customer does not wish to participate, they can simply tell the crewmember stationed next to the camera prior to stepping up and they will be directed to the manual line at the podium for passport checks and to have their boarding pass scanned," the company's statement says.
Passengers like Fegan can opt out of the facial-recognition process. But she says opting out before a ticket is even purchased is the only effective method for preventing biometric information from factoring into the process, not opting out at the gate.
"Your information has already been pulled and compiled into a data set that matches the flight manifest, from what I understand. So if you can't opt out at the time when you buy your ticket, then opting out of the scanner doesn't really do any good," she says.
The Department of Homeland Security wants to continue to roll out facial recognition at U.S. airports. Fegan says she will likely opt out to act as a "conscientious objector."
"But it sounds like the train has already left the station," she says.
---
Mark Navin produced this interview and edited it for broadcast with Tinku Ray. Jack Mitchell adapted it for the web.
This segment aired on May 2, 2019.