Florida Mayor Wayne Messam Makes His Case For 2020 Presidential Nomination
Play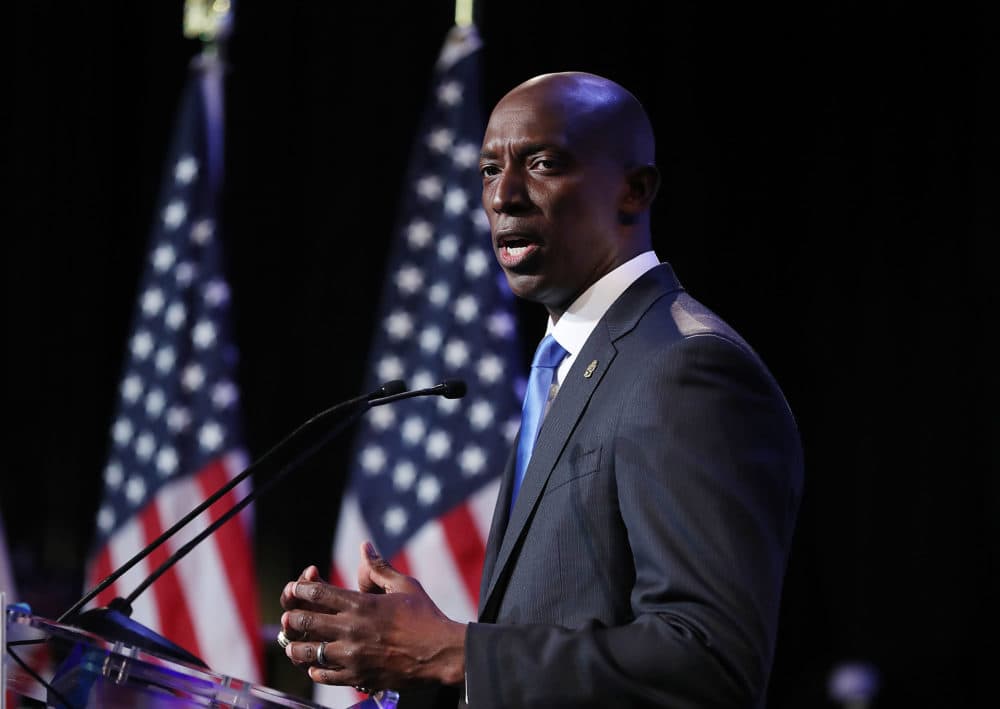 This article is more than 3 years old.
We're talking with presidential candidates in the runup to the 2020 election. Check out all of our conversations.
---
Mayor Wayne Messam of Miramar, Florida, is very much still in the race for the Democratic nomination for president — even though he probably won't make the fundraising cut to appear in the first televised debates.
The son of Jamaican immigrants, Messam (@WayneMessam) is the mayor of the South Florida city of about 150,000 and owns a construction company. He launched his campaign in March, but he's still relatively unknown outside of Miramar.
Messam tells Here & Now's Robin Young that's because he hasn't been offered the opportunity to host a nationally televised town hall on CNN or Fox News. He says due to that lack of exposure, "my hill is a lot steeper than others."
"I fall as a progressive mayor that has passed the living wage in my city. I'm standing before you as a business owner that knows how to create jobs," Messam says. "The question is why hasn't the mayor from a swing state, the first African-American mayor of my city, and I've asked and I've demanded a town hall — have not gotten it."
Interview Highlights
On the controversy surrounding his construction business
"I think what Americans, and actually what I know, a lot of what you brought out is very old news back from the early years of being in business. I'm actually an American success story. My construction management company is one of the fastest-growing minority construction management companies in Florida. You can start a business. I almost lost it all. It's no secret.
"We started a construction company during the recession. We used our savings and basically paid our employees to keep our company afloat. So I stand by that record, and I think that inspires Americans to see that they have someone, perhaps who [has] not been born with a silver spoon. And when you think about [it], I've always defied the odds. My parents are from Manchester, Jamaica. My father was a contract sugar cane cutter that came to this country seasonally for over a decade. Then my father when he became a permanent resident, one of my mother's first jobs was as a cook to go out in those very same farm fields to feed the migrant workers out there."
On President Trump's proposal to prioritize highly educated immigrants in the visa system
"I think that would be a travesty because obviously, if that process was in place when my parents ... [were] knocking on the doors of this nation, they would be at the bottom of the list. I feel that this nation should open its doors to any person that would like to contribute to this society."
On the future of construction in South Florida amid climate change
"Construction will always be needed. You will always need to renovate projects. Most of my work is putting in more high-efficient energy systems. But climate change is something that is very real. I know in Florida, sea level rise is a big issue, but in the heartland of this country, it's impacting farming production. In the West, we're seeing on fires that are just destroying property, destroying lives, and we have to become more resilient, and we must make our way to 100 percent renewable energy and a real plan to transition us there."
On the Green New Deal proposal in the House 
"We have to define what the problem is and come up with practical solutions. In terms of the Green New Deal, I support the urgency and the end goal of the Green New Deal. I would look to work with our climatologists, economists to propose my own plan and how we would meet those goals."
On what he would do to avoid climate disaster
"When you think about the flooding that takes place because of more torrential weather events that we're having, which can be directly connected to climate change, is coming up with an infrastructure bill that prioritizes resiliency, whether it's fortifying our bridges, levees, dams. The next thing I would say is that we have to transition off of our dependency on fossil fuel by committing resources to renewable energy. And then we take it to these communities that could have an impact because they have some industry tied to fossil fuel and retooling and retraining those individuals and providing opportunities to advance renewable energy and those sectors of the country. Then now, people can now see where they can transition off maybe a job, and we still are acting on climate change."
On Trump's argument that joblessness among African-Americans has reached its lowest rate ever 
"I think that's a misnomer. Average everyday individuals, especially in the communities that you just mentioned, many individuals are working more than one job. When you think about the quality of life of working those multiple jobs, it impacts the family structure. It impacts the ability to do other things that you would like to do. It's no question that this economy has continued to show some economic progress stemming even from when President Obama was in office. But when you really think about it, who's primarily benefiting off the Trump economy? It's the large and major corporations. It's the wealthiest of Americans. The benefit has not trickled down to most hardworking Americans, and that's how I gauge the health of this economy."
---
Jill Ryan produced and edited this interview for broadcast with Todd Mundt. Samantha Raphelson adapted it for the web. 
This segment aired on June 13, 2019.