How Ross Perot's Third Party Presidential Bids Shook Up American Politics
Play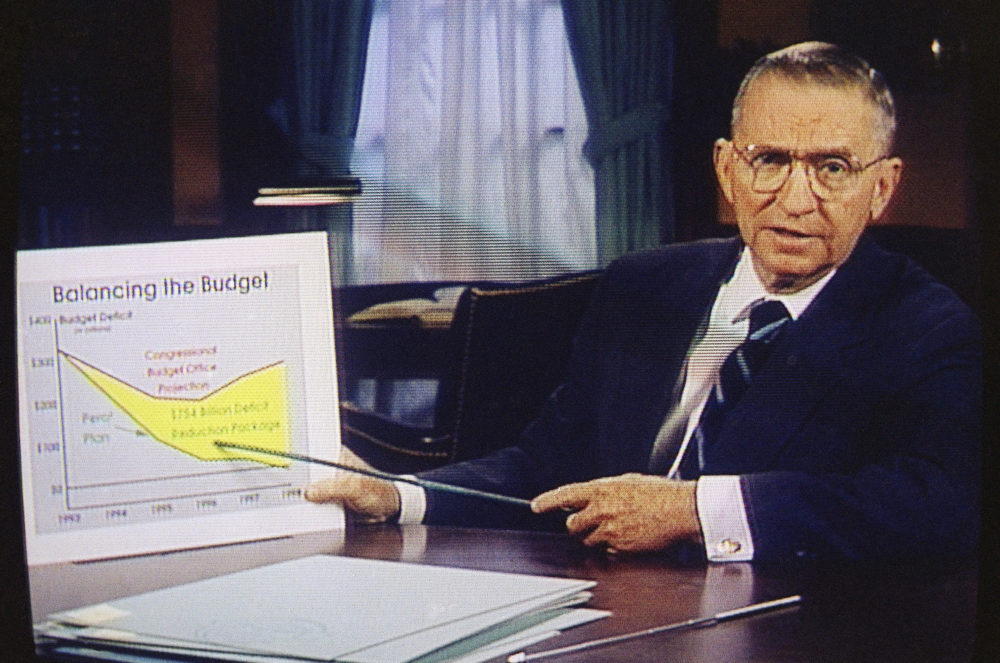 This article is more than 3 years old.
The death of Ross Perot on Tuesday serves as a reminder of a key part of American political history: Third party or independent candidates can and have made a difference in presidential elections.
Perot, a child of the Great Depression who became a billionaire, shook up American politics in the 1990s with two independent campaigns for the nation's highest office.
In 1992, he ran against Democrat Bill Clinton and incumbent Republican President George H.W. Bush. He shared the debate stages with those two men, and his folksy message resonated with more than 19 million voters on Election Day — among the best showings by a third party or independent candidate in the last century.
Julian Zelizer, professor of history and public affairs at Princeton University and a CNN political analyst, says Perot was able to capitalize on "an anti-incumbent mood that was still in the air" at the time, calling attention to the budget deficit and recent recession.
"He also understood it was the year of cable television and he uses it to his advantage," Zelizer tells Here & Now. "He announces his candidacy on 'Larry King Live' on CNN. He has infomercials and he sells his idea. He really understood how the medium was offering new opportunities to speak directly to voters."
Perot wound up with about 19% of the vote in an election that Clinton won by 6 points over Bush. Perot ran again in 1996 and got around 8% of the vote, with more than 8 million people casting ballots for the Texan. For comparison, the leading independent or third party candidate in the 2016 presidential election got less than 4% of the vote.
Perot had a lasting impact on the way we conduct our democracy, Zelizer says.
"Even though he doesn't create a new era of third party politics, he does help lay the foundation for cable-era politics and thinking of new formats to reach voters," Zelizer says. "So even when you see candidates and presidents use Twitter today, you can draw a line between that and the infomercials."
"He really understood how [TV] was offering new opportunities to speak directly to voters."

Julian Zelizer
Questions linger about whether Perot helped Clinton get elected in 1992 — a question that's also still debated about the 2000 race for the White House. Ralph Nader was the Green Party candidate and generated just under 3% of the vote. But the margin between major-party candidates George W. Bush and Al Gore was razor thin.
It went to the Supreme Court, and Bush emerged as the winner. There are people who blame Nader for Gore's narrow defeat to this day.
"In states like Florida which was decisive in 2000, that small number of voters he was able to attract probably were taken away from Al Gore and could have cost Democrats the campaign," Zelizer says. "That shows that when third party candidates are not really going to win electoral votes, what they are going to do in these swing states is take votes away from the party and could cost someone who you're sympathetic to, generally, the vote."
Going further back in history, the Southern segregationist George Wallace ran as an independent candidate for president in 1968. The race that year featured Republican Richard Nixon and Democrat Hubert Humphrey, who was President Lyndon Johnson's vice president. Wallace won more than 13% of the vote and several Southern states.
Zelizer says that campaign also had a lasting impact.
"Vietnam is raging. There's intensifying conflict over civil rights issues like urban policy and crime and Wallace tries to capitalize on this and he plays to the white backlash — not just in the South but in the North — and in some ways he set a template that other candidates have followed in terms of backlash politics," Zelizer says. "So that's one of those cases where the candidate loses but some of his message continues right through today."
But overall, it remains a tall task for a third party or independent candidate to make a dent in a presidential election and actually win electoral votes, Zelizer says.
"Third parties can't really compete with these massive mechanisms of the Democratic and Republican parties," he says. "And then most voters today are not genuinely independent. Even independents tend to lean toward one party or the other."
---
Alex Ashlock produced this interview and edited it for broadcast with Kathleen McKenna, and adapted it for the web with Jack Mitchell.
This segment aired on July 10, 2019.