2020 Hopeful Jay Inslee Says His Clean Energy Plan Will 'Save Us From The Climate Crisis'
Play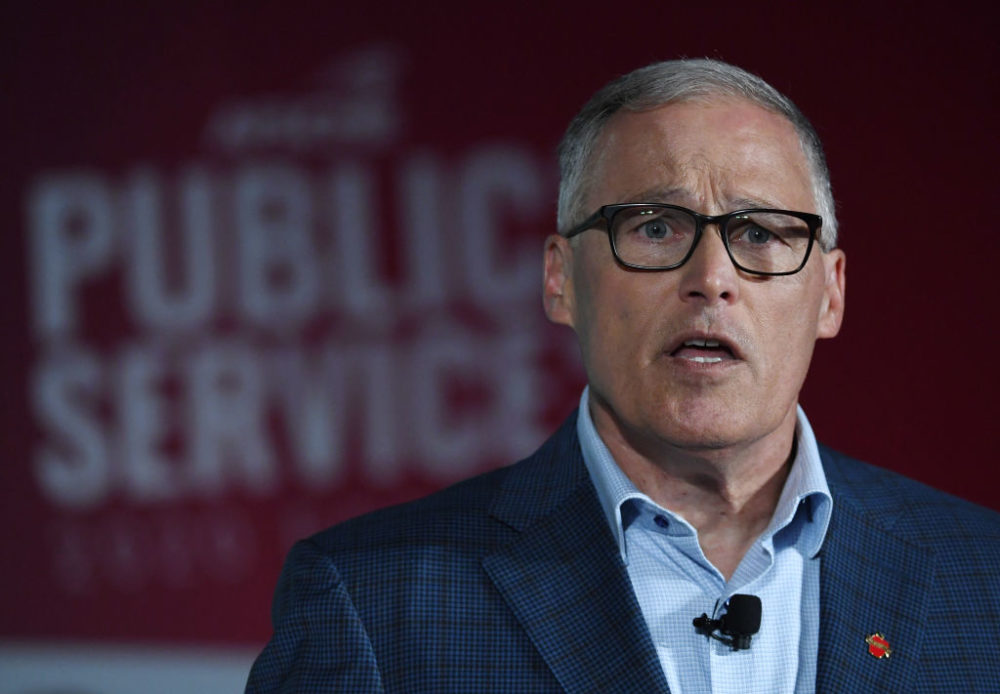 This article is more than 3 years old.
Washington Gov. Jay Inslee says if he's elected president of the United States, addressing climate change will be his first priority.
"I have an intense, passionate and very focused approach to save us from the climate crisis," he tells Here & Now's Robin Young.
Inslee says his 100% clean energy economy plan — which has been lauded by Democratic Rep. Alexandria Ocasio-Cortez and the environmental organization Greenpeace — would not only turn back the tide on climate change, it would create a "prodigious number of jobs."
According to his campaign, Inslee's 10-year plan guarantees that Americans will reach 100% clean energy in electricity, new cars, and new buildings by 2030.
His climate policy stands out among the crowded Democratic presidential candidate field, he says, because other candidates have "not been as ambitious as the science demands."
"I decided that on my final day on Earth, I want to be able to look at my three grandchildren and tell them that I did everything humanly possible to save them from this enormous cataclysm of the climate crisis," he says.
Interview Highlights
On mass shootings and gun legislation
"Now we also need meaningful common sense gun legislation. I have believed this for a long time. I'll just give an example of what I mean by that. In 1994, I was a freshman legislator from eastern Washington, a Republican district, and the bill to ban assault weapons came up and I knew if I voted to ban assault weapons, I would lose my seat in Congress. And I went ahead and voted to ban assault weapons. I did lose my seat but I have never regretted that vote for one heartbeat.
"We now hope that if we have a president to lead, we can again ban assault weapons as I have proposed. We can do the things that we've done in Washington state under my governorship. We've now passed three common sense gun safety legislation, making sure we have extreme risk protection orders [and] making sure we close the gun show loophole. We now need to close the Charleston loophole. And importantly, we need to empower the federal government to fight white nationalism."
On how he would confront white nationalist extremists
"Well we have been somewhat successful, considerably successful, fighting international terrorism. The number of plots that have been interdicted is actually very, very impressive. Our intelligence resources, while respecting First Amendment rights, can be successful if they are targeted to the threat. But this president has been consistent in diminishing the ability of the federal government to protect us from white nationalism. He has reduced to actual dollar resources going into these events even though the FBI director just most recently said that the majority of arrests for terrorism have been involved in white nationalism and domestic terrorism. So this has been a conscious effort by this occupant of the White House to diminish our ability to protect citizens from this threat."
On how he would pay for his 100% clean energy project
"We're going to make prodigious amounts of money and create prodigious numbers of jobs by building a new clean energy economy. This will be the largest building project in the United States since the interstate freeway system. And the reason is we have to rebuild our physical infrastructure to not waste so much energy, that is an enormous opportunity for jobs for carpenters and laborers and electricians, not just physicists and mechanical engineers. Look, the expensive route is allow forest fires to continue to burn down whole towns like [what is] happening in California. It is too expensive to allow floods to continue to destroy billions of dollars of agricultural productivity in the Midwest. It is too expensive not to act."
On some local activists who want him to move faster on climate action
"Well I don't know what you're referring to because I've not heard any of those criticisms. In fact Ocasio-Cortez has called my plan the gold standard. Greenpeace is rated as the highest energy. ... I just got started. Bill McKibben just sent out a tweet asking people to help out. This is clearly by every single group that has evaluated the clean energy visions of the multiple candidates and there are two dozen. All of them agree that mine is the most aggressive, most robust and comprehensive. So I really don't know what you're referring to."
On how climate change is catching on with voters, and what he's doing to stand out
"Well two things, we are catching on. Since the last debate we've had over 20,000 new donors. We're now [at] about 112,000 [donors]. But the fact of the matter is that two-thirds of Americans could not pick me out of a lineup yet, and we are still at the stage of a campaign of introducing ourselves to the American public. And that is the experience of Bill Clinton and Jimmy Carter as well when they started. And so we're just in the building process and that takes time. I do want to come back [and mention one other thing on why my climate policy has been called the best by far, and the reason is because it actually complies with the scientific certainty of the dates by which we have to get off carbon. Mine is the only plan that actually guarantees we will do that — get off coal in 10 years and fossil fuels in our electrical grid in 15 [years]."
On what he wants voters to know about him
"The first thing I would want them to know is why I am running for president and I think that's maybe the most important thing, and that is I've been a very successful governor and we've got the best economy in the country. We've had enormous progressive policies that have been adopted under my watch. ... The second thing I would hope that they would know that that is not the singular accomplishment that I have had or will have. If you look at our record, the very first public health care option in America we've adopted in our state. The very first long term care plan for our senior citizens in American history we've adopted. We now have the strongest gender pay equity law in the United States. … But that's not all you'll get if I am president of the United States. I've got quite a bit to offer and I hope people take a look."
---
Jill Ryan produced and edited this interview for broadcast with Todd Mundt. Serena McMahon adapted it for the web. 
This segment aired on August 8, 2019.