Event Planner To The White House On What Makes A Great Party
Resume
Bryan Rafanelli knows how to throw a party.
His new book "A Great Party: Designing the Perfect Celebration" displays over a decade of his work planning exclusive, high-profile events from Chelsea Clinton's wedding to former President Barack Obama's White House state dinners.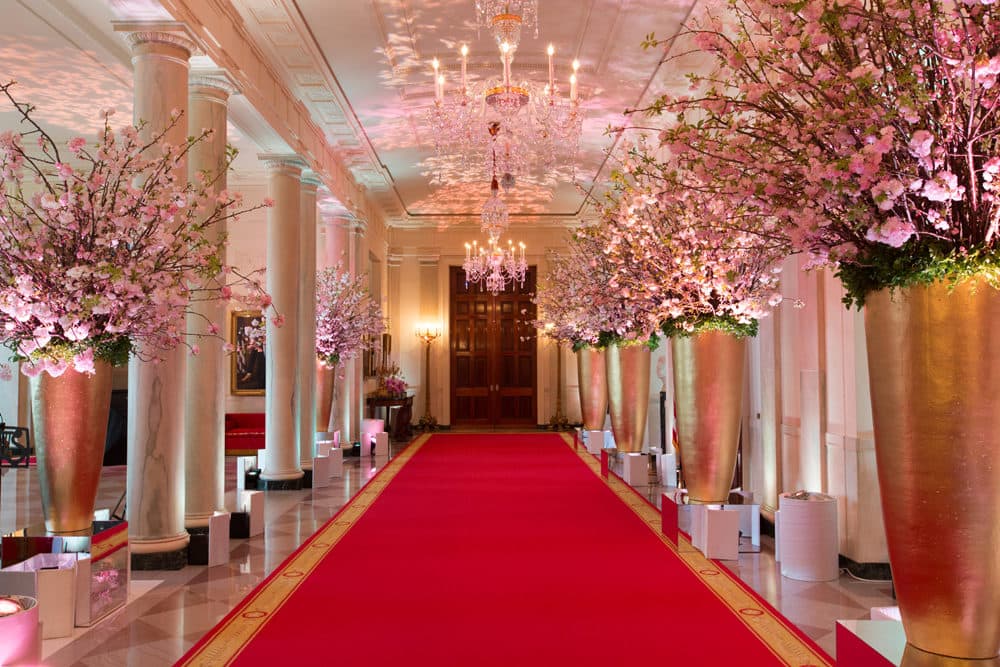 Named one of the top wedding designers in the world by Vogue, Rafanelli is the founder and creative director of Rafanelli Events, one of the country's premier event planners. The company launched in 1996 with Rafanelli and two colleagues planning a few events per year.
Now, the company designs and plans more than 75 events annually across the world from its offices in New York, Boston and Palm Beach, Florida.
The company has put together some of the world's most prestigious and high-profile events — the Democratic National Convention, nuptials for Clinton and Allison Williams, to name a few.
Rafanelli also decked the halls of the White House with holiday décor in 2015 and 2016, including giant eight and six-feet-tall models of the first dogs, Bo and Sunny, from 30,000 black and white balls of yarn.
"Nothing has ever felt repeated," Clinton writes in the forward of the book. "It would never occur to Bryan to copy himself."
Individuality is an impressive feat considering the company says it's produced over 2,000 events with up to 15,000 guests across nine countries.
When Rafanelli plans an event, he sets out to tell a story. He aims to facilitate a moment of celebration that speaks to who his clients really are.
"My clients' stories are not the same," he says. "So how could I repeat the same thing? It doesn't make sense to me."
Event planning is no small industry — two million couples tie the knot in the U.S. per year and the average wedding costs more than $30,000. And that doesn't cover birthdays, concerts, dinners, awards ceremonies and all other occasions worth celebrating.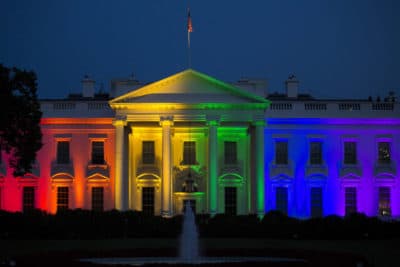 Rafanelli has had a hand in commemorating once-in-a-lifetime historical events, too — like when he bathed the White House with rainbow-colored lighting to celebrate the Supreme Court affirming that same-sex marriage is a constructional right.
He and his team weren't sure when exactly the court would decide on the case, so for weeks they secretly tried to prepare the prideful display — not an easy task on such a well-surveillanced area.
"Seeing it on the cover of Time magazine and everywhere it shows up," he says, "I was like, 'Wow, we did that. We helped with that. We helped make that happen.'
Rafanelli's event design tips
Tip #1: Go big above the shoulders
"What it means is, being in this business for two decades of having a client worrying about the color of the napkins — or the little flowers on the tables or the tablecloths or the chairs. Not that they're not important, but especially in a cocktail party, if a room is filled with 200 or 300 people, what do you see? You see two to three hundred people and then you see everything above their shoulders. So if you want to make an impact, if you want to make a splash, if you want them to feel something, you better make it big and make it in eyesight.
"High up but at least, at the very least, above the shoulders in the room and not worry about the little stuff, worry about the big stuff. And that's one of my Rafanelli rules: Think big. At the holidays at the White House we made these giant Bo and Sunny dogs. They were six-foot, eight-foot, five feet wide, made out of 30,000 knit bows that we tied on to chicken wire. They were huge, but when you walked into the White House, what did you see? You saw Bo and Sunny welcoming you as soon as you came in and everybody, not just the children, wanted to have their pictures with these giant dogs."
Tip #2: No one likes a true surprise
"This is what I recommend. You're going to throw a party for your husband, your best friend, your wife, whatever it may be. I would give them the date and the guest list and then everything else is a surprise. Then there's none of that kind of craziness of, 'How do I look? How do I feel? What do I have the next morning? My 50th birthday party that's in the book, I knew nothing other than the date and the guest list."
Tip #3: There's beauty in numbers
"There are two ideas in that story, right. If you're having 100 people over for a cocktail party, you have a lot of wine, a couple of cases, maybe five cases wine. Well, do something with those things … There's a beautiful photograph in the book of a holiday party we threw when there were over 600 people coming. So we had almost 3,000 bottles of wine and we just massed it out onto this giant wall and made this huge impression. So I'm always saying to my friends and my family and my clients, let's just multiply this thing. Not one beautiful inflatable unicorn in the swimming pool, let's have 20. It's a simple idea but it will make a big impact."
---
Mark Navin produced and edited this interview for broadcast with Kathleen McKenna. Allison Hagan adapted it for the web.
This segment aired on October 7, 2019.