Dutch Court Says Government Inaction On Climate Change Violates Human Rights
Play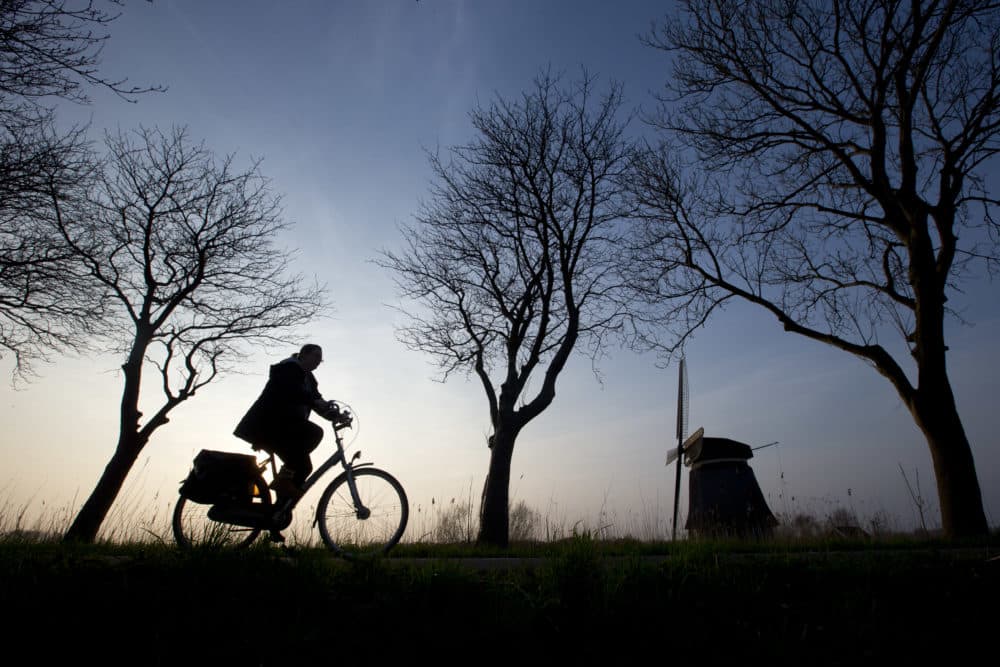 This article is more than 2 years old.
The Dutch government is ratcheting up its commitments to fight climate change after a first-of-its-kind ruling in the country's Supreme Court last month.
An environmental group successfully sued to force the government to cut the nation's greenhouse gas emissions by 25% from 1990 levels by the end of 2020, arguing the Netherlands' current commitments were insufficient and violated human rights.
Dennis van Berkel, legal counsel for the Urgenda Foundation which filed the lawsuit, says they successfully argued to the court the "grave dangers of climate change" and the Dutch government's inaction to "prevent these harms from coming into being."
The group's victory in court means the government now has a limited time period to amplify their efforts to transition to clean energy sources. To reach the target, van Berkel says a couple of coal-fired plants will likely have to close.
"In the meantime, it doesn't mean that the lights have to go out here," he says. "But it does mean they have to treat to transition to renewable energy with much more urgency than they have done so far."
Interview Highlights
On how the Urgenda Foundation made the argument that the Dutch government's targets for reducing greenhouse gas emissions were so inadequate that they jeopardized human rights
"I mean, it was a very extraordinary case. You don't normally go to a court and say, 'Well, this is the policy that I want.' So what we explained to the court was first and foremost the grave dangers of climate change and how unique they are in size, and the fact that for over 25 years the Dutch government, together with all the other governments in the world, recognized this danger but didn't do anything.
"So we argued that the dangers of climate change are so, so big that they threaten to violate our human rights, and are in fact already threatening human rights around the world, and that such a violation of these human rights created an obligation on the state to prevent these harms from coming into being. And the only way to do that is to lower emissions."
On whether he was surprised by the victory
"Well, I guess, yes and no. I mean, we didn't know that we would win, but we knew that we had a very strong argument. And the Dutch state itself had recognized time and time and time again, as any other country in the world, that climate change is a huge threat and that current efforts were not enough in order to prevent these threats. So we thought we had a very good legal basis to ask the court to order the state to reduce its emissions."
On what the court ruling means for the country
"The government has taken a number of measures. It has increased subsidies for people to install, for instance, certain installations or solar panels on their houses, and a bunch of other things, including closure of coal-fired power plants. Unfortunately, they haven't done enough, so they'll have to do more. [There's] still a very significant gap. So they'll have to take additional measures in the very short term. It would have been better if they had taken more time for that. But now it's one of the things that they'll probably have to do in order to reach the target is to close an additional couple of coal-fired power plants.
"Coal is the most polluting energy source in the world. And unfortunately, in the Netherlands, just a couple of new coal-fired power plants were opened in 2015 and 2016. There are other less polluting generating capacity still available in this area of Europe and also inside of the Netherlands. But because coal was cheaper at the moment and coal is not paying for its pollution, those coal-fired power plants are still running. But this judgment basically says, well, you know, it's not just about the costs. These emissions are causing harm. One of the most likely measures that the government will have to take is to close these plants down and to speed up their investment in alternative sources."
On whether a similar ruling could happen in other countries
"I'm convinced that it can. The legal principles that we use in this case are not unique, and the facts are not unique to the Netherlands as a whole, and I think it's very telling, for instance, that on the day of the judgment, the [United Nations] high commissioner on human rights came out with a statement saying that this judgment implies that also all other countries around the world, on their fundamental international human rights law, have legal obligations to reduce their emissions. So this is not a unique thing to the Netherlands. I mean, the Dutch government also said we're just a small country. It doesn't really matter what we do. And that's what we see all countries say. For instance, now in Australia, you see the Australian prime minister say, well, you know, Australia is just tiny. So we're not going to do anything about climate change regardless of the fact that the whole country is on fire because of the impacts of climate change. This ruling shows that that argument just doesn't fly. You have a legal obligation to do your part. And that's sort of the main message of this judgment."
On why they targeted the government with legal action and not fossil fuel companies
"Because governments have very particular responsibilities toward their citizens. That's the first reason. Under almost every constitution, governments have obligations with regards to their citizens and those obligations are the obligations and the rights that we used in this case. Governments as well have recognized, since 1992 when the Framework Convention on Climate Change was closed, governments, all governments in the world, recognized that they have a responsibility. They recognize that they are the prime entities responsible for dealing with this problem. And they repeated that when closing the Kyoto Protocol again in 2015. All countries in the world repeated, yes, this is a tremendous problem. We are responsible and we need to solve this. That's the first part. And the second part also is governments have the type of systemic powers that you need to solve this problem. Now we'll really need to completely reinvent the energy system. Large investments will need to be made because often renewable energy is cheaper than the fossil fuel alternative. But you have to make upfront investments and states are uniquely equipped and sort of the only real entity in the world that is able to take these types of steps."
On the sluggish pace of international action on climate change, and the most recent U.N. negotiations on climate change in Madrid
"I think it's extremely disconcerting. Basically, nothing was achieved in Madrid. And that was an achievement in itself because there was a big threat that there would be a big step back. I mean, so that's how dire the situation right now is. And it only increases the chance that more of these cases will pop up around the world.
"I mean, it's my honest hope that we don't need to go to court all around the world, people all around the world to demand that their rights are being respected. I mean, it's the role of the government to act in the interests of the people. And there's no doubt about it that that interest is to deal with this problem, as they have recognized for over decades now. This year in 2020 is the year that countries agreed that they would increase their ambition that they laid down in Paris because Paris [Climate Agreement] didn't set a target. It just set in a mechanism of continuously increasing the ambition. That's what we desperately need. And if countries are not going to go through with those increases of ambition and taking additional action, it's just inevitable that people will go to the courts and demand that their rights are being respected."
---
Chris Bentley produced and edited this interview for broadcast with Kathleen McKenna. Serena McMahon adapted it for the web.
This segment aired on January 13, 2020.