Gov. Laura Kelly Says Other States Should Look To Bipartisan Kansas Deal As A 'Model' For Medicaid Expansion
Play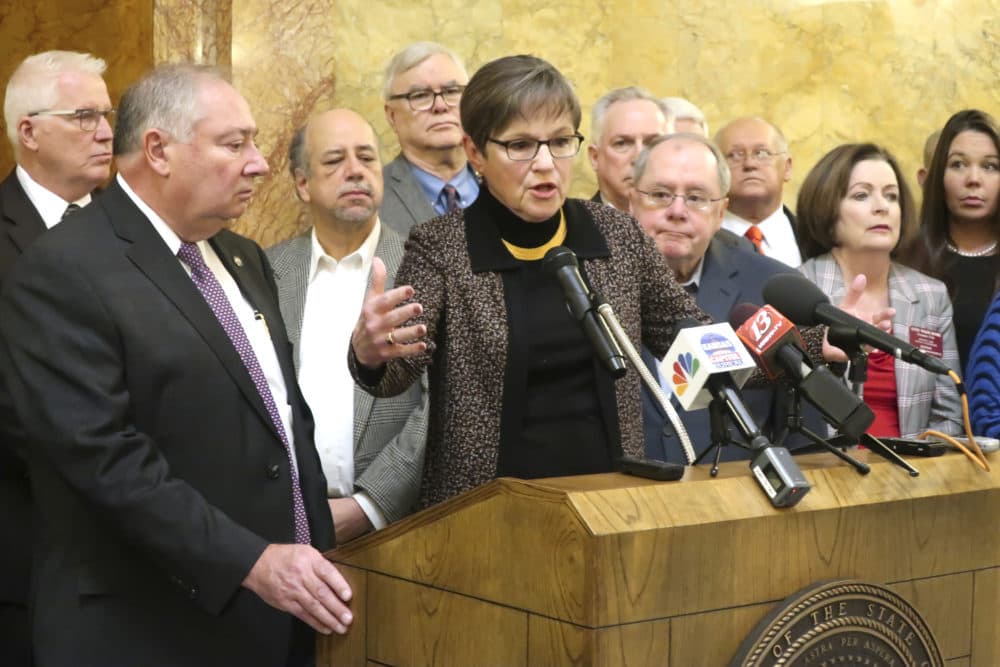 This article is more than 2 years old.
Kansas appears likely to become the 37th state to expand Medicaid under the Affordable Care Act, after years of Republican opposition.
The state's Republican Senate majority leader and its Democratic governor struck a bipartisan deal earlier this month to open up the program to Kansas residents earning up to 138% of the federal poverty level, or $29,435 for a family of three.
Gov. Laura Kelly, who was a Kansas legislator for 14 years, said she used her working relationships with politicians from both sides of the aisle to reach a compromise. An expansion bill passed the Kansas House in 2019 but never made it to a floor vote in the state Senate.
"Nothing is ever a done deal until the ink is dry," she says. "But I am very optimistic that we will get this Medicaid expansion bill through the process and that it'll come out clean and simple to implement."
An estimated 150,000 more Kansans will have access to health care if the expansion is passed, Kelly says.
The compromise calls for a study to determine if a reinsurance program — that helps some people stay on their current private plans by reducing their premiums — would work in the state.
"It has worked in some other states like Colorado," she says. "But we need to have the data before we can decide it fits the route that we want to go in Kansas. We'll know that in about a year."
If passed, the Medicaid expansion would be implemented on Jan. 1, 2021. The state would seek to implement the reinsurance program the following year, if the study finds a viable option.
Other red states are considering Medicaid expansion, such as Oklahoma and Wyoming. Kelly advises those states look to Kansas as a "good model" to work off of. She says Kansas state legislators were able to look at what other states did to understand what worked and what didn't to mold their bill in Kansan's best interests.
"I would suggest that if states who are getting ready are thinking about expanding, they oughta take a look at the Kansas model because it is simple. It is clean," she says. "It's about as inexpensive an approach you can take, and it's probably is administratively easy to do."
She says by and large, a majority of Kansans indicated they wanted Medicaid expanded. "And they're going to get it," she says.
Tax cuts in the state have occupied state politicians since long before Medicaid expansion became a priority. One of Kelly's recent predecessors, Republican Gov. Sam Brownback, signed into law one of the largest income tax cuts in the state's history and promised that it would jumpstart the economy. It did not — and state revenues crashed. The state had to cut education, transportation and more.
Now, some Republicans in the state legislature want to implement more tax cuts. Kelly says she vetoed two tax cuts last year that were sent to her desk because they "would have spun us right back into crisis."
"I continue to ask legislators to be patient," she says. "We will be presenting some tax cut approaches this coming session related mostly to property tax relief and food sales tax relief for Kansas families who need it the most."
She says the state currently isn't in a position to make any other tax cuts, considering they are still "on the road to recovery" from Brownback's tax cuts. Right now, a bipartisan tax counsel has presented short-term recommendations and is looking into the overall Kansas tax structure.
In addition, Kelly says she's focused on implementing a new transportation plan, providing "an adequate amount" of school funding, rebuilding the child welfare system and addressing overcrowding and understaffing in the corrections system and saving up funds if another recession hits.
Meanwhile, Kelly has turned her attention to the state's 2020 U.S. Senate race, where she has offered her only endorsement to date, in support of Kansas State Sen. Barbara Bollier. Bollier switched her party affiliation in December 2018, shortly after Kelly won the governorship, from Republican to Democrat.
Bollier faces a steep battle against the eventual Republican incumbent, though Democrats are more confident she could win the race after Secretary of State Mike Pompeo, formerly a Kansas congressman, declined to run for the seat.
Kelly says she doesn't know how Pompeo would have fared, but she's confident about Bollier's campaign.
"I think she's doing a heck of a job," Kelly says. "She announced record fundraising numbers" — over $1 million, more than any other Democratic Senate candidate in state history — "and she has been out and about all over the state getting to know Kansans and letting them get to know her. So I think she'll do just fine."
Kelly has declined to endorse any other candidates running in Kansas or across the country. She's also mum on the 2020 election and the impeachment trial that begins Tuesday in the Senate. As she says, she's "focused like a laser" on Kansas.
---
Francesca Paris produced and edited this interview for broadcast with Kathleen McKenna. Serena McMahon adapted it for the web. 
This segment aired on January 20, 2020.