Public Health Expert Describes The Critical Balance Between Human Rights And Public Welfare
Play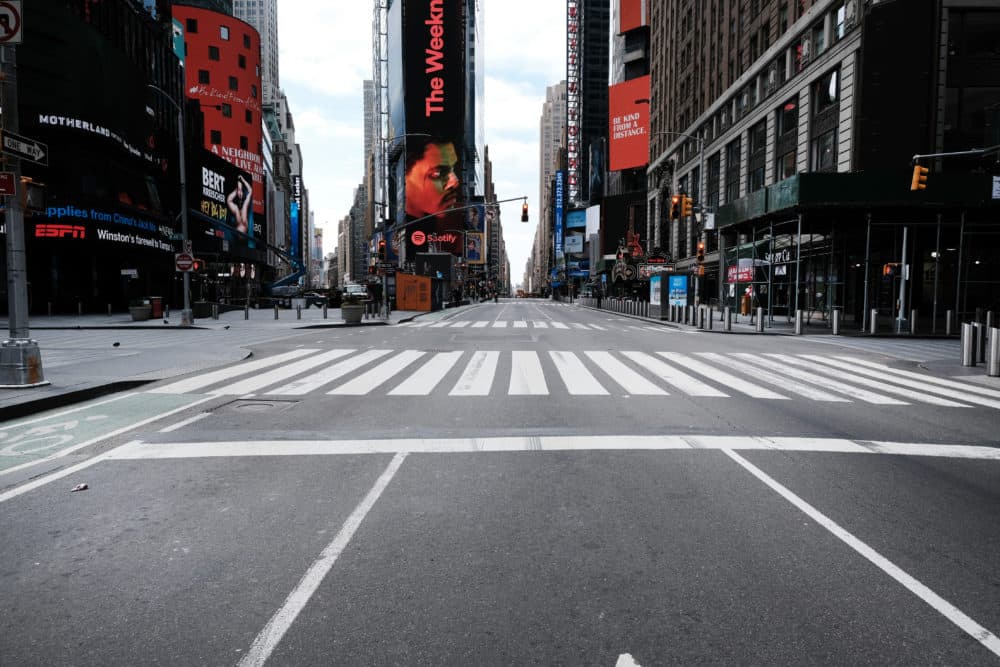 This article is more than 2 years old.
As COVID-19 spreads in this country, people are struggling to adjust to the new rules: stand six feet apart, work from home, don't get a haircut, home school your children.
Many businesses are also shutting their doors. Officials are putting these measures into place to protect public health, but it's raising concerns about an intrusion on personal freedom in the U.S.
The steps local governments have taken to close large gathering places and nonessential businesses "are all reasonable precautions that government should take," says Lawrence Gostin, professor of global health law at Georgetown University and director of the World Health Organization's Global Health Law Center.
"I always think that good science leads to good ethics, leads to good law," he says. "And so the science really is telling us that quite significant physical distancing is necessary."
President Trump declared a national emergency under the National Emergencies Act, and the Department of Health and Human Services also has issued its own national public health emergency. These measures allow the release of funding for a quick response to the crisis, and also waives rules that limit the Food and Drug Administration's ability to test new vaccines and treatments, Gostin says.
In China and Italy, entire areas were placed on lockdown to stop the spread of the virus. While Trump has the power to restrict international travel, travel restrictions within the U.S. could be constitutionally problematic, Gostin says.
"The president has very limited power for doing anything within states," he says. "And indeed, while governors have a lot of power within their states, it's very, very unclear whether either the president or a governor could actually ban travel from say New York to New Jersey."
Governors and mayors do have the ability to establish a cordon sanitaire, which is "a perimeter where people should not come or go," Gostin says. New York Gov. Andrew Cuomo created a containment zone in New Rochelle — a hotspot for the coronavirus — but other restrictions on state borders would be more difficult to implement.
"I think so long as that's proportional, that we're not using Draconian measures to punish and enforce, that probably would be within our powers, Goston says. "But it just gets tricky when you try to ban travel from one state to another."
In fact, the only time in recent history the federal government advised Americans not to travel to a state is when it warned pregnant women not to go to South Florida during the 2015-2016 Zika virus outbreak, he says.
"It's very rare," he says, "and if it were a complete ban, certainly the Supreme Court would have to review it."
So then how can officials ensure Americans adhere to stay-at-home orders? It's going to depend on trust, Gostin says.
"Of course, we're not China and we don't believe in Draconian social control and intrusive surveillance," he says. "We don't want armed police. We want to ... try to gain the cooperation of the population — and we need to gain it."
---
Karyn Miller-Medzon produced and edited this interview for broadcast with Kathleen McKenna. Samantha Raphelson adapted it for the web.
This segment aired on March 23, 2020.