Kansas Gov. Says Federal Government Had A 'Late Start' On Stockpiling Medical Supplies
Play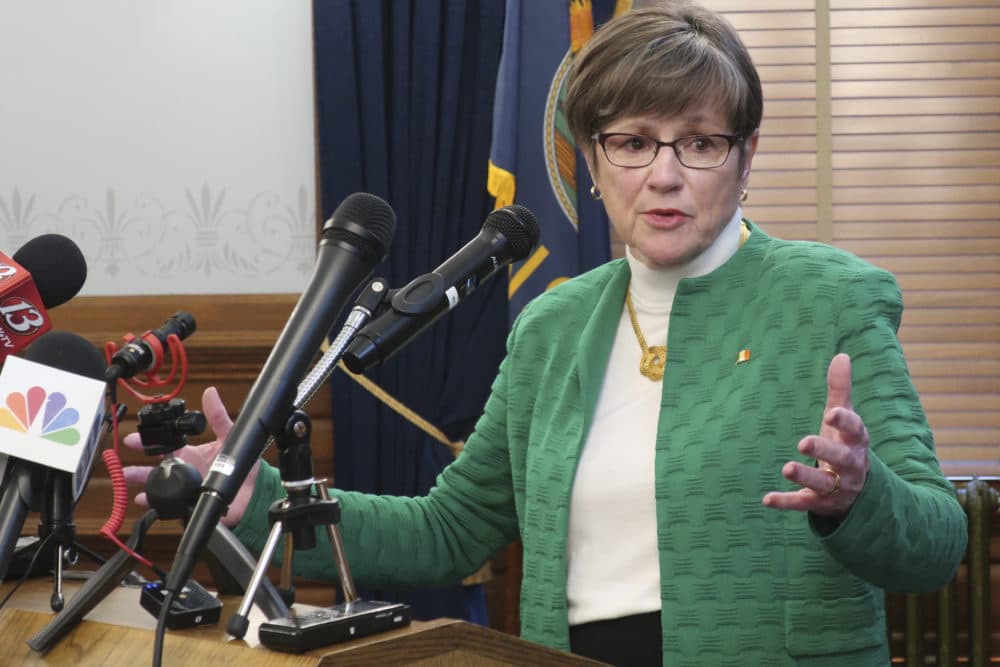 This article is more than 2 years old.
Senior adviser Jared Kushner sparked backlash at a Thursday press conference for saying the national stockpile of medical supplies does not belong to the states.
Now, governors are pushing back. One of them is Kansas Gov. Laura Kelly, whose state has only seen 620 cases but is preparing for more.
"That is absolutely not the way it is supposed to work," she says.
Kansas requested hundreds of thousands of masks, swabs and testing kits in mid-March, the Democratic governor says.
She's been told the orders were approved and filled but says the state hasn't received the supplies.
"The federal government absolutely has a responsibility to gather that stuff together and then to distribute it," she says.
Kelly thinks the federal government should have started stockpiling equipment and medical supplies months ago when the threat of the virus became evident.
"They didn't do that. They got a very late start," she says. "And we're all paying the price for that right now."
Interview Highlights
On whether she's having regular conversations with the White House about what Kansas needs
"The National Governors Association sponsors a call once a week, there is a White House call usually with the president and the vice president and then [Dr. Anthony] Fauci and a few others from [the Department of] Health or [the Department of] Defense ... I participate in those calls. But I have found the best way for me to deal directly with these issues is to go through my federal congressional delegation, Sen. [Jerry] Moran, Sen. Pat Roberts, because they've got channels to the folks who need to be alerted to what Kansas needs. So I'm tending to go that way versus asking on the phone call to the White House."
On whether she thinks neighboring states such as Oklahoma, Missouri and Nebraska should put in statewide stay-at-home orders
"We deal with emergencies on a regular basis out here in the Plain States ... We share borders, and disasters tend not to respect borders, and neither will this virus. So, yeah, it would be very very helpful if everybody just goes ahead and puts the stay at home order in place"
On whether more people will need to sign up for Medicaid if the state manages to pass its planned expansion of the program
"The reality is, if we were to expand Medicaid tomorrow, we wouldn't be able to implement that until 2021 at some point. But the fallout from this coronavirus long term is going to be severe and lengthy. So yes, absolutely, there will be a number of people who are going to need access to health care. It also would bring down another billion dollars a year from the federal government, which we are going to need because our health care system is taking a huge hit. We could've used the money before, we're going to need it even more as we go forward."
---
Francesca Paris produced and edited this interview for broadcast with Peter O'Dowd. Paris and Allison Hagan adapted it for the web. 
This segment aired on April 3, 2020.