Sen. Rick Scott On Reopening Economy, Florida's Troubled Unemployment System
06:07
Play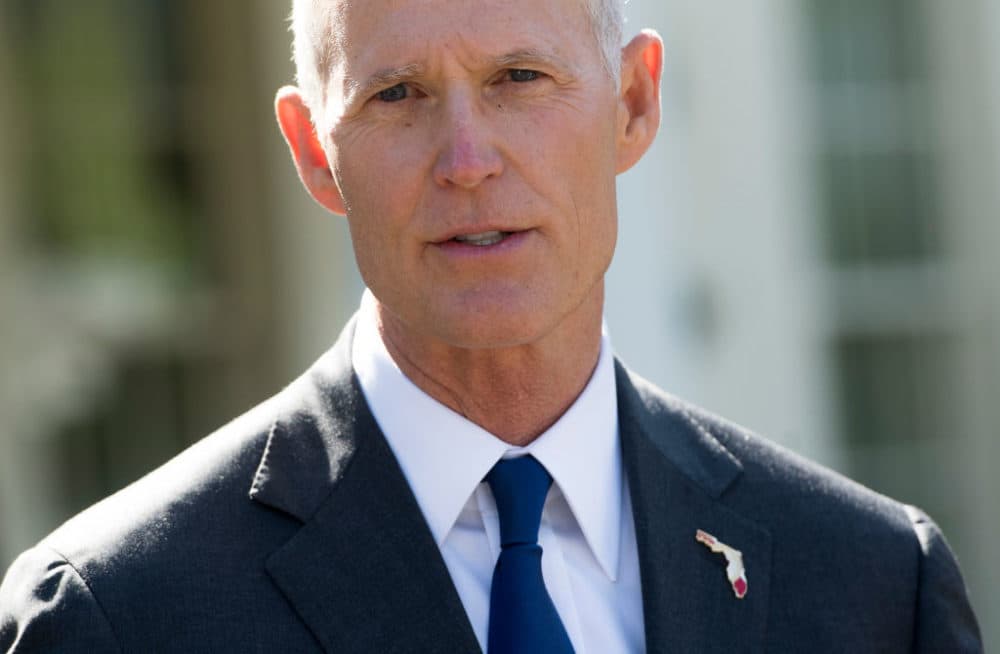 This article is more than 2 years old.
Republican Sen. Rick Scott says reopening Florida's economy will ultimately be up to the consumers — not politicians.
"If the consumer decides they're not going to get on the airplane because they don't feel safe, it doesn't really matter what all the elected officials say," he says.
He says state and local officials should be the ones to make the official calls that determine when businesses can open again and people can get back to work.
"I think everybody is chomping at the bit to get a paycheck," he says. "Nobody I know wants to just rely on government funding. They want to get back to work. People are hurting over that."
Interview Highlights
On decisions being made on the local and state level
"Ultimately, that's who's going to decide. I mean, the mayors and the governors are the ones that decided, you know, what businesses could be open and what people could go about ... whether it's to the beach or go to a park or things like that. So one thing I think that would be helpful to everybody is if we understood exactly what factors, you know, whether it's the president or whether it's a governor or the mayor, what they're looking at.
"So, you know, all of us can be informed and we can sort of have a better feel for when we're going to be able to get back to normal and what's going to be expected of us. I'm looking forward to the antibody tests that hopefully we'll be able to tell us if people have antibodies. I'm looking forward to that getting out. I've been talking to Dr. [Stephen] Hahn, who I think is doing a good job at the FDA on how we can ramp up testing because I think that's one of the things we're still behind. We clearly don't have enough tests out there yet."
On criticism that he designed Florida's unemployment system to make it harder for people to receive or keep their benefits
"Well, you know, clearly that's untrue. You know, I've had lots of crises. I've run big companies. When I was governor, I had hurricanes. And what you do in a crisis, you don't point fingers. What you do is you lead. In the case of unemployment, this is unprecedented, the number of new people. But you know, leaders lead. And I know that Ken Lawson, who runs it, he is working his tail off. He's doing a good job."
On Florida Gov. Ron DeSantis' leadership during the crisis
"Well, I don't think anybody should criticize people in the middle of a crisis. My job right now is just trying to connect people and solve their problems. And you know, if you solve it for one person, you probably help the system, you solved it for more than one person."
On small business protections
"Both the House and Senate have got to get this done. In everything you do, you've got to improve it. I don't think people that have not seen a significant loss of revenue should be getting this money. But we've got to get something passed so we can continue to help our small businesses. My big focus in this whole process has been I think about my mom. My mom actually didn't have paychecks, generally. She did odd jobs like ironing stuff like that. So this would be devastating for her. We've got to help these people. We have to be the safety net for them and then we've got to be responsible to get this economy going again so people like my mom can get back to work as quickly as possible."
On WWE being deemed an essential business in Florida
"Well, it's clearly a decision for the governor. And I don't want to second guess how he's making those decisions. You know, everybody would like to make sure their business is operating as long as they can do it safely. I think for all these businesses, it's going to be incumbent upon them as they have to be very vocal about how they're, one, going to keep their employees safe and how they're going to keep their customers safe. So I think there's gonna be a conversation about lobbies, businesses, because I know people, they want to get open because they're hurting and that's really impacting their ability long term, I think, for them to stay in business."
On what he'd like the Trump administration to do differently while handling the pandemic
"Well, I think that at all levels of government, they can give us more information. And we all know that we've got to figure out how to ramp up this testing. And I have a bill that would require us to have American made stockpiles of things. So we're not dependent on whether it's communist China or anybody else for our protective gear, ventilators and things like that. But I really believe we got to figure out how we get more information out and how we get this testing up."
---
Jill Ryan produced and edited this interview for broadcast with Peter O'Dowd. Serena McMahon adapted it for the web.
This segment aired on April 16, 2020.