A Bucket Truck Brings A Family Closer During Coronavirus Lockdown
Resume
Before the coronavirus pandemic, 88-year-old Nick Avtges spent his days with his wife Marion Avtges at her Waltham, Massachusetts, nursing home. But like other care facilities around the country, it had to shut its doors to visitors.
Since his wife's room is on the third floor, even standing by her window wasn't a possibility for Nick Avtges, until the family came up with a unique idea: They would hoist him up to his wife's room in a bucket truck, also known as a cherry picker — the kind used for telephone pole and tree maintenance.
When his kids Chris Avtges and Suzanne Avtges proposed this idea, Nick Avtges says he didn't hesitate.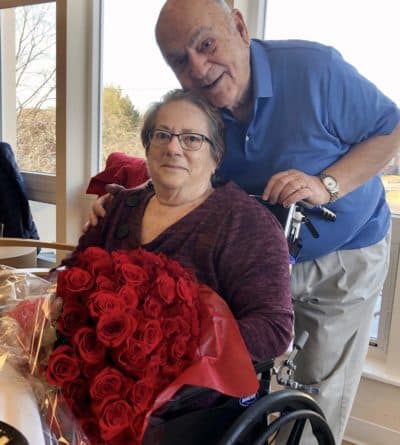 "I was really excited to just get up on a way to go close to my wife," he says. "I had no reservations. I said, 'Bring on the bucket.' "
It wasn't as difficult to find a bucket truck as Chris Avtges suspected. He put a post up on Facebook on Tuesday morning and an old friend from high school who does tree work quickly responded. The next afternoon, he met the family at the nursing home with the truck.
"He actually played baseball for my dad growing up in Watertown. My dad was a coach for many years," he says. "And Wednesday afternoon, there we were. It was just a community effort to really help my dad out."
But it turns out procuring the bucket truck was the easy part. Lifting her 88-year-old father up into the bucket was more challenging than expected, Suzanne Avtges says.
"Like looking at the bucket, I thought originally that there was like a door that you could just step into. But no, it's like literally a bucket," she says, laughing. "So ... we put a harness on him, and we had to lift him up and bend him in ways that I don't think he knew that he could bend to get him [into] the bucket."
Once he was safely inside the bucket, Nick Avtges says he wasn't afraid of going up the three stories to his wife's window. He just wanted to be close to her, he says.
"It was a moving moment," Nick Avtges says. "I held this homemade sign that I had [that read], 'I love you, sweetheart,' and we touched fingertips on the screen."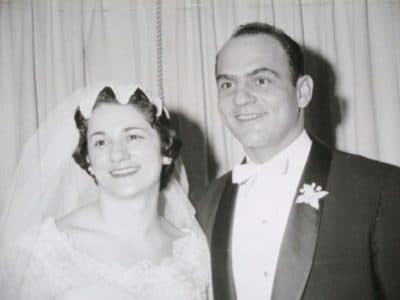 Suzanne Avtges says that moment was equally as emotional for the family.
"My mom was lowered in the window because she's in a wheelchair, and you could just see this frail hand coming up to the screen and having my dad, you know, touch her was really special," she says.
Nick Avtges says he's hopeful that the next time he sees his wife, he won't need a bucket truck to be by her side.
"It's very difficult to stay away, and you do the best that you can to communicate whether it's being lifted in a bucket or just being on the phone," he says. "I talk to her maybe a couple times a day. And like I said, it's very difficult not being able to go in there and give her a hug and a kiss, which I'll do the next time I see her."
---
Karyn Miller-Medzon produced and edited this interview for broadcast with Tinku Ray. Samantha Raphelson adapted it for the web.
This segment aired on April 27, 2020.