Coronavirus Crisis And Afrofuturism: A Way To Envision What's Possible Despite Injustice And Hardship
Play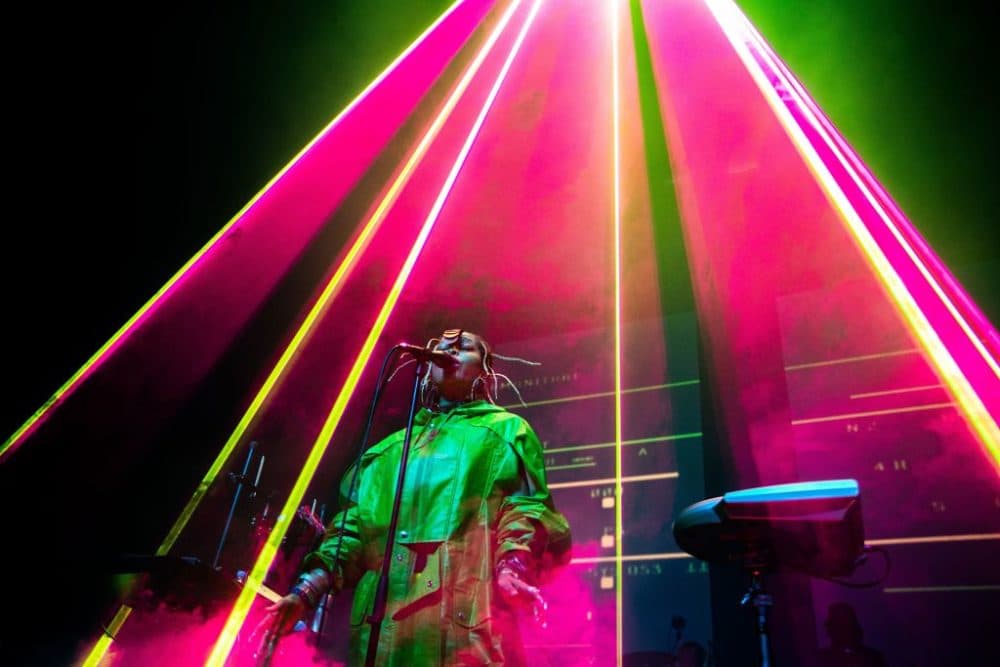 This article is more than 2 years old.
The coronavirus has disproportionately impacted black Americans, who are getting sick and dying at higher rates than other populations.
Scholars have been thinking about how survival elements — like the creation of new music and art — can serve as a form of comfort and healing.
This concept is often called Afrofuturism, which centers black life squarely within the possibility of the arts, science and technology — both real and imagined.
In the 1990s, the term was coined and began to gain popularity and use with Alondra Nelson starting an Afrofuturism listserv. Over the years, it's been used to describe a way of being where black people can take back the trauma of the past by reimagining it, while also imagining the future.
Take Marvel's "Black Panther," for example. The superhero film, rooted in Afrofuturist ideas, imagined a world like Wakanda where white supremacy doesn't exist.
Nelson, professor and Harold F. Linder Chair in the School of Social Science at the Institute for Advanced Study, says Afrofurist ideas as a "form of ingenuity across black history" can be used to imagine the post-pandemic world, especially within music and the arts.
"As so many are talking about reopening and reimagining of what social space might be," she says, "it's a pretty important kind of intellectual and creative genealogy to look back to and to look forward with."
Interview Highlights
On music that exemplifies Afrofuturist themes
"I think if we think of an Afrofuturist tradition that comes out of the space of music, there are lots of examples from jazz, but also from pop music and from R&B in which people were really being quite innovative with form and actually in some instances being accused of using technology in the wrong way.
"So two examples that come to mind are the Jamaican dub producer Lee 'Scratch' Perry. And also probably more widely known to your listeners would be George Clinton, who we know from Parliament and Funkadelic. He tells a story in interviews and in conversation about having at one time, you know, on some occasions, been in a recording studio in which he was asking the engineers to sort of do things with different frequencies and lower frequencies of music. And [he was] basically being told 'you're doing it wrong' and then [he would] sort of say, you know, 'Get out of here, I'll figure it out myself,' and kind of going to the dials and going to the table. And so the 'doing it wrong' actually kind of has led to profound kind of innovation and the creation of funk music and the extension of African American contributions to rock and roll, which comes out of black culture significantly."
On using Afrofuturism to make sense of the coronavirus pandemic
"Well, I think certainly in the realm of imagination and symbolic space, you're seeing the portal metaphor played out. There's already a great deal of new music and new art being born out of this moment all over the world as people try to reckon with it and make sense of it.
"There's an interesting hip-hop artist from the U.K. called Psychs, which I think very early on in the pandemic, does a video with his posse and they're wearing masks and they're wearing gloves and they're navigating on how to engage with each other in public space and not shake hands and do other things. And so there's the music itself and then there's the video of the work, which is, people kind of figuring out a new way to be together when we are living in a world with a virus."
On utilizing Afrofuturist ideas to reshape the post-pandemic world
"I think it's important to remember that the Afrofuturist tradition in arts and letters and music is really writing with and up against the possibility of black annihilation — the sort of possibility that the world could end, but that there were always sort of spaces of possibility. And so I would want us to remember that the most marginalized and the most vulnerable communities, time and time again, over generations, over hundreds of years, have created beauty and resilience in life again and again. That's a gift that black culture has brought to the world again and again, that I think certainly should be appreciated and embraced in this moment and done in such a way that people, many people who are the essential workers, who are African Americans should not be left to suffer."
---
Correction: In the radio interview, we identify the Institute for Advanced Study as part of Princeton University. It is a separate and independent institute. We regret the error.
---
Cristina Kim produced and edited this interview for broadcast with Tinku Ray. Serena McMahon adapted it for the web.
This article was originally published on May 01, 2020.
This segment aired on May 1, 2020.