Rising Voices Library Highlights Stories Of Black And Latino Boys
Resume
With many summer camps and vacations canceled because of the coronavirus pandemic, books can still give children a sense of adventure.
The new Rising Voices Library is a collection of books from Scholastic that feature underrepresented communities in children's literature. Dedicated to black and Latino boys, the collection contains 300 nonfiction, fiction and biographical titles.
Scholastic Vice President and Executive Editor Andrea Davis Pinkney says there's a "dearth of diversity" in children's literature. As a mother with a black son, she says the books in the collection have relevant themes: family, culture, heroes and role models.
"I always say kids see what they see and they don't see what they don't see," she says. "So when I see a face on the cover of a book that looks like my face, I feel good about myself. I have agency and I want to read more books."
Davis Pinkney says 85% of the books in the collection were written by authors and illustrated by artists who share the same ethnic origin as the characters.
Rising Voices is unlike any other collection in the country, curator David C. Banks says.
Some of his favorite titles include "Granddaddy's Turn: A Journey to the Ballot Box" by Eric Stein and Michael S. Bandy — which tells the story of a young boy in the rural South watching his grandfather try to vote for the first time. The grandfather gets turned away at the polls because of barriers put in place like literary tests, he says.
In "Bippity Bop Barbershop" by Natasha Anastasia Tarpley, a little boy fears his first haircut as he heads to a local barbershop with his father — a rite of passage, Banks says. Another favorite of his is "La Frontera: El Viaje Con Papa" by Deborah Mills, which tells a "powerful" story of a young man migrating with his father from Mexico to Texas.
"As an African American, when I was a little boy growing up, it was extremely rare to find books that had young men that look like me as the protagonists in the books," he says.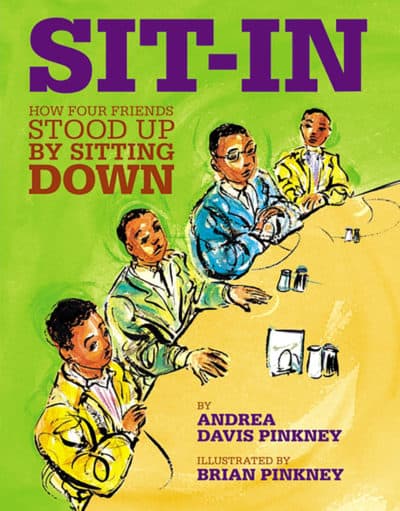 The collection also features one of Davis Pinkney's books, "Sit-In: How Four Friends Stood Up By Sitting Down." The book celebrates the 50th anniversary of the staged sit-in at a segregated Woolworth's lunch counter in Greensboro, North Carolina.
The book's themes speak to the core ideas of the collection, she says. When she presented the book in schools, these themes resonated with students.
"I think whether it's 2020 or 1960, the bottom line is feeling good about your actions and doing the right thing," she says.
The lack of diversity in children's literature also hinders white children because education and literature should help students garner a better understanding of all people, Banks says.
"A collection like Rising Voices really does help all children have a deeper respect and a deeper understanding," he says. "That's what helps us to be better Americans because we know each other just that much better."
Along with the books, the collection comes with storage bins, book stickers, teachers' guides and teaching cards. Teachers around the country are excited for the unique collection, says Banks, who also serves as principal of the Eagle Academy Foundation in New York City.
Teachers are looking for resources to help students engage with these powerful stories, he says.
For parents, Davis Pinkney says buying a few books from the collection can help prevent what's known as the summer slide — the tendency for kids' reading ability to decline over the summer.
"Now that we're home, we can read together and keep those skills strong," she says.
---
Marcelle Hutchins produced and edited this interview for broadcast with Peter O'Dowd. Allison Hagan adapted it for the web.
This segment aired on May 25, 2020.