Eric Garner's Daughter, Emerald Garner, On The Killing Of Unarmed Black Men
Play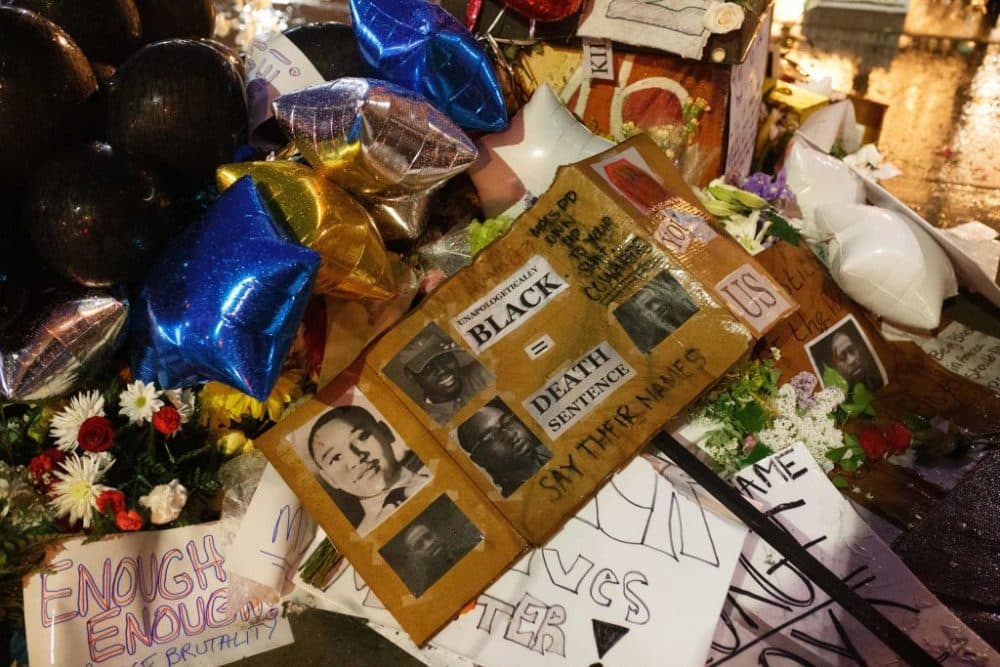 This article is more than 2 years old.
Editor's Note: A clip of disturbing audio from video footage of George Floyd's plea is played during the beginning of this radio conversation.
Hundreds of protesters took to the streets in Minneapolis Tuesday night, calling for criminal charges to be filed against four police officers involved in the killing of George Floyd.
Floyd, a 46-year-old unarmed black man, died after a white police officer knelt on his neck during an arrest for suspicion of forgery. The original police report claimed Floyd resisted arrest.
Four Minneapolis Police Department officers involved in Floyd's death have been fired, Minneapolis Mayor Jacob Frey announced Tuesday night. An FBI investigation is now underway.
Frey also referenced a widely circulated video showing the aftermath of the arrest where an officer used his knee to pin Floyd's neck to the ground. In the 10-minute video, Floyd, who is handcuffed and on his chest, repeatedly begs for relief and cries out, "I can't breathe."
His weeps of "I can't breathe" echo the 2014 death of Eric Garner, who was also videotaped gasping for air and yelling "I can't breathe" as NYPD police officer Daniel Pantaleo held him in an illegal chokehold.
Emerald Garner, Eric Garner's youngest daughter, didn't watch the video of her father's death for years. She says she's seen still frames from the Floyd video — eerily similar to her dad's — but hasn't watched the footage.

"I know that Mr. Floyd's family is devastated right now," she says. "And I just know that they're gonna be going through a hard time right now."
She's "sure" the officers involved have witnessed the video Garner gasping for air.
"Obviously 500 pounds of pressure on somebody is the problem," she says. "The medical examiner stated that my father's neck was crushed. I'm pretty sure that when the medical examiner comes out with his report for George Floyd, it will be the same exact cause of death."
She says she's "happy" that the mayor fired the officers within 24 hours of Floyd's death, but even one day was "too long."
Similar to her father's case in New York, the Floyd family is calling for the Minneapolis officers to be charged with murder.
"They treated him worse than they treat animals," Floyd's brother Philonise Floyd told CNN on Tuesday. "They took a life — they deserve life. I don't feel sorry for them."
As protesters take to the streets and anger mounts, Emerald Garner says she feels for the Floyd family.
"There's nothing that you can really say to anybody to help them navigate this," she says. "There are going to be days where they don't even want to get out of bed."
---
Marcelle Hutchins produced and edited this interview for broadcast with Peter O'Dowd. Serena McMahon adapted it for the web.
This segment aired on May 27, 2020.