Emmanuel Acho Lets White People Ask About Race In 'Uncomfortable Conversations With A Black Man'
Play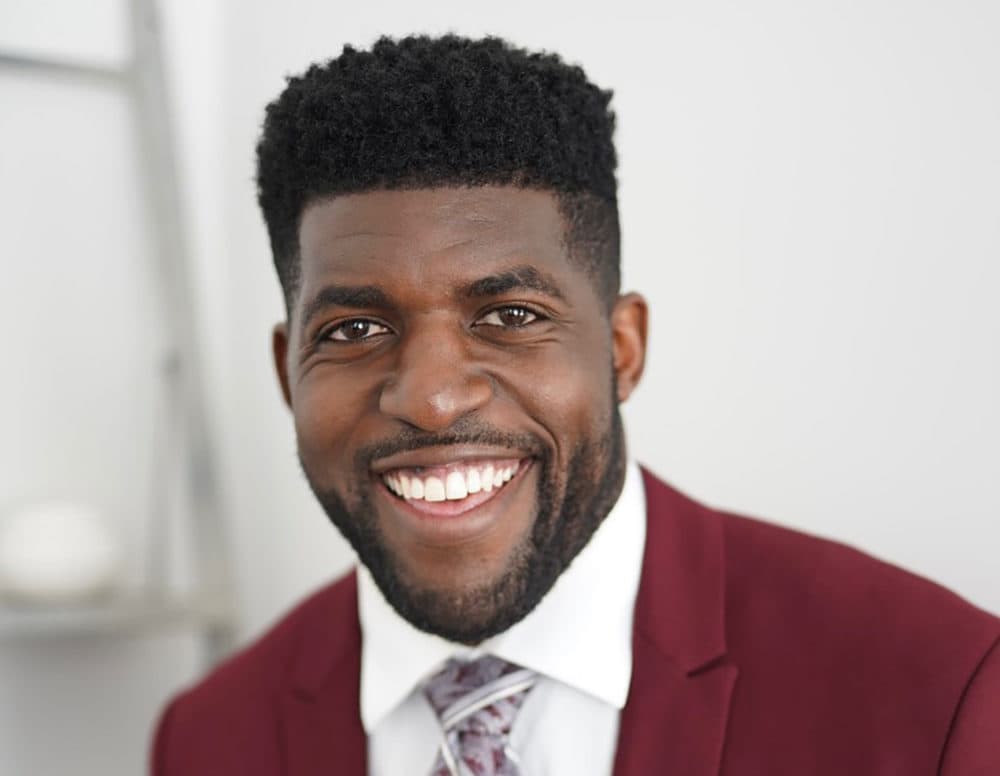 This article is more than 2 years old.
Former NFL linebacker Emmanuel Acho started an online series to give white people a nonjudgmental space to ask questions about race and racism.
He created "Uncomfortable Conversations with a Black Man" as an educational tool at a time when the racial divide between white and Black Americans is at a peak. Through utilizing communication, Acho hopes the series can bridge the gap.
"Let me be that Black friend and create a safe space answering so many questions that my dear white brothers and sisters have," he says, "so that they can no longer live in ignorance."
Two of Acho's friends, a white couple, recently asked him about how they can solve the problem of lack of exposure to Black people. When he suggested attending a Black church, the couple said they thought that would encroach on a safe space for Black people.
This interaction made Acho realize when white people never ask questions or challenge their thoughts about race, they live with false premonitions. He created the series to provide a space for people to understand each other — and therefore make the world a better place.
For Acho, teaching white people about race doesn't feel like a burden because he says it's his calling. One message he received recently came from a 73-year-old woman who grew up in rural Alabama.
The viewer told him that she didn't go to school with any Black students but gained more exposure to Black people when she became a flight attendant. She told Acho that his video "showed me I still have a long ways to go. Please don't give up on me yet. I love you, my son and my brother," he recalls.
"Ultimately, if what I am doing can help change the world and save a life, then even if it is a burden, so be it," he says. "If a burden is leading to messages like that, then please burden me all the more."
In a recent video with Chip and Joanna Gaines from HGTV's "Fixer Upper," the couple's 10-year-old daughter Emmie asked Acho if he's afraid of white people — one of the toughest yet purest questions he's received so far.
He explained that he's not afraid, but rather cautious of white people: "Electricity and water, they are both imperative to our society. You need water to survive and electricity, and it obviously is a great benefit. But I do understand what will happen if electricity and water have a negative interaction."
When actor Matthew McConaughey asked on a recent episode how he can do better as a white man, Acho said to listen and educate yourself. This speaks to another reason why he started the video series: Many of his white friends who wanted to help needed to educate themselves first.
A lot of white people think Black people were protesting exclusively because of the killing of George Floyd, he says. But Black people are still mourning the death of Emmet Till — a 14-year-old boy who was killed by two white men in 1955 after a white woman falsely claimed he flirted with her.
Black people are burdened by hundreds of years of oppression, he says. White people need to make an effort to understand what Black people experience, such as when Acho checks his mail in his affluent Austin, Texas, neighborhood, he waits in his car if there's a white woman walking near the mailbox.
"I don't want her to perceive me as a threat simply because I'm large and I'm Black," he says. "And so what can white people do to help? Understand what Black men and Black women are going through and help alleviate some of our pain."
In the series, he hopes to tackle a variety of subjects such as interracial relationships, which were illegal in the U.S. 53 years ago. This conversation would address stereotypes about both white and Black people.
He also hopes to speak to someone in the military about the controversy over kneeling during the National Anthem and why some service members believe it's disrespectful. Beyond the series, he keeps the uncomfortable conversation going on his Twitter and Instagram.
Seeing Americans come together through the series is therapeutic, he says. As a first-generation American, he doesn't feel the same burden of centuries of oppression and the pain caused by enslavement that many Black people in the U.S. do.
"I am truly just ecstatic to be able to bring people groups together and to be able to bring forth understanding," he says. "My life is filled with so many cultures, so many educational levels. And so for me, the therapy is in seeing lives change more than it's personal therapy."
Last month, NFL Commissioner Roger Goodell made a video apologizing for not listening to Black players about police brutality and racism, though he didn't mention Colin Kaepernick by name.
In 2018, Goodell enacted a rule that banned players from taking a knee during the national anthem, Acho points out. Now the commissioner is saying he supports players' right to peacefully protest, but the rule is still in place.
On top of donating money, the NFL needs to break the barriers it put in place that prevent athletes from protesting, he says.
"I want to see [Goodell] create a safe space for these players to exercise their right to peacefully protest," he says. "It has now become abundantly clear that the protest is not to disrespect any of our prior or current military members, but simply to raise awareness."
---
Marcelle Hutchins produced and edited this interview for broadcast with Peter O'Dowd. Allison Hagan adapted it for the web.
This segment aired on July 13, 2020.