New Suffrage Statue Will Be Central Park's Only Monument To Depict Real Women
Resume
This year marked the centennial of the ratification of the 19th Amendment that gave white women the right to vote.
And next week will mark another first: Sculptor Meredith Bergmann will unveil Central Park's first statue to depict real women, a 14-foot-tall bronze monument paying homage to Sojourner Truth, Susan B. Anthony and Elizabeth Cady Stanton — all of whom were at the forefront of the national suffrage movement.
Both Stanton and Anthony strongly opposed the ratification of the 15th Amendment, which granted Black men the right to vote. Stanton made it clear in her fight for voting rights that when she said women, she meant white. Black suffragists were often told to march at the back of a protest.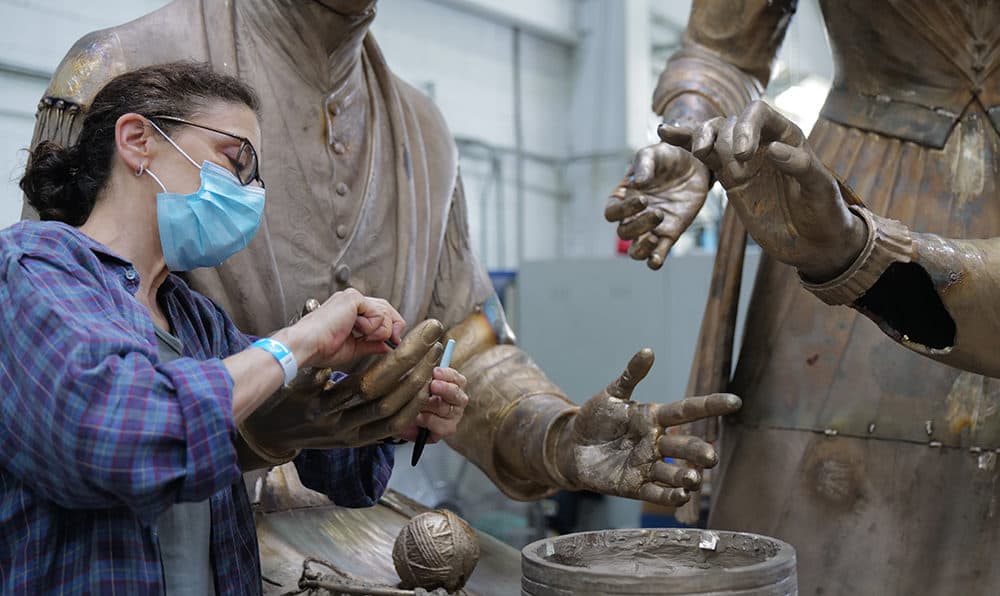 Yet Sojourner Truth, who was formerly enslaved, carried her fight against slavery into the suffrage movement with her famous "Ain't I a Woman?" speech and worked with Anthony and Stanton despite severe differences in opinion over Black Americans' right to vote.
In her larger-than-life sculpture, Bergmann imagines what their meeting would have looked like. She says she had to do some digging to get inside their heads in order to portray them accurately.
Bergmann has done the historical deep dive before — she's behind the Boston Women's Memorial that features Abigail Adams, Phillis Wheatley and Lucy Stone.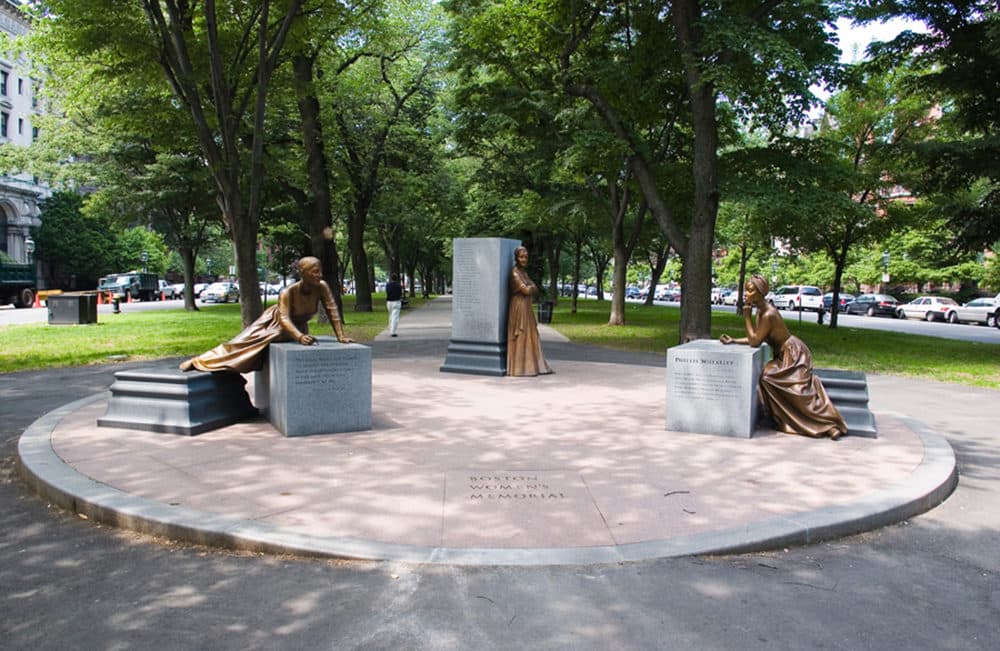 In her new Women's Rights Pioneers Monument in Central Park, Bergmann has Anthony, Truth and Stanton seated or standing around a table. Both at the edge of their seats, Truth has her hands open and Stanton has a pen and paper as if they are strategizing their next move. But the interpretation of the conversation depicted in the monument is up to the individual viewer, she says.
There are little hidden surprises as well. Stanton's dress has sunflower motifs, a symbol from when the young suffragist began to write and publish editorials under the pseudonym "Sunflower" to avoid the disapproval of her family.
"And then that flower later became an emblem of the suffrage movement," she says.
As of 2011, a little more than 7% of the nearly 5,200 public outdoor statues across the U.S. represented women, according to the Smithsonian American Art Museum's Art Inventories Catalog.
Susan Ware, feminist historian and author of "Why They Marched: Untold Stories of the Women Who Fought for the Right to Vote," says erecting a monument celebrating women in such a prominent place like Central Park makes her proud. But it also reminds her it took the centennial of the 19th Amendment for a monument like this to be implemented.
"Like so many other things in women's history and suffrage history, we can mark and celebrate what's been accomplished," Ware says, "and yet it's a reminder often of how far we still have to go."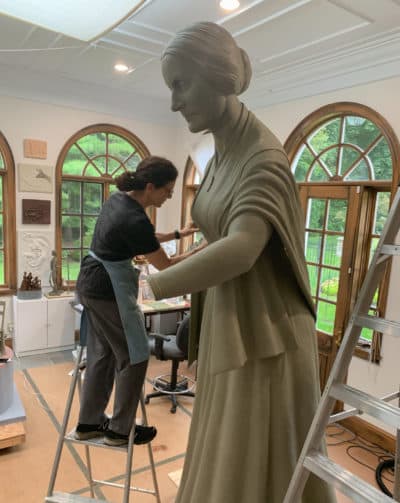 Having the legendary women together in the same frame of reference is important because "each [of them] in their own way was so central" to the movement, Ware says. Truth also provides a critical point of intersection with the abolition movement.
"I think the power of having these three women together is that it shows the roots of women's suffrage and women's rights in the struggle to free the slaves," Ware says. "No better symbol of that than Sojourner Truth."
Black women, who were a part of the women's suffrage movement, didn't benefit from the 19th Amendment. Ware says in the South, where many Black Americans resided, the same Jim Crow restrictions that kept Black men away from the polls also prevented Black women from voting.
"It's very important as we mark this milestone in women's history, to remember that it is an incomplete one, that it really has an asterisk with it, and that for African American women, it was the Voting Rights Act of 1965, not the 19th Amendment, that finally guaranteed their right to vote," Ware says.
As the day nears to reveal the Women's Rights Pioneers Monument in person, Bergmann says the process of sculpting these women was both "daunting" and "awe-inspiring." She says she crafted the monument three times, getting bigger and bigger each time.
She worked with the nonprofit Monumental Women, an organization that worked for six years to win the site for this monument. One of their goals is to create a women's history trail throughout New York City, she says.
Whether you witness the monument in person or online, you may notice these women are not relaxed or conversing over a cup of tea. That's on purpose, Bergmann says, to show they are leaning into a serious conversation about the work that is still left for the movement.
"And there is an underlying message, which is that this work is not finished. And as Susan [Ware] says at the end of her wonderful book, 'Why They Marched,' that feminism is cumulative and ongoing," Bergmann says. "And that's why they are sitting on the edges of their seats."
---
Karyn Miller-Medzon produced and edited this interview for broadcast with Tinku Ray. Serena McMahon adapted it for the web. 
This segment aired on August 19, 2020.