Money For Misinformation? Experts Say The First Domestic 'Troll Farms' Are Here
Play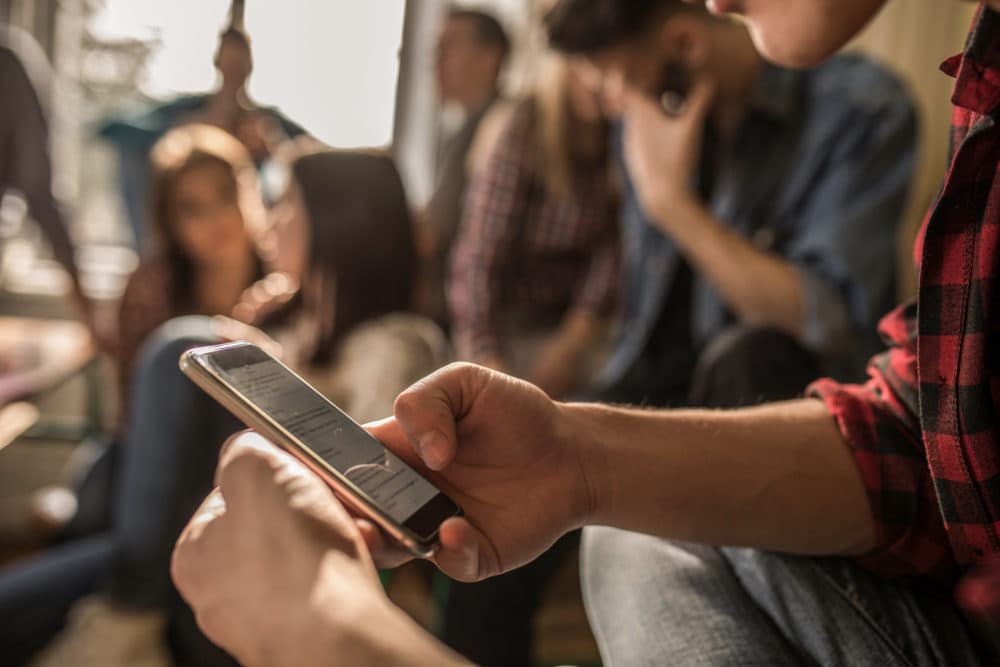 This article is more than 2 years old.
Facebook announced Thursday it's removing two disinformation networks with ties to Russia and a third affiliated with a troll factory While the social media platform says the networks were mostly focusing on Europe and Asia, misinformation was still reaching the U.S.
With the presidential election just 39 days away, both the CIA and FBI say this kind of foreign interference will continue.
But there is a newer form of interference — one that is closer to home — that experts are concerned about. Using social media, domestic interference campaigns are pushing fake messaging regarding the 2020 election and the coronavirus pandemic.
In Phoenix, Arizona, a group of young conservatives — some of them minors — has been getting paid to post misinformation, The Washington Post first reported. They generated messages on social media that said mail-in ballots will lead to fraud, a statement for which there is no evidence.
In another instance, these posters claimed that coronavirus numbers in the U.S. have been intentionally inflated.
Their support comes from a group called Turning Point USA, a non-profit political organization. Turning Point USA's 26-year-old founder, Charlie Kirk, opened up the Republican National Convention this summer.
Experts say this marks the birth of the first domestic troll farms — in other words, paid propagandists.
"In 2016, we were very concerned about Macedonian teenagers writing clickbait news that included false information or disinformation. And in this election cycle in 2020, we have to be concerned about that same type of activity being done here in the United States," says Graham Brookie of the think tank Atlantic Council, who specializes in disinformation, elections and technology.
A troll farm indicates "a degree of coordination" in order to intentionally spread false information, he says. For example, these posters would troll people on social media such as journalists, all posting the same message in order to drive up engagement and thus using the social media platform's algorithm to make their misinformation seem more popular than it likely was, he says.
In a statement to the Post, Turning Point USA said the notion that they are sponsoring a troll farm is a "gross mischaracterization." Instead, they're adapting to the coronavirus pandemic and paying people to do their jobs online that they would have otherwise paid them to do in the field, the statement added.
Brookie says any work done in the field like Turning Point USA suggests, such as door knocking, would have received a much smaller audience than online.
The purpose of these disinformation campaigns are to go viral, he says. Twitter and Facebook seem to be concerned because they have suspended some of the accounts associated with the Phoenix troll farm.
Yet it's unclear what the grounds are for yanking these accounts, he says. The social networks are facing enormous pressure to moderate the spread of fake information on their platforms during both an election year and global public health crisis, he says.
Brookie says he's "not entirely sure" if there's any evidence that the Republican Party itself is at all involved in funding this kind of operation or funding Turning Point USA. Kirk, the organization's founder, is an adamant supporter of President Trump.
"He has attended multiple rallies with the Trump campaign. He's an outspoken advocate and surrogate for the campaign," he says. "And so the amplification to a larger audience, regardless of the source of funding, is the same."
Currently, there's no indication that a similar effort is happening on behalf of Democratic presidential candidate Joe Biden, he says.
While foreign adversaries' misinformation efforts remain dangerous, he says Americans are more vulnerable to disinformation coming from within the U.S. than from foreign actors.
"The scale and scope of domestic disinformation is far greater than anything a foreign adversary could do to us," he warns.
To combat disinformation, every American has a role to play, he says. "Be resilient" when engaging with people online and remain skeptical of information you come across. Always look at the information's source to double check that it is reliable and transparent, he advises.
We can't rely on others to do that work for us, he says.
"That's something that we have to rely on ourselves for. We all have a role to play in that," he says. "And so looking to sources like secretaries of state for official election results is going to be incredibly important."
---
Cassady Rosenblum produced and edited this interview for broadcast with Tinku Ray. Serena McMahon adapted it for the web.
This segment aired on September 25, 2020.