Reflections On 'The Long Run And Beautiful Game' Of Roger Federer
Resume
Tennis fans received shattering news over the weekend when Roger Federer pulled out of the U.S Open for a fourth knee surgery.
The 40-year-old Swiss tennis player has twenty Grand Slam Titles — tied with Novak Djokovic and Rafael Nadal. Federer hoped to make history at the tournament.
"The Master: The Long Run and Beautiful Game of Roger Federer," a new biography from New York Times tennis writer Christopher Clarey, tells the story of Federer's longevity on the court.
Federer's first injury happened in 2016 when he tore his meniscus giving his daughters a bath, Clarey says.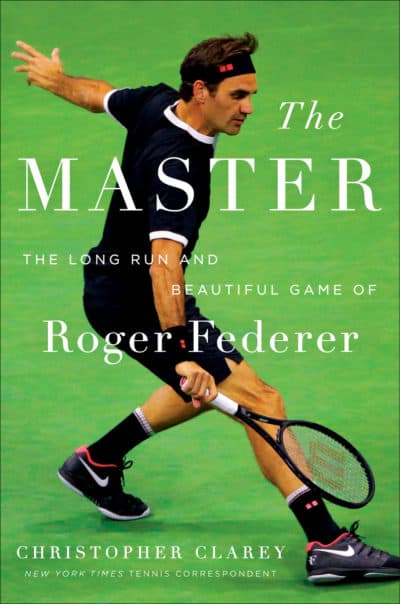 "He came back so strong after that, took six months off at the end of 2016 and came back and had some of his best results ever in 2017 and 2018," Clarey says. "[He] went back to number one at age 36 and it was just kind of a fairytale run for him there."
After a remarkable career full of accomplishments, Federer now finds himself in a poignant situation after more than two decades of hard work, Clarey says. Maintaining physical health long enough to play deep into his 30s is a blessing for Federer, the writer says.
"Inevitably, the game is very grueling," Clarey says. "Your body is going to break down at some point"
Federer is known as a real threat to win multiple tournaments in a year and challenge opponents at the Grand Slam tournaments. However, Clarey believes this marks the end for Federer on the court.
"To be honest with you, I wrote [the book] now probably because I felt like the main body of work for him was already finished," the author says. "And I feel like the book has an elegiac tone to it in places and a valedictory tone to it as well."
Interview Highlights
On why we should care about Roger Federer 
"Roger is a naturally gifted player — one of the most naturally gifted ever — but he's also a self-made man. I've covered him since he was in his teens and have seen his evolution. But I don't think I really grasped how challenging it was and what an accomplishment it was on so many levels. And he's somebody who started with a bad temper. He learned to manage his temper and his expectations and really became a Zen master on the court, working with psychologists and on himself and his coaches. He managed to really channel all that nervous energy and frustration into a very composed tennis player and style."
On Federer's temper tantrums, such as throwing his racket and screaming, when he was a young tennis player
"He had a very difficult time losing. I mean he was quite young at the time but there stories from his Swiss coaches when he was young about him sitting under the chair — umpire's chair — after a junior match where he lost and crying. Everybody else went to have lunch and their picnic. And Roger stayed there on the court in tears, basically unable to control his disappointment.
"I think we have to really recognize the achievement there in terms of being able to master that. He's been able to master himself as well as the game. And it also applies to out of court things rather ... his business career as well. He started from a very low point, unpromising point as a Swiss player from a small country, even though it's a wealthy country. And he built himself into the most successful financially tennis player ever. He's earned over $1 billion on court and off during his career."
On a part of the book where American tennis player Andre Agassi talks about Federer taking the game to a different level
"That story comes from Darren Cahill, who was Andre's coach for a long time. Darren was blown away by that moment just because he'd never seen Andre — a great long lasting champion — have that kind of reaction to a match. And I think it's basically like realizing that the technology has moved beyond you or the world that you're living in suddenly you're no longer fit entirely. That was Andre's epiphany that day, I think.
"I think the problem with Roger is that when Andre played other players in the past — Pete Sampras or Boris Becker, Stefan Edberg, previous great players — he always felt there was a safe place to go. But against Roger, because of Roger's ability to take the ball early and create angles and power from anywhere on the court, there was really no safe haven anymore for Andre. And I think that's what he was feeling. And he also had a really hard time reading Roger's game. I think it's just that feeling of being rushed and confused. And during Roger's heyday, a lot of players felt that way."
On the French calling Federer's gameplay "relachement" — looseness and ease
"That French word, which is about relaxing and looseness, really does sum it up. But the question is why? And if you talk to people who are part of his career early on, part of it is his childhood coach, Peter Carter … He basically built Roger's game. And one of the things he did was he sort of had him keep his eyes on the ball and the contact point quite a bit longer than the usual tennis player. Peter Carter did this himself. And it gives Roger this kind of polish on his shots. And it also gives the impression that he has a bit more time and everybody else. And he's also just a naturally beautiful mover with his legs and the way his footwork works around the court. But I think that extra bit of time that he seems to have is the key, what they call 'court vision' in tennis. Your ability to sort of see the whole canvas, if you will."
Editor's note: Due to a copyright issue, the book excerpt of "The Master" had to be taken down.
---
Lynn Menegon produced and edited this interview for broadcast with Chris Bentley.  Camila Beiner adapted it for the web. 
This segment aired on August 18, 2021.