The COP26 climate change conference, explained
Play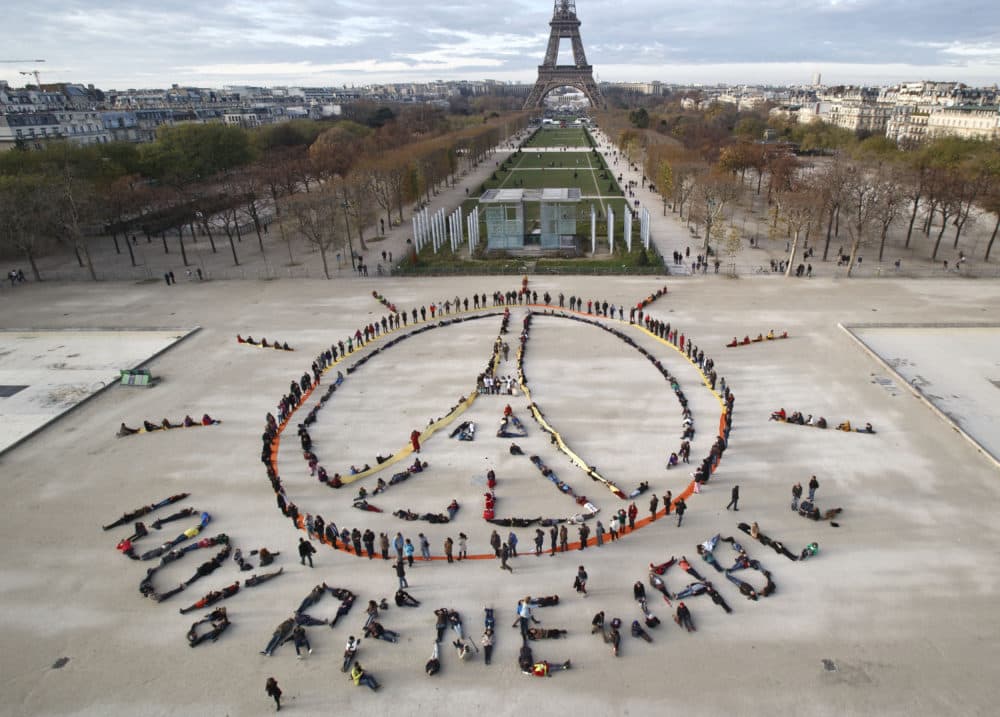 This article is more than 1 year old.
In 1992, more than 150 countries gathered in Rio de Janeiro to approve a framework on how world leaders were going to fight climate change.
The agreement signed at the Earth Summit, as the meeting was informally known, called for new research, updated commitments and yearly check-ins. These check-ins are called "conferences of the parties," or COPs.
Some have been more momentous than others — notably, bold new goals and implementations were hammered out by delegates at 1997's COP3 in Kyoto and 2015's COP21 in Paris.
This year, COP26 is being held in Glasgow, the first major climate summit since a scathing United Nations-backed report earlier this year detailed a decade-long window of action to avoid the worst consequences of climate change.
Alden Meyer, senior associate at climate change think tank E3G, has attended almost every COP meeting since the Earth Summit. He's going to COP26 as well and explains that this year's conference is urgent.
Questions about COP26, answered
How urgent is this year's COP26 meeting in Glasgow, Scotland?
"The reality is, it's been nearly 30 years now since the Rio Earth Summit in 1992, and you can't fool the atmosphere. The atmosphere refers to physics and the emissions we put up into it. It doesn't really care about rhetoric and politicians' speeches.
"The reality is that we've continued to pump more greenhouse gases into the atmosphere almost every year since Rio, and we're wildly off course where we need to be if we're going to avoid truly devastating impacts."
What are the main points of contention between countries at COP26?
"We have a number of countries such as the U.S. and Japan, the European Union and others that have already made revisions to their commitments under the Paris Agreement. But there's a number of the big ones, such as China, India and others that have yet to do that. So everyone will be watching what they say about their intentions at this meeting in Glasgow. Countries will also be watching what the developed countries do to increase the financial support and technology assistance to countries like India, Indonesia, South Africa and others to enable them to make a speedy transition away from dependence on coal and other fossil fuels and toward clean energy resources."
During the 1997 COP meeting in Kyoto, world leaders — including delegates from the U.S. — hammered out the Kyoto Protocol, an ambitious set of goals. But when the U.S. delegates brought the deal home to Washington, Congress refused to ratify it. How important was Kyoto and the fallout?
"[Kyoto] was a recognition that the agreement reached five years earlier in Rio de Janeiro was not sufficient. It had set purely voluntary targets for developed countries like the United States, Europe and Japan — and they weren't being met. And so countries agreed they needed to negotiate something that was legally binding on the developed countries, and that was the origin of the Kyoto Protocol. The problem, of course, was that [former President Bill] Clinton, [former Vice President Al] Gore, had no strategy to persuade the Senate to ratify the treaty without the United States joining it.
"Some of the other developed countries started pulling out over time, leaving basically the European Union and a handful of others as the only countries still operating under those restrictions, and they represented about 15% of global emissions. So it really wasn't sufficient to do the job, and countries regrouped and realized we needed something that was universal, that applied to all. And that's what led to the Paris Agreement in 2015."

The Paris Agreement was a breakthrough COP meeting in 2015, setting bold reduction targets that the U.S. agreed with and threw its backing behind. This held for two years until former President Donald Trump announced in 2017 that the U.S. would pull out of the Paris Agreement.
"First of all, let me say that President Trump clearly had no clue what the Paris Agreement was about. The reality is each country put forward its own proposed reduction targets in the run up to Paris. They were voluntary, not imposed on the United States by some foreign power.
"[Exiting Paris] had an impact in terms of the U.S. being the world's largest economy, the second-largest emitting country in the world, on the sidelines for four years. But the good news is that no other country followed the United States out of Paris and a number of mayors, governors, business leaders, investors and others here in the United States stepped up and launched the We Are Still In coalition, pledging to do their best to have the United States meet the Paris agreed targets, even without the president in the deal. "
President Biden got the U.S. back in the Paris Agreement, and Biden is eager to show up in Glasgow with an infrastructure deal that really addresses climate change in a significant way. Have you seen anything out of the U.S. and other developed countries that shows they are committed to making a meaningful dent in emissions?
"I think most of the developed countries now have stepped up with pretty ambitious near-term objectives, most aiming to cut emissions roughly in half by the end of this decade. Of course, the European Union, having dealt with this for a number of years, is perhaps out in front. The United States is really in that process, with the legislation now making its way through the Hill. And I can tell you, ministers, negotiators, reporters I talked to around the world are watching what's happening in Congress very closely to see if President Biden will get the tools he needs to get the U.S. toward that 50% reduction by 2030 that he's committed to."
Where do you think this COP meeting will be ranked, among the others?
"It's going to be a pretty significant meeting if we get the kind of decisions and agreements at the end of it that we need. Basically, this is a pivot point in this 30-year process, away from negotiating rules and treaties and to implementing what we've already agreed to.
"The reality is, we've got a good framework agreement. We've got a good implementation pathway laid out of Paris. We have to now do it — as Nike said, 'just do it.' And we have to strengthen it.
"Those will be the two litmus tests for Glasgow. Can we move forward together? And of course, can we help the most vulnerable countries and communities around the world that are already experiencing devastating impacts from current climate change?"
This story is part of Covering Climate Now, a project aimed at strengthening the media's focus on the climate crisis. WBUR is one of 400+ news organizations that have committed to a week of heightened coverage around the COP26 climate summit in Glasgow. Check out all our coverage here.
---
Alexander Tuerk produced this interview and edited it for broadcast with Todd Mundt. Tuerk also adapted it for the web.
This segment aired on October 29, 2021.