Q&A: Say Hello To WBUR's New Chief Content Officer, Victor Hernandez
This article is more than 1 year old.
WBUR is excited to welcome its first-ever Chief Content Officer Victor Hernandez. A top editorial hire for the station, Hernandez brings a rare constellation of skills and experience to the job.
A journalist, an editorial leader, a digital innovator and a strategist — for the last two years, Hernandez has been executive editor at Cascade Public Media, created through the merger of Seattle's PBS TV station, KCTS9, and digital news outlet Crosscut.
Inside WBUR got to spend some time with Hernandez to chat through his plans for the job, his impressive past DEI work and his imminent move to Boston (don't miss pictures of his adorable English bulldog, Benson, below!). 

Being appointed the Chief Content Officer of one of the largest public radio newsrooms is a tall order! What plans do you have for this newly created position? 
The Chief Content Officer is an extraordinary opportunity at WBUR, a role charged with helping to identify how to grow our audience and cultivate the loyalty and community support that is essential to sustaining local journalism at a time of profound technological change.
Given this context, I like to compare my new role to that of a skilled conductor leading teams of accomplished orchestra musicians, ensuring organizational goals are front and center, and our sound and collaboration are in perfect harmony.
Between the national programs, local broadcast teams and newsroom, live events, engagement and podcast producers, WBUR journalists form a wonderfully talented, diverse symphony. However, keeping everyone on the same music sheet and thinking about the long-term strategies of our growth can be challenging. Wearing the hat (and tuxedo) of a maestro, keeping our editorial performances sharply in tune and in service of our communities, is an unimaginable professional honor.
WBUR is backed by an illustrious 70-year history of engaging and informing millions of listeners across a myriad of platforms including on-air, online, on-demand and on stage. WBUR's reputation for news reporting excellence and as a media innovation leader is well acknowledged across the journalism industry. Professionally, the prospect of helping lead growth and evolution at a powerhouse legacy institution deeply invested in transforming itself to keep up with the public's evolving information needs in a digital world became immediately appealing.
Tell us about your experience and takeaways working at a startup vs a national TV broadcast vs your last public media job. 
Technology and media environments share a great deal in common. To be effective in today's rapidly changing news economy, organizations of all sizes, formats and backgrounds often look to principles centered on collaboration, productivity, diverse revenue lines and audience-focused strategies. And of course, leveraging innovation and being nimble as emerging opportunities surface is critical for both tech and media organizations.
In my previous role, overseeing editorial teams and strategies at Cascade Public Media in Seattle, I gained a clear grasp of the monumental role public media outlets play in their regions as stewards of local news and service for their communities. Additionally, the essential resolve by public media is necessary to earn the trust and deepen relationships with the communities we seek to serve.
Trust, transparency, active listening and fostering community became key tools in our toolkits. This publisher-audience dynamic is a distinct privilege that nonprofit public media institutions have over commercial outlets. 
Spending a few years at a tech startup focused on digital media provided valuable exposure to new lines of organizational thinking such as Agile, an iterative development methodology that values human communication and feedback, and adapting to change to improve professional processes and results. It's been fascinating to overlay these principles within journalistic environments in an attempt to increase collaboration and efficiency while reducing the amount of flying by the seat of your pants-mindset that often permeates many news operations.
And then there's CNN: After more than a decade leading newsroom and innovation teams at CNN's global headquarters in Atlanta, my top takeaway was that almost anything can be accomplished when backed by seemingly endless armies of talented journalists, technologists and support teams when provided with enough time to plan and execute the reporting mission.
While at CNN, I was fortunate to contribute to some of the most significant news events of our generation (presidential elections, global conflicts, natural disasters, terror attacks, economic failures, medical breakthroughs, etc., etc.). Yet what sticks with me most aren't the dramatic headlines, it's the personal interactions I shared with everyday people in their communities, often experiencing significant difficulty. And the intimate moments collaborating with colleagues during the extra-long days to report those important, captivating, human-interest stories.
I'm looking forward to bringing some of those previous influences with me to Boston, while also eager to pick up fresh perspectives and evolve my own thinking, and hopefully those around me a bit too.
You've done impressive DEI work in the past, how do you imagine shaping this work at WBUR? 
The regrettable reality is the media industry has been historically woeful at diversity and inclusion practices for a long time, including a poor track record of identifying, hiring and retaining journalists of color.
My approach has long been one less fixated on earning quick wins through knee-jerk hiring moves, and much more on addressing systemic change and investing in areas such as staff retention, professional development, strengthening candidate relationships, more inclusive reporting practices, and fostering community listening particularly within marginalized communities.
The long-term plan to implement systemic change at Cascade was what we dubbed, Opening Up the Tributaries.
Fortunately, WBUR is dedicated to addressing long-standing DEI gaps with staff, news coverage and living up to our public media mission. I've already heard from many of my new colleagues, eager to increase the urgency and focus of diversity initiatives, from senior executives and our talent & culture partners to members of the editorial staff and station support teams. I'm looking forward to contributing new lines of strategy and execution to open up the tributaries at WBUR.
You're all set to graduate with an MS degree in Media Solutions and innovation — congratulations! Can you share some of your learnings? 
If there's a rock-solid safe bet on the future of news, it's that rapid change will continue to pervade and disrupt media organizations going forward. After more than 20 years of working in professional newsrooms, one might expect someone with that breadth of experience to already occupy the necessary insights essential for leading a contemporary news operation. However, in today's fast-changing news economy, it's proven remarkably challenging to keep pace with the rapid rate of disruption.
Present-day media leaders need added support for not only weathering the current uncertainties amid the field of journalism, but actually acquiring new frameworks for strengthening capacities for outlets to experience future sustainability and vitality. West Virginia University's M.S. program has become that advantageous base to draw from for me this past year.
One of the research areas I'm particularly excited about applying at WBUR is analysis on the effective use of externally funded positions at news organizations as part of my final capstone project. I'm currently examining how publishers are developing prescribed strategies to convert termed outside-supported reporter positions into sustaining salaried ones. The termed newsroom positions playbook is expected to be published this summer.
What's your media diet? What are you reading, watching, listening to right now?
These days my daily balanced diet typically consists of about 70% content relating to the journalism industry (articles, newsletters, podcasts, etc.) and 30% news related (almost all of which is local news). I've really grown accustomed to newsletters for meeting my information needs on terms that best work for me. Some of my favorite newsletters include Nieman Lab, American Press Institute, Pew Research Center, Axios Media Trends, Gather, NewStart Alliance, Wonder Tools, and of course WBUR's suite of terrific email products.
Additionally, podcasts have become a staple of my media consumption habits. My AirPods have been mostly consumed in recent months with the highly-crafted audio experiences from WBUR's podcast production team known as iLab. Beyond WBUR, two of my current non-WBUR listens are the newest season of Invisibilia from NPR and the Parker Edison Project from KPBS, a provocative look at the tenets of culture, largely through the lens of Black America. Oh, I also recently binged the first season of Death in the West, a history and true crime pod examining the unsolved murder of labor activist Frank Little in Butte, MT more than a century ago. Historical pods can become an amazing rabbit hole to go down!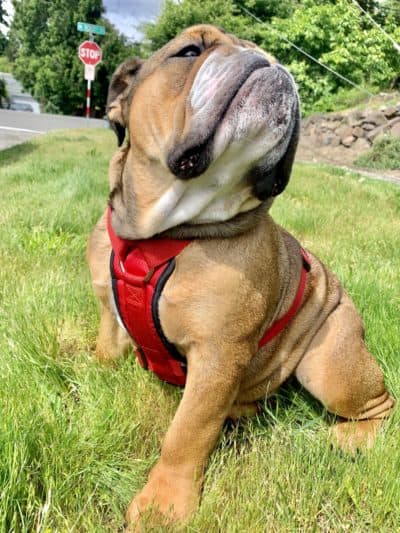 What's the one thing about the west coast you're sad to leave and one thing about Boston you're looking forward to!? (Give us a look at Benson! Do you think he'll adjust to Boston?)
We're a west coast family. For nearly the last decade, we've been lucky enough to call Seattle, Las Vegas and San Diego our hometowns. The laidback west coast lifestyle, the natural beauty of these geographies, and delicious local cuisines have suited us well over the years.
Truthfully, we're feeling a bit skittish about trading in the mostly temperate weather of the west for the harsh New England winters but we're always up for a good challenge and very much looking forward to exploring the culture and wonders of Boston. Our English bulldog, Benson was recently introduced to snow when Seattle received a sizable snowfall in February. It was a great practice run for future winter seasons in our new community. We're overcome with enthusiasm about soon becoming Bostonians. Snowstorms aside.