1 Nobel Prize To Celebrate, 9 Books To Read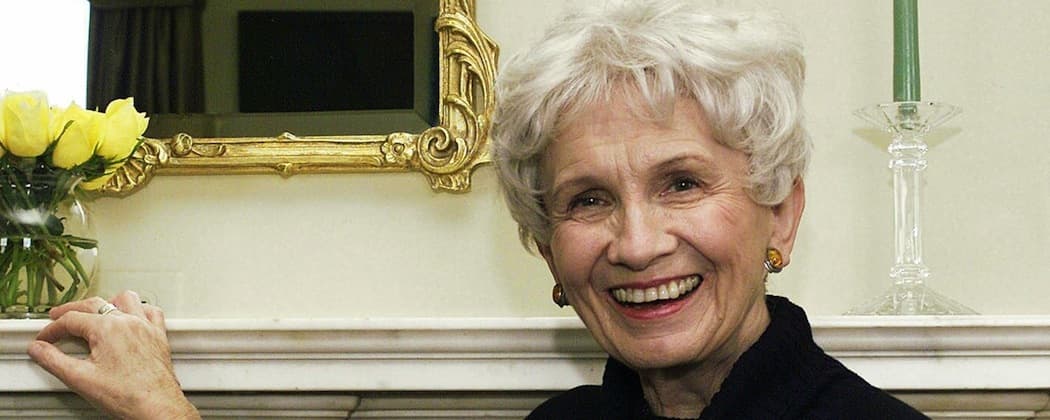 This article is more than 7 years old.
1. Alice Munro didn't have a new book in 2013 — in fact, she's threatened never to write again — but the Nobel Prize for Literature was the No. 1 literary event of the year.
Here's what I said at the time:
Munro may be the most agenda-free writer in the English language. She may also be the best. There's certainly no living writer I would rather read and the publication of each of her collections of short stories is another opportunity to commune with a writer whose microscopic investigations of character, twinned with an uncanny sense of plot development, have justifiably earned her comparisons with Chekhov.
2. James McBride, "The Good Lord Bird." Another award that went to the right person was the National Book Award. James McBride's "The Good Lord Bird" is a rollicking reimagining of abolitionist revolutionary John Brown. I don't think it comes across as quite the tribute to Brown that McBride intends, but watching the events of the day unfurl through the eyes of an old man recalling when he was a 12 year old boy pretending to be a girl brought comparisons to "Huckleberry Finn." It was also great to catch up with McBride, an old Boston Globe colleague, right before he won the award in this interview.
An excerpt from the novel:
"There weren't a dumb beast under God's creation — cow, ox, goat, mule, or sheep — that he couldn't calm or tame to touch. He had nicknames for everything. Table was 'floor tacker,' walking was 'tricking.' Good was 'dowdy.' And I was 'the Onion.' He sprinkled most of his conversation with Bible talk, 'Thees' and 'thous' and 'takest' and so forth. He mangled the Bible more than any man I ever knowed, including my Pa, but with a bigger purpose, 'cause he knowed more words. Only when he got hot did the Old Man quote the Bible exact to the letter, and then it was trouble, for it meant someone was about to walk the quit line. He was a lot to deal with, Old Brown."
3. "The Tenth of December," George Saunders. Any other year I would have been rooting for this brother from a Bizarro planet. But while his stories veer toward the surreal, the world he's describing is unmistakably ours. He's also a more disciplined writer than he's ever been.
From the review:
For all of Saunders's dark humor, there's a remarkable empathy with folks from all walks of life – a returning veteran on the verge of snapping; an overweight housewife with a son who's severely retarded; a cancer victim. Or even a contemporary, narcissistic teenage girl: "Were those cross-country shorts from the like Charlie's Angels days or quoi?"
4. "Our Picnics in the Sun," Morag Joss. I go weak in the knees when there's a new book from this wonderful Scottish artist who started out as a mystery writer, turned to Rendellian psychological crime writing and then burst out of any genre box with her last few novels. Despite a pair of unsympathetic, aging neo-hippies as her central characters, Joss makes their life stories into something redemptive, even transcendent.
From the review:
Joss never gives up on the family and neither do we. There is not only her insight into what got them there — Joss and Phillips [Jayne Anne, see below] are both masters of the flashback — but beautiful prose that hints at the possibility of a way out.
5. "Holy Orders," Benjamin Black. John Banville's alter ego has come up with perhaps the most interesting standing detective out there — or non-detective since Quirke is a Dublin pathologist. Gabriel Byrne is playing him in the TV series. Like Joss's books, these aren't really mysteries, though that's where you'll find them. It barely matters whodunit. Of more interest is Black's description of how the Dublin elite, including the Catholic Church, ran Ireland in the '50s behind closed doors:
"He explained to me once that there are two worlds, the one what we — you and me and all the other poor idiots — think we live in, and the real one, behind the illusion, where people like him are in charge. Where the real decisions are made, where the necessary actions are taken."
6."The Lowland," Jhumpa Lahiri. Another National Book Award finalist, though this didn't get the love from critics I think it deserved. The book focuses on Subhash , an Indian immigrant in America, and his relation to his brother and his brother's family, who become his family. She writes about both countries evocatively and about all her characters empathetically.
Here she describes Subhash and his daughter:
"The reduced elements of his life sat uneasily, one beside the other. It was neither victory nor defeat … She was on the verge of a new type of prettiness. Blossoming, in spite of having been crushed … She no longer sought him out … This new mood settled upon her swiftly, without warning, like an autumn sky from which the light suddenly drained."
7. "Quiet Dell," Jayne Anne Phillips. The victims of a real-life serial killer and those who try to bring him to justice are not only characters from another historical time, between the world wars, but from a different moral time.
From the review:
They also seem too good to be true in our morally gray times, but Phillips makes them seem both convincing and captivating without turning this into a "Law & Order" miniseries. The writing in "Quiet Dell" is sophisticated and precise as she bores into her characters' inner lives, particularly the hopes and dreams of her female characters. There's a quiet poetry in "Quiet Dell" despite the lack of flowery prose. No wonder [Alice] Munro likes her so much.
8. "The Woman Upstairs," Claire Messud. The author of "The Emperor's Children" follows a Cambridge elementary school teacher who becomes enamored of an exotic foreign family. She and Sirena, an Italian artist married to a Lebanese professor, decide to share a studio together and that's when the fun, amid the ruthlessness of art, begins:
From the review:
Nora and Sirena soon rent a studio together, in which Nora can not only bask in Sirena's glow, but give herself one last chance to make it real as the "Great Artist" she once felt destined to be rather than as "The Woman Upstairs" — a Lucy Jordan dismissed by a high-achieving world. And, for that matter, dismissed by her own sense of self.
9. "Country Girl," Edna O'Brien. Yes, a nonfiction interloper, but O'Brien brings the same subtle, observational skills to her memoir as to her short stories. You'll recognize some of the same characters from those stories, particularly a mother who was not happy to see her give up her Catholic ways for the literary life and the swinging '60s.
I didn't review this one, but here's what Dwight Garner said in the New York Times:
You might come to "Country Girl" for the gossip, but you'll stay for this memoir's ardent portrait of a young woman struggling to find her identity both as a human being and a writer. Ms. O'Brien describes her young self this way: "I was ravenous. For food. For life. For the stories that I would write, except that everything was effervescent and inchoate in my overexcitable brain." She desired, she says, to be "drawn into the wild heart of things."
10. Ruth Rendell, "No Man's Nightingale." Ruth Rendell and her Inspector Wexford are both slowing down; in fact, he's retired now. But neither Rendell nor her readers want to say goodby to the guy. He brings an uncommon wisdom both to detective work and to the new more diverse England around him in this tale of an East Indian female pastor killed in Sussex.
From the review:
Rendell, 83, and Wexford are both senior citizens now and there's a more relaxed air about how they go about their business, even if other characters in her books aren't so relaxed about multicultural England. The murder of an East Asian female vicar is the starting point to "No Man's Nightingale" and Rendell makes the new cultural and religious landscape part of the mystery, along with her entertaining view of class warfare, English style.
More Books:
More ARTery/WBUR 2013 Favorites: