Usaamah Rahim's Brother: Family 'Grief-Stricken' By Video Of Shooting
Play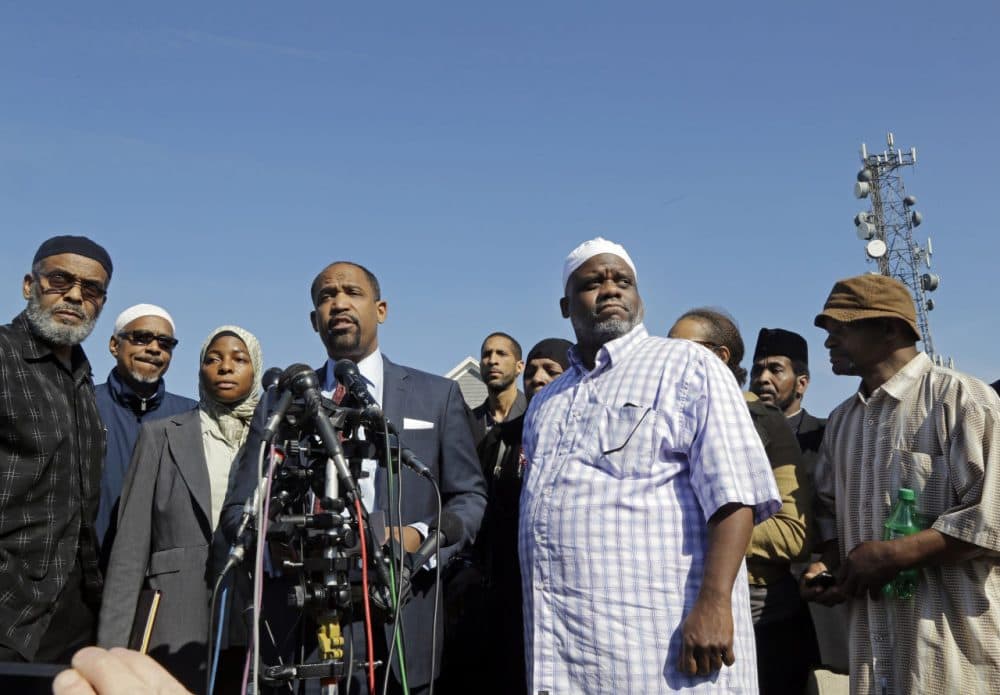 This article is more than 7 years old.
The family of a man fatally shot by a Boston police officer and an FBI agent this week will bury him Friday in a private ceremony, a day after authorities showed them surveillance footage of the incident.
A brother of Usaamah Rahim had just five words after seeing the video of the shooting: "Boston Strong. God Bless America."
Imam Ibrahim Rahim, Usaamah Rahim's brother, uttered those words outside the offices of Suffolk County District Attorney Dan Conley.
On Thursday night, in an interview at WBUR, Rahim did not want to talk about what his family saw on the video in Conley's office. He did want to talk about what his family felt.
"The family members were clearly grief-stricken by the visuals, and to be expected," Rahim said. "I love my brother and to see that, you know, [it was] difficult to watch, and I think that was the general mood and sentiment of the entire family that viewed it along with me."
"We are patriotic, and we're loyal, and we're proud citizens of this country, and we're Bostonians, and we're proud of that fact, and that's who Usaamah was."

Ibrahim Rahim, Usaamah Rahim's brother
It's a big Boston family. Their mother, Rahima, is a nurse. She once worked at Boston University. She's trying to retire now, Ibrahim Rahim said, and she writes children's books.
"We are a typical middle-class American family," Rahim said. "It just so happens that our religion may be a little different from others, but the Islam that we grew up with is not the Islam that is popularized in the media these days. It is a peaceful version of Islam. We are patriotic, and we're loyal, and we're proud citizens of this country, and we're Bostonians, and we're proud of that fact, and that's who Usaamah was."
Rahim said all the siblings went to college. There were four brothers. Ibrahim, who lives in Oakland, is the eldest. Usaamah was the youngest. In between, there's Mohammed, a realtor, and Karim, who lives in Miami, where their father teaches English as a second language. And there's a sister, Shahina. She's the mother of David Wright, who was arrested at his Everett home Tuesday for allegedly conspiring to destroy his uncle's phone.
Both Wright and Usaama Rahim had been under surveillance. An FBI affidavit says Rahim called Wright early Tuesday to tell him of his plans to kill police officers. Two hours later, police say, he lunged at five officers and FBI agents with a knife and he was shot. Law enforcement officials say those events are recorded on surveillance video, but Ibrahim Rahim declined to say whether the video confirms police accounts.
"I don't want to speculate or draw any conclusions," Rahim said.
Tuesday, Rahim posted on social media that his brother had been shot in the back. Thursday night, he declined to say why he had been under that impression. Boston police have said Usaamah Rahim was shot in the chest and torso. An attorney for the Rahims, Harvard law professor Ron Sullivan, said Usaamah Rahim was on his way to catch a bus to his job at a CVS store when police and FBI approached him. Ibrahim Rahim says the family had no indications that Usaamah was being radicalized.
"The narrative that is there about Usaamah is problematic and it is troubling to the family who knows the son, and the brother, and the uncle, and the husband," Rahim said. "Usaamah was an American youth. He was very passionate and loyal to his ideas and his ideals."
Ibrahim Rahim says Usaamah Rahim and their sister both graduated from Brookline High School. For a time, they also lived in Boston, near BU, in a building on Babcock Street. An attorney for the family, Harvard law professor Intisar Rabb, said the family looks forward to cooperation and transparency from law enforcement as the investigation proceeds.
WBUR's Asma Khalid contributed to this story.
This segment aired on June 5, 2015.