WBUR Poll: Mass. Voters Oppose Charter School Expansion, And Back Legal Weed
Play
This article is more than 6 years old.
Likely voters oppose a ballot initiative to expand the number of charter schools in Massachusetts.
That's the finding of a new WBUR poll (topline, crosstabs) on the four statewide questions on the ballot this November.
The survey, conducted Sept. 7-10 by The MassINC Polling Group, finds opponents of the measure to expand charter schools outnumber supporters of the measure, 48 percent to 41 percent. Eleven percent of respondents said they don't know, or are undecided.
Paula Bock Tranter, a florist in East Freetown, is one of the poll respondents who opposes expanding charter schools.
"Not everybody can go to the charter schools, and the charter schools aren't regulated like the public schools are, so, you're lucky if you hit a good charter school, but if you don't, it's ... not good, and I feel like everybody should have the same education," she said.
Question 2 proposes to allow up to 12 new charter schools a year statewide.
It has the support of Gov. Charlie Baker.
His chairman of the Massachusetts Board of Elementary and Secondary Education, Paul Sagan, has donated $100,000 to one of the four political action committees supporting the measure.
They have already raised more than $12 million, almost double what opponents have raised. Nearly $6 million in support of expanding charter schools has come from a New York group called Families for Excellent Schools Advocacy, a so-called "dark money" group that does not have to disclose its donors.
Among the other large contributors is Walmart heiress Alice Walton, who made a $710,000 donation this summer.
Stephen Wade, a grandfather in Webster, is among the likely voters who would like to see more charter schools.
"They don't want to put their kids into public school systems because of all the political correctness," Wade said. "You look at this transgender bathroom issue. A lot of parents are going nuts over that. It's almost like there's a liberal progressive movement to rewrite history."
But despite all the political and financial support for expanding charter schools, 46 percent of likely voters polled say charter schools would drain money from other public schools, while 38 percent say they would not.
The live telephone poll surveyed 506 likely voters. It has a margin of error of 4.4 percent.
Steve Koczela, the president of The MassINC Polling Group, has worked for supporters of expanding charter schools, so WBUR has chosen not to interview him on this question.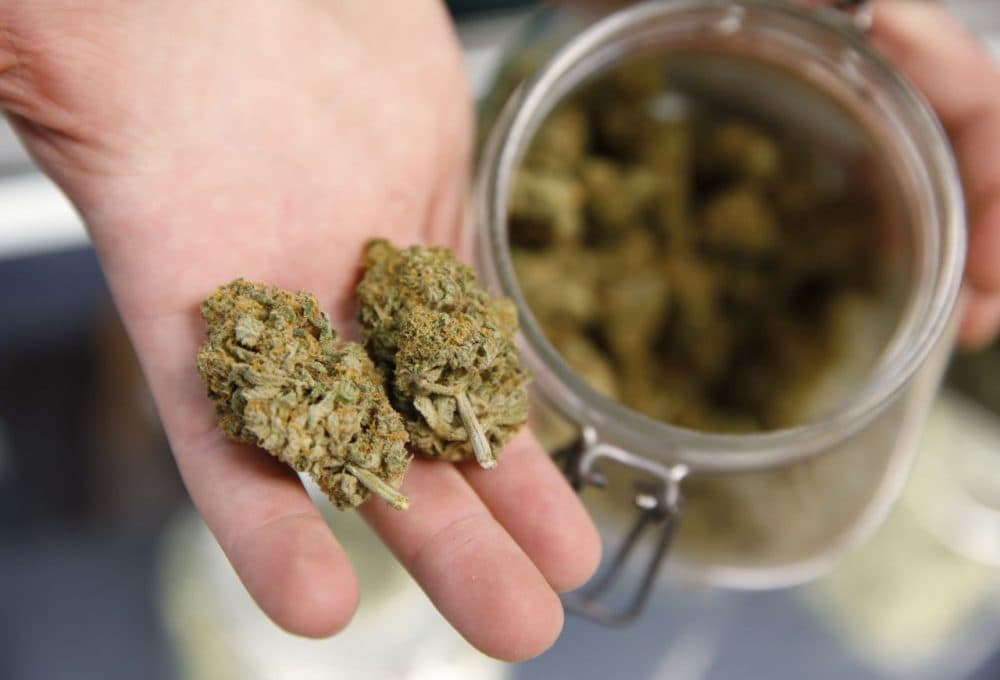 Support For Marijuana Legalization
The poll also finds supporters of a ballot question legalizing marijuana slightly outnumbering opponents. Fifty percent of respondents say they would vote to legalize marijuana, while 45 percent oppose legalization. Five percent are undecided or said they don't know.
"There's some big demographic splits, particularly along age lines," Koczela said. "Younger people are very much in favor of legalization, and it declines steadily as you move up the age brackets to where you get to voters who are 60-plus, and they're opposed to it by a 17-point margin."
Among voters 60 and older, 56 percent oppose legalizing marijuana, while 39 percent support it. But among voters under 30, 65 percent support legalization.
"It's not something I do personally, but I think it's something adults should have the right to do," said 33-year-old Shawn Staines, a high school teacher who lives in Sterling.
On the opposing side is 53-year-old Jonathan Cooper, of Framingham.
"Basically, I believe marijuana is just a gateway to other drugs, and I don't think it's a good situation to have complete total access to the drug," Cooper said. "Don't like it."
Cooper is in the minority in our poll, both in his opposition to legalizing marijuana, and on the question of whether it's a gateway drug. Fifty percent of poll respondents say people using marijuana are not more likely to try other drugs, versus 43 percent who say they are.
The Other 2 Questions 
There are four initiatives on the November ballot.
Of the other two, one appears headed to easy passage.
Sixty-six percent of likely voters say they support an initiative that would prohibit the sale in Massachusetts of meat or eggs from hens, calves and pigs that are confined in a way that prevents them from moving around. Twenty-five percent of poll respondents say they oppose the initiative.
The other initiative appears headed for defeat.
Fifty-two percent of voters say they oppose allowing a slot parlor near Suffolk Downs.
This segment aired on September 13, 2016.