New Online Tool Taps Into Uber To Get Patients To And From Doctors' Offices
This article is more than 6 years old.
A new online tool is tapping into the popularity of ride-hailing services to help make sure patients don't miss their doctor's appointments.
The tool — called Circulation — launched Tuesday in partnership with Boston Children's Hospital to provide non-emergency transportation for patients. It's integrated with Uber's API and hospital electronic medical records. This means the Uber rides are customized to the patient's medical needs. The company says this type of technology integration — between hospital information systems and on-demand transportation providers — is the first of its kind.
Dr. John Brownstein, the co-founder of Circulation, said the online tool aims to give patients an on-demand transportation option and alleviate the cost of patients missing appointments — as transportation can often be a barrier to accessing health care.
"The cost of missed appointments is massive to a health care setting, but even more important is that missed appointments ultimately could lead to complications that might result in admission to a hospital — which even furthers the burden on the health care system," said Brownstein, who is also the chief innovation officer at Boston Children's Hospital and a health care adviser to Uber.
Circulation basically allows hospitals to manage the transportation needs of patients. The tool will be primarily used by nurses, caregivers or a hospital's transportation coordinator to book rides for patients.
Patients don't have to do anything — and don't need a smartphone, Brownstein said. They'll just get a text message or a call when their ride is on the way.
"We didn't want it to be dependent on those patients having any sort of technology in order to benefit from modern on-demand transportation options," Brownstein said.
Here's how the tool works: When a user logs in, the tool will verify a patient's insurance and ride eligibility. The tool then asks various questions to determine the best transportation option — for example, it might ask if the patient requires wheelchair assistance, needs help getting into or out of a vehicle, is hearing or visually impaired or travels with a caregiver. Then a patient, caregiver or hospital transportation coordinator can request a ride.
The tool also allows users to schedule rides in advance. And it has ride reminders for patients and notifications so physicians, nurses and caregivers can be alerted when a patient arrives for an appointment.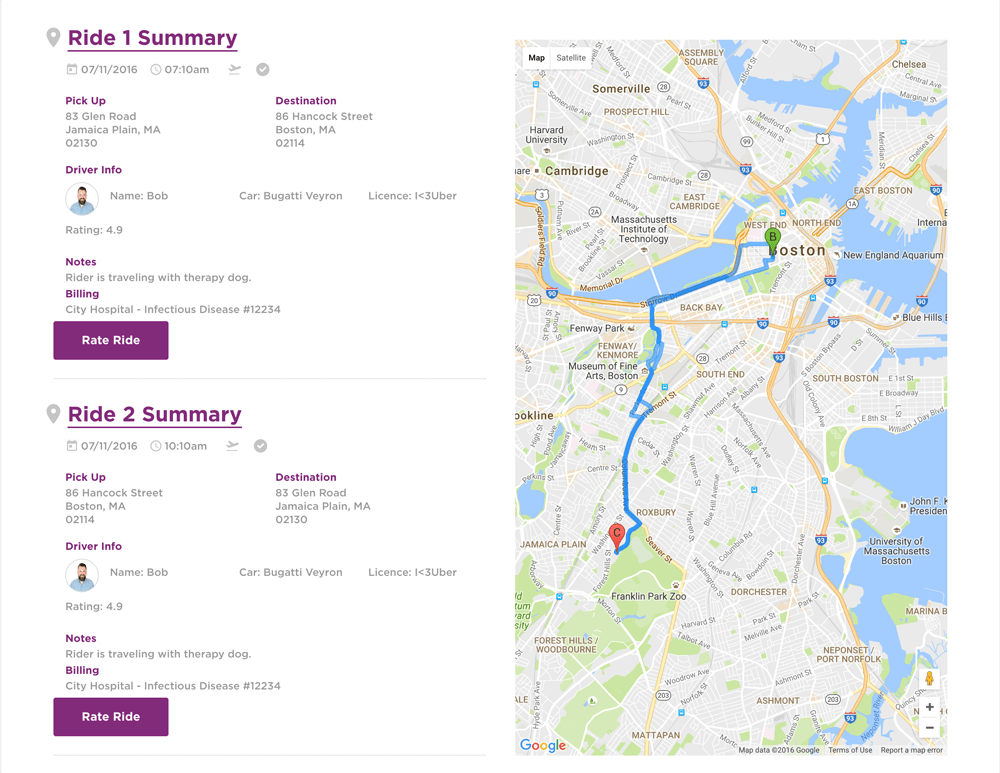 The platform currently only offers Uber rides, but Brownstein said there are plans to incorporate other transportation options down the road.
The cost of the ride will be covered by Medicaid or health insurance, and in some cases by the hospital. Rides through Circulation will be calculated by the same per-mile, per-minute rate that is charged for all Uber trips.
Boston Children's Hospital will use the online tool as part of a pilot program, starting first in the hospital's Gastroenterology division.
"There's already much stress and anxiety on the part of families whose young children need regular medical care," Dr. Michael Docktor, a pediatric gastroenterologist at Boston Children's Hospital, said in a statement. "With Circulation, we can alleviate the added headaches that come along with traffic and parking challenges in a busy city such as Boston and ensure that parents can focus on their children – not the ride to the hospital."
Circulation is also piloting the platform at hospitals in Pennsylvania and Delaware, with plans to roll out in six other states later this year.
The tool is compliant with the Health Insurance Portability and Accountability Act (HIPAA) to protect patient information.
The launch of the Circulation tool comes after the MBTA partnered with Uber and Lyft earlier this month to offer subsidized on-demand rides for people with disabilities who use the T's paratransit system The Ride. Ride-hailing services have faced criticism in the past for not offering enough services for people with disabilities.
"We are really exploring and working to make sure that we provide rides that are reliable to everybody," said Uber Boston General Manager Chris Taylor.
Uber currently transports people with collapsible wheelchairs and plans to offer more accessible options to riders.